Interview spotlight: Mike Moore, Bucher Municipal
Mike Moore, Key Account Manager – Airport & Strategic Projects (UK & Europe), Bucher Municipal, talks to International Airport Review about the challenges airports face to keep operations running optimally and sustainably and how they can help.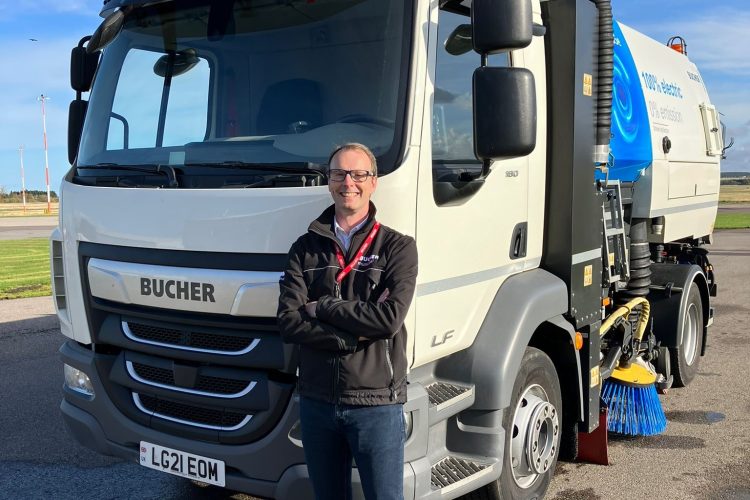 What are the main challenges that airports face with keeping their runways running at full capacity?
Airports are faced with many challenges to keep their runways and airside operations running smoothly, one of which is to keep the stand, manoeuvring areas and runways free of any foreign object debris (FOD). With the increase in passenger numbers the likelihood of FOD is increased. Airports cannot afford to have stands closed or downgraded because of fluid spillages or FOD, so there is tremendous pressure on the airside operations teams to keep the stands clean and clear so as not to have a negative impact of on-time performance (OTP) and other key performance indicators (KPIs). All stands are visually inspected by the marshaller prior to every aircraft movement taxiing on to the stand.
The runway is safety-critical and inspections take place at regular intervals (maximum two hours) but should the airport ever experience a sudden change in FOD contamination which cannot be cleared quickly, this would immediately result in a runway closure and depending on what time of day, could have a detrimental knock on effect to the day's operation. If flights incur delays on their first rotation, they are inevitably trying to catch up for the remainder of the day and with the increased runway movements this becomes more of an issue. Add any weather issues into that and suddenly the last wave of aircraft arrivals are likely to infringe into the night noise restrictions and using up valuable points.
The need for reliable equipment is a must and this is an area where the Bucher Municipal customer service teams work closely with the airport's Mechanical Transport (MT) / Workshop teams to ensure the highest level of support is maintained.
How can you help airports tackle these challenges?
To ensure our machines have the highest level of reliability, Bucher Municipal have an extensive international service engineer network, fully supported by the local customer service centres and our global parts centre. As the original equipment manufacturer (OEM) and experts in our industry, we are best placed to care for the specialist equipment and provide the highest levels of original parts accessibility. All machines are pre-installed with Bucher Connect, a cloud-based, specialised digital platform providing our clients and service teams with an immediate insight into the machine systems. Breakdowns and pre-emptive warnings can be diagnosed easily and timely repairs carried out to ensure units have the best possible uptime as well as real-time telematics to view detailed productivity metrics.
Producing innovative products which push the boundaries to deliver more productivity with lower cost of operation and superior dependability is no easy task. Bucher continually invest in high calibre specialist engineers to create a team who go the extra mile. Training and development of engineers provides the key skills to deliver simple to use, superior products to the client. By utilising state-of-the-art simulation tools and processes pioneered in the aerospace industry the highly skilled engineering team are able to test ideas and innovations repeatably to perfect the design for efficiency and durability. Utilising processes such as computational fluid dynamics (CFD) to maximise airflow efficiency, finite element analysis (FEA) for refining structural design of fabricated components and 1D simulations for functional system integration are all integral to today's engineering process.
The advantage for our airport clients means our equipment will perform consistently and be as efficient as it possibly can be. In addition to these simulations, physical validation is an important element of the development process when delivering the most reliable machines. Whether it's a test rig to accelerate real-life working conditions or putting a machine through its paces on a test cycle at the Millbrook Proving Ground (UTAC), all our products go through rigorous testing and validation to ensure the performance and reliability meet our clients high requirements.
How can you help airports reduce their carbon footprint?
As the world becomes more environmentally conscious, the demand for alternative energy increases. For Bucher Municipal that meant designing sweeping and clearing solutions that do not just meet current needs but can also prepare us for the low-carbon societies of tomorrow. At Bucher we take our role as market leader and pioneer seriously. As an example, Bucher were the first municipal vehicle manufacturer in the UK to gain manufacturer accreditation certifying all our engines are able to use HVO while maintaining the warranty. Our fully electric solutions are market-leading and based on automotive technologies, supporting the move to heavy duty vehicle electrification. This guarantees constant delivery of high-quality equipment and reliable, future-ready solutions. In the last decade, we have been electrification frontrunners introducing the world's first zero emission products including:
High performance truck mounted sweeper
Autonomous versatile compact sweeper
Multi-purpose sewer cleaner
Automatic precise de-icer
We take pride in driving the industry forward, adopting more sustainable practices across the board and helping put large-scale alternative fuel solutions within reach of everyone.
Issue
Related organisations