Salt Lake City's terminal redevelopment
Posted: 14 October 2014 | Maureen Riley, Salt Lake City Department of Airports
After years planning, Salt Lake City International Airport's terminal redevelopment broke ground in July 2014. Once complete, the $1.8 billion programme will provide a new hub for America's south west.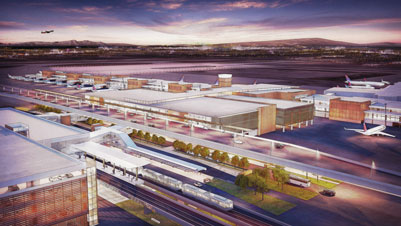 The Salt Lake City Department of Airports, along with a team of partners and consultants, is in the final design stage and has launched enabling projects for a Terminal Redevelopment Program at Salt Lake City International Airport that will bring major changes to the Delta Air Lines' hub, which currently serves over 20 million passengers annually from facilities designed 50 years ago.
The $1.8 billion programme will be built in phases over 8-10 years and will create a new terminal, concourses, parking, and associated facilities. The new terminal, which will replace the two current terminals in operation, is expected to be completed within five years.
This major project will replace aging facilities, solve operational issues, improve customer service, accommodate growth, provide correctly-sized facilities, and address seismic risk.
Michael Williams, the Programme Director, who is also President of Making Projects Work Inc., has over 34 years of experience in construction project management, including expertise with aviation, transportation and commercial construction. His team will ultimately involve around 38 specialists to manage the design and construction of the programme.
A long time in the making, the programme's master architectural firm, based in San Francisco, HOK (Hellmuth, Obata & Kassabaum), has been working on this project with the Salt Lake City Department of Airports since 2009. The build will be undertaken by HDJV Construction in a joint venture between Holder Construction based in Atlanta and Big-D Construction based in Salt Lake City.
The first signs of project development – cranes that were used to conduct pile-driving tests to analyse deep soil conditions – were seen in spring 2014. A compound of construction offices popped up in an area adjacent to the short-term parking garage and a large car park was reclaimed a section at a time for preliminary utility work.
A ground breaking ceremony was held on 18 July 2014, as work began on a southern car park, which is the first project in a series to relocate the car rental company facilities. Road changes and the relocation of the 'Park 'n' Wait' at the airport entrance will be the next phase of construction.
"The phasing of the program is quite complex, since the new airport facilities are being constructed in this same general area as the existing facilities. The early construction to relocate the existing rental car service facilities will be very challenging, since the airport and the rental car companies must continue to operate while construction progresses," explains Williams.
Maureen Riley, Executive Director of the Salt Lake City Department of Airports, explained that they are very excited to actually begin construction for the programme after so many years of development. "This is a multi-layered undertaking that has taken years of planning and orchestration," she said. "It has been the main focus of my seven-year tenure with the Department of Airports. As the design and building teams proceed, we have deployed an internal committee structure to ensure oversight and coordination. We are also working closely with financial consultants, issuing a slew of contracts, and keeping the business deal on track. When you reflect on the processes involved in this size of a program, it quickly becomes apparent that the staff and consultants have responded in an extraordinary fashion.
"We have also partnered with the airlines serving Salt Lake City to negotiate a 10-year agreement that will support the program throughout the construction period."
Airport officials conducted an extensive outreach campaign to gather public input and engage the community as a component of the schematic design process. Several themes from customer feedback were identified in that process including reflecting the natural surroundings of the area and using colour, light, and materials so that the building will feel and look like Utah. Respondents want to create a building that the community will be proud of and one which reflects a 'sense of place'.
The airport's users also indicated that more space was needed everywhere, include an area where you can spend time saying goodbye and welcoming people. Technology and a place to work was another dominant trend in the comments received. Travellers requested the continuation of free Wi-Fi and access to electrical outlets, USB ports, tables and chairs in quiet areas or semi-private alcoves to facilitate work and time alone.
Sustainability is a key driver of the programme. The goal is to achieve a LEED Gold Certification for the program scope with a roadmap to 'net zero'. Credits for a LEED Silver Certification have been identified and credits for Gold Certification are under evaluation. Sustainable best practices will be deployed in all facets of the program. Planners anticipate future facility enhancements to reach these goals and are coordinating with a sustainability management plan team.
Additionally, there is an aggressive goal of an energy reduction target of 30 per cent, which will be accomplished through many avenues including: an energy-wise building envelope; energy conservation and use reduction; high performance HVAC; energy-efficient baggage handling system motors; a 25 per cent LPD reduction in lighting, efficiency, resilience and redundancy with a centralised utility plant; and other considerations. There are several sustainable initiatives under study including the use of photovoltaic panels, limited water re-use and treatment, and expanded recycling and composting programs.
The project represents significant economic impact and the programme is anticipated to contribute 23,919 full-time jobs, $1 billion in wages and income, $1.5 billion to the GDP and $3 billion in total economic output.
Quick Facts: Salt Lake City International Airport
The first commercial passenger flight took off in 1926 – it was an eight hour flight from Salt Lake City to Los Angeles
In 2013, the airport served 20.2 million passengers
Eight airlines service the airport: Alaska Airlines, American, US Airways, Frontier, JetBlue, Southwest, United and Delta which deals with 75 per cent of the airport's traffic
Salt Lake City International is ranked 27th busiest airport in North America by passenger number
There are around 656 scheduled daily flights from the airport, which serve around 86 cities non-stop
Salt Lake City International is self-sustained with revenue generated from user fees
The airport has two terminals, four runways, five concourses and 86 gates
There are 11 major ski resorts within an hour of the airport
Biography
Maureen Riley has served as the Executive Director of the Salt Lake City Department of Airports since February 2007. She manages Salt Lake City International Airport, Tooele Valley Airport, and South Valley Regional Airport in West Jordan with a staff of nearly 600 people. Maureen also serves as Second Vice-Chair of the Board of Directors at ACI-NA and sits on the ACI's World Governing Board. Prior to her positon in Salt Lake City, Maureen spent 13 years at Orlando International Airport in a variety of roles including Deputy Executive Director of Finance and Administration. She has also worked as a senior consultant for Leigh Fisher Associates in San Mateo, California and for Roy W. Block Consulting in Orlando, Florida, where she specialised in financial management of construction programs. Maureen is a graduate of the Wharton School of Finance at the University of Pennsylvania, and a Certified Public Accountant.