Hartsfield-Jackson Atlanta International Airport: The jewel of Georgia
At the Routes Americas conference in San Antonio, Texas, International Airport Review Editor, Holly Miles, sat down with Elliott Paige, Director of Air Service Development at Hartsfield-Jackson Atlanta Airport, to discuss the airport's passengers, routes, and future.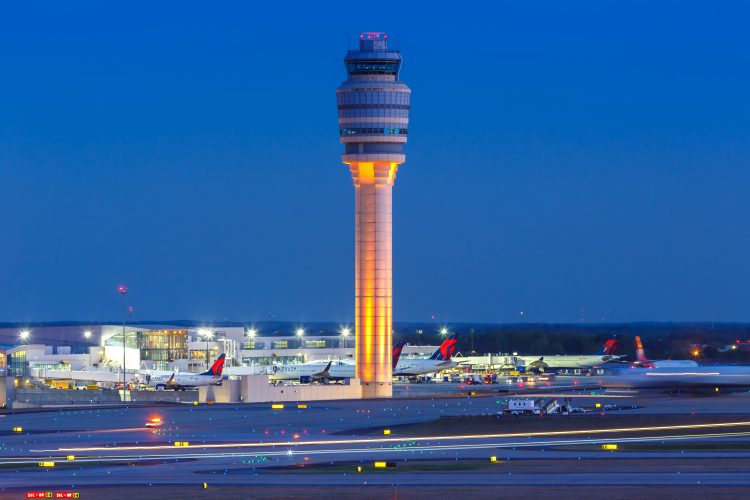 Hartsfield-Jackson Atlanta International Airport (ATL) has bounced back and once again claimed the crown of the world's busiest airport by passenger numbers in 2021, after slipping to second place during 2020. In 2021, ATL served 75.7 million passengers – a 76.4 per cent increase over 2020's total, and an incredible comeback by today's pandemic-wrought standards.
According to Elliott Paige, Director of Air Service Development at ATL, its biggest challenge during the pandemic was staffing: "We worked with many of our partners, ground handlers, airlines and held a lot of job fairs so that they could hire new people – in fact we had job fairs just about every week, because of the huge staff shortage. People were either coming down with the coronavirus and not coming to work, or people were afraid to come to work because of COVID. But we never closed during the pandemic – we just kept going."
Passengers
Traditionally, ATL's passenger demographic was around 80 per cent leisure and 20 per cent business travel. Right now, the airport is seeing predominantly leisure and VFR (visiting friends and relatives) travellers. "Residents of Atlanta have the appetite to get out of their city and get some fresh air and sunshine; they always have, and even more so during the pandemic. We have long lines and lots of passengers travelling to these types of destinations," said Paige.
Business travel is slowly recovering as quarantine and testing requirements in many destinations. Many governments have eased travel restrictions, thus improving demand, although at the time of writing all passengers entering the U.S. from a foreign country need to undertake a COVID-19 viral test no more than one day before they travel by air.
Paige believes that they will not see business travellers coming back fully 2023/2024, although the rise of Zoom and virtual meetings will mean that some of these travellers will not necessarily return. However, Paige acknowledges that "Georgia is one of those lucky states that is industrially diversified, we have a good cross‑section of manufacturing sectors. That enhances trade and movement of people more than other surrounding states."
Where the U.S. has foreign direct investments, executives will always need to visit physically, walk the plant, and look at procedures, so luckily for ATL, it may be one of the airports that benefits from the early return of business travellers to 2019 levels.
Cargo development
Despite only serving just over 76 per cent of pre‑pandemic passengers, the numbers are trending upwards, and the airport even broke its cargo record last year (2021).
"Cargo never died during COVID, it just kept growing. And it's been our saving grace and the superhero against COVID in many ways – moving PPE, vaccinations and of course people's eCommerce. We see positive things ahead as our KPIs trend upwards," commented Paige.
ATL is also the first in the U.S. to implement an Airport Cargo Community System, a digital platform that allows full transparency, time, and cost savings to truckers, ground handlers, freight forwarders, and airlines. "We can therefore move cargo faster and smarter than any other airport," added Paige.
Why airlines choose to fly to ATL
The airport is said to be the economic jewel of Georgia, it generates a $34.8 billion in economic impact for metro Atlanta and provides more than 63,000 jobs on-site, making it the state's largest employer. It's also the third fastest growing state in terms of GDP in the southeast.
Hartsfield-Jackson has five runways, seven concourses, and super-efficient connectivity according to Paige. "We're the world's busiest, but also the most efficient passenger airport and cargo site as well. We're getting great investment from third party investors, not just airlines."
Paige says that the reasons airlines fly into Atlanta is the investment and tourism, but also because they have the collective support of the state development partners.
"Georgia is a business-friendly state, and we make sure that when we approach an airline, we let them know that they have more than just the support of the airport. They have the support of the mayor's office and the Governor's office as well because we work very closely together."
According to Paige, another reason airlines choose Atlanta, is that they are "the most efficient in terms of turnaround and passenger connectivity." This is because of the airport's design, with seven concourses parallel to each other, which are connected via underground plane train, meaning they can have five take-offs or landings at the same time.
Exciting developments
When asked about the future, Paige said that he is most excited about the modernisation of the terminals, which have seen a lot of upmarket restaurants added and brighter terminal spaces with more glass incorporated.
"It's very bright and open and airy in the terminals now, which is sure to make the passengers feel calmer and more relaxed."
A project that Paige is personally working on, which is in the pipeline is a modern air cargo terminal. This is 53 acres of land provided to third party developers to build a world-class cargo facility that can handle all high-value, high-yield cargo. The bid for this project is out now and interested parties can find information on the City of Atlanta procurement website.
"Adding technology to cargo is incredibly exciting and we aim to attract and have mechanical handling systems that will make us one of the best and most efficient cargo warehouses in America. This is one of my dream projects and I look forward to seeing through to completion."

Elliott Paige is the Director for Air Service Development at Hartsfield-Jackson Atlanta International Airport. He joined the airport after a successful career promoting trade and investment for over 20 years, including serving 10 years as a diplomat in Geneva, Switzerland. Paige also worked as an international civil servant with the World Trade Organization and the United Nation's International Trade Center.
Since at ATL, he has built solid relationships with aviation executives worldwide, recruited several international passenger and cargo airlines, plus several domestic airlines. He collaborates with various stakeholders: the Mayor's Office, Metro Atlanta Chamber, Atlanta Conventions and Visitors Bureau, Georgia Department of Economic Development, the diplomatic community, and private sector partners. He has revised the Air Service Incentive Program according to FAA rules to attract new routes.
Issue
Related airports
Related regions