Looking to the future of air service development at Minneapolis – Saint Paul International Airport
Holly Miles, Editor of International Airport Review spoke with Brian Peters, Director of Air Service Development at Metropolitan Airports Commission, Minneapolis – Saint Paul International Airport, about how the airport has fared during the pandemic, their plans around route development and his business outlook for the future.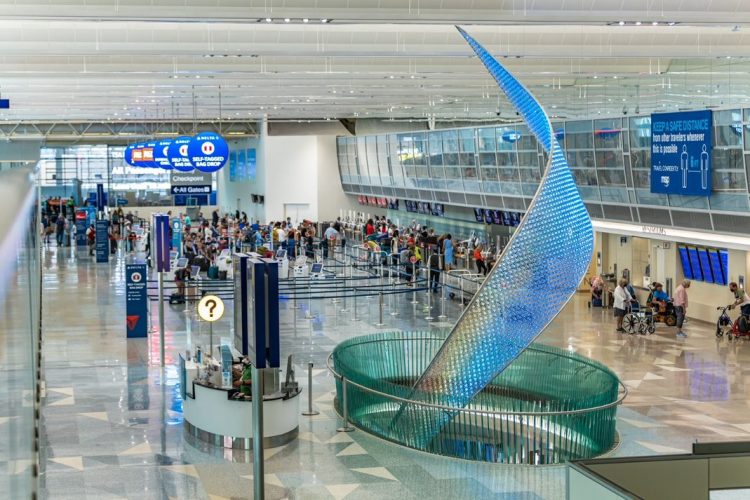 Credit: MSP
Can you tell us about the impact the pandemic has had on the airport's passenger numbers, aviation revenues and the measures you have taken to protect revenues and business operations?
The pandemic has had a significant impact on passenger activity and revenues at the Minneapolis-Saint Paul International Airport (MSP).
Total passenger levels declined 62 per cent in 2020, reaching 14.9 million passengers compared to 39.6 million passengers in 2019. Passenger levels recovered to 25.2 million passengers in 2021, or 64 per cent of 2019's record passenger levels.
There was a revenue shortfall of $218 million in 2020 and $126 million in 2021. Revenues in 2022 are also expected fall short of revenues generated pre-pandemic, in 2019″
Fewer flights and passengers mean fewer revenues for the Metropolitan Airports Commission (MAC), which owns and operates MSP International Airport. There was a revenue shortfall of $218 million in 2020 and $126 million in 2021. Revenues in 2022 are also expected fall short of revenues generated pre-pandemic, in 2019.
Throughout the pandemic, the MAC worked diligently to control costs, including temporarily closing portions of facilities that weren't needed when demand fell, freezing hiring and reducing expenditures to the bare minimum.
Federal relief has helped. The MAC is receiving nearly $295 million from federal COVID-19 relief grant programmes:
The CARES Act (March 2020) is providing $125.9 million in relief to the MAC
The Coronavirus Response and Relief Supplemental Act (December 2020) is providing $33.6 million in grant relief
The American Rescue Plan Act of 2021 is providing $135.3 million, of which $20.5 million is earmarked for relief to MSP concessionaires
This funding has been critical to help cover debt payments and some operating expenses but has not covered all the revenue losses or expenses stemming from the pandemic.
Fewer passengers also equate to fewer revenues from passenger facilities charges, which are used to fund capital projects, forcing the MAC to defer $300 million in airport improvements.
The MAC, in turn, has proactively assisted tenants with the financial impacts of the pandemic. We deferred a portion of airline rates and charges for airline tenants, providing $68 million in relief. In addition, we waived Minimum Annual Guarantee (MAG) requirements and provided temporary rent reductions for concession operators, providing $35 million in relief. Concession operators include food and beverage operators, retail operators, and auto rental operators.
What is your passenger demographic?
Per Airport Council International's (ACI) Airport Service Quality (ASQ) surveys, in 2019 MSP's split of leisure/VFR and business demographics was about 60 per cent leisure/VFR and 40 per cent business. Conversely, results from 2021 passenger surveys the MAC has conducted indicate about 80 per cent of passengers travelled for leisure/VFR purposes in 2021, and about 20 per cent for business.
With the above in mind, how is the passenger experience geared towards this?
MSP's concession program has been designed to accommodate robust levels of both business and leisure passengers. A number of concession outlets closed in 2020 during the peak of the pandemic due to significantly reduced passenger activity. As passenger activity recovers, emphasis has focused on opening most of the quick-serve and fast-casual style F&B outlets that leisure travellers tend to prefer. As business passenger activity returns in 2022, efforts will shift toward re-opening the remaining full-service sit-down and specialty retail establishments that have not yet reopened.
What is your route development strategy for the coming years?
MSP has robust air service. MSP is the second largest hub of Delta Air Lines (behind only Atlanta), which operates broad domestic U.S. service. Delta also currently operates trans-oceanic service from MSP to Amsterdam and Paris, and is scheduled to resume service to London and Reykjavik this spring, and Seoul and Tokyo-Haneda this fall.
The airport is the headquarters location and largest base of Sun Country Airlines, MSP's second largest airline. Sun Country is a rapidly growing ultra-low-cost carrier (ULCC), providing service to a broad range of destinations throughout the U.S., Mexico, and Caribbean specifically designed for leisure passengers. Expansion into Canada (Vancouver) is planned for this summer.
MSP accommodates all other notable U.S. domestic airlines such as Alaska, Allegiant, American, Frontier, JetBlue, Southwest, Spirit and United. It also accommodates foreign flag airlines Air Canada, Air France, Condor, Icelandair and KLM. Aer Lingus commenced MSP operations in 2019, suspended operations in 2020 due to the pandemic and unfortunately has not yet scheduled resumption of MSP operations.
The MAC's route development strategies for MSP focus on attracting additional domestic and international service from airlines to provide broader options for both business and leisure passengers. A majority of route development strategies focus on recruiting new international air service to Africa, Asia, Europe and South America.
How do you plan on doing this and how will you have to modify the passenger experience in the airport to accommodate this?
Key MSP wayfinding signage already includes Kanji for Japanese visitors. In addition, MSP's website, www.mspairport.com, is written in English but enables users to select from among five other languages for translated text. Translation services are also available at information booths throughout the airport. Because we have a diverse concession programme in place, we'd likely only need to make a few tweaks to the current programme to reflect the tastes of a more internationally diverse traveller population.
We also work closely with our destination marketing partners from Explore Minnesota, Meet Minneapolis, Visit Saint Paul, and the Bloomington Conventions and Visitors Bureau, as well as the Mall of America. Each partner actively markets and promotes the region to encourage visitors from primarily Europe and Asia, but also Canada, Mexico, and South America.
Brian's 30-second pitch on why an airline should choose to fly into Minneapolis – Saint Paul International Airport
The Minneapolis-Saint Paul region is large, affluent, and well-educated with strong corporate and leisure travel demand. The region is home to 18 Fortune 500 companies and several large private companies including the largest privately held company in the world, Cargill. Area residents have a high propensity to travel for leisure purposes due to more disposable income from higher-than-average income levels (ranked 10th out of the top 25 metropolitan statistical areas in the U.S.). Finally, the region attracts visitors worldwide to attractions such as the Mall of America (the largest mall in the United States), more than 10,000 lakes, and a vibrant arts, theatre, and professional sports environment.
What is your airport's most distinguishing feature that gives passengers a sense of place?
There is a large, consolidated post-security mall connecting most of the concourses in Terminal 1. The mall is part of an award-winning airport concession programme that includes more than 120 restaurants, retail stores and service providers. Menus and goods strongly reflect local favourites while also including limited national chains for travellers with a preference for the familiar. Through the airport's website, travellers can order ahead to have food ready for takeout or delivered to their gate.
How are you working with governments/tourism offices to promote your destination to travellers?
We work very closely with our business community and destination marketing (tourism) organisations.
Through partnership with GREATER MSP, the region's privately funded economic development organisation, we have established the Regional Air Services Partnership (RASP). The RASP is a collection of about 30 of the region's largest businesses that have agreed to provide both current and forecast corporate travel data to help target and recruit new air service for MSP. Established in 2017, the RASP proved immediately successful as data from the RASP helped recruit new service to Seoul and Mexico City by Delta, and Dublin service by Aer Lingus in 2019. Work with the RASP continues in 2022 to help understand and communicate the recovery of corporate travel activity.
Amazon has been MSP's fastest growing air cargo operator, more than doubling metric ton levels in 2021 compared to 2019 and 2020″
What has the story been with your cargo development? What is the future looking like for this?
Air cargo activity throughout the United States and globally has been resilient throughout the pandemic. At MSP, cargo activity is broken into two segments: belly cargo volume that is transported by passenger airlines and freighter volume that is transported by cargo-only airlines. While belly cargo levels have shrunk significantly due to reduced passenger airline operations, freighter volume has grown. MSP accommodates cargo-only operations from FedEx, UPS, DHL, and Amazon.
We completed a cargo study for MSP in 2021, and the study confirmed that all operators except Amazon have adequate facilities to accommodate forecasted operations through 2040. Amazon has been MSP's fastest growing air cargo operator, more than doubling metric ton levels in 2021 compared to 2019 and 2020. Discussions have commenced with Amazon to ensure facilities are available to accommodate continued growth.
What are your three most exciting developments happening at your airport?
Work continues on a multi-year modernisation of Terminal 1's front entrance, expanding and modernising arrivals and departures halls, incorporating more self-service technologies and improving passenger flow. In addition, Concourse G is being expanded to provide more airline gate space, modern restrooms, a skylit rotunda, new concessions and a third Delta Sky Club. In addition, new Terminal 1 auto rental and ground transportation facilities and 5,000 new public parking spaces are now available at Terminal 1.
What is your business outlook for the future?
The MAC is developing a new five-year strategic plan for the enterprise and its seven-airport system. In addition, we are in the midst of a new long-term plan for Minneapolis-St. Paul International Airport. The long-term plan will forecast future passenger and airlines needs and suggest new or expanded facilities to meet those needs.

Brian Peters is the Director of Air Service Development for the Metropolitan Airports Commission, owner/operator of the Minneapolis – Saint Paul International Airport (MSP). He has over 25-years aviation industry experience and has been leading MAC's air service development efforts since 2010. In this role, Peters enhances MAC's relationship with external stakeholders by engaging with the business and tourism communities of the Minneapolis – Saint Paul region.  During his tenure directing MAC's air service development efforts, MSP has added nine new airlines, including Allegiant, Spirit, Air France, Condor, JetBlue, and Aer Lingus, and accommodates direct service to over 150 domestic and international destinations.
Peters has a Bachelor of Business Administration in Aviation Administration from the University of North Dakota. He has also earned the Certified Commercial Investment Member designation from the CCIM Institute.
Related airports
Related organisations
Related regions