Airport Profile: Brussels Airport, the gateway to Europe
Posted: 19 December 2013 | Joss Stroobants, Director of Sales and marketing at Brussels Airport Company | No comments yet
With 19 million passengers and 459,000 tonnes of cargo being handled each year, Brussels Airport is a very successful hub set in the heart of Europe…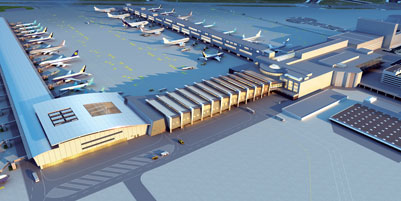 An artist's impression of the innovative 'Connector' project
With 19 million passengers and 459,000 tonnes of cargo being handled each year, Brussels Airport is a very successful hub set in the heart of Europe…
Located in the heart of Western Europe, Brussels Airport has a wide catchment area incorporating all of Belgium, the south of the Netherlands and the north-eastern part of France. Almost 20 million people live within 90 minutes' drive of the airport; of which more than 11 million in Belgium alone.
Being a multimodal hub, Brussels Airport is the preferred starting point for those looking to discover Europe both for business and leisure. Travellers enjoy fast road and train connections to and from Brussels Airport with direct services to and from many major cities throughout Belgium. It is also conveniently located along the Brussels Ring Road. In 2012, the airport welcomed 19 million passengers – 16.5 per cent of whom connecting and 83.5 per cent final destination passengers.
The airport has an enviable track record in terms of efficiency and punctuality and is fully slot-coordinated, with 65 passenger airlines and 15 cargo airlines operating from its three runways. In 2012, the runway system handled 223,000 aircraft movements.
The airport has two piers and 55 connected gates. At both piers another 22 bus gates connect the airport with an additional 54 remote aircraft stands. Pier A was opened in 2002 and handles all European flights to Schengen countries and the Brussels Airlines departures to Africa which take place in a separated area with immigration desks. Pier B dates from the early-90s and handles all long-haul and European non-Schengen flights. The interior of Pier B was refurbished in 2008 when Jet Airways started its large scale 'scissor hub' operations with Brussels Airlines.
A prime cargo gateway, in 2012 alone 459,000 tonnes of cargo flew through the airport, while another 250,000 tonnes was trucked to and from the airport. The cargo area in the north of the airport, Brucargo, has nine parking positions for B747F freighters, with another three under construction. The airport can also welcome the latest B747-8F and B777 freighters and new warehouses at Brucargo West, office redevelopment and the Brucargo secure gateway project will all contribute enhancing this feature of the airport.
Diverse travellers
Brussels Airport passengers have a broad profile, ranging from the high-yield business travel of political institutions (EU and NATO) and major multinationals based in the European Capital, to large expatriate communities providing a significant VFR (visiting friends and relatives) market, to an affluent catchment area generating strong leisure demand.
Brussels is one of the most important locations worldwide for international conferencing, and EU meetings in particular generate significant levels of high-yield passengers via Brussels Airport. But business travel in Belgium goes further than the city of Brussels. Antwerp is the second largest port in Europe after Rotterdam, and is home to the second largest petrochemical industry in the world after Houston. More than 80 per cent of the world's trade in diamonds also goes via Antwerp.
260 companies are based at Brussels Airport itself, and the airport creates direct employment for more than 20,000 people. The airport's real estate development focuses on the 'Airport Village' concept. An important milestone is the remarkable redevelopment of a former airport authority building from the late-50s into 'Gateway'; a state-of-the-art office building that is based literally in the center of Belgium's main traffic junction of road, rail and air.
A tempting commercial offer
Brussels Airport features a large and unique offering of shops and eateries. The 18,000m2 retail space offers everything from fashion to perfumes and cosmetics, to a gourmet corner with a total of 39 shops housing some of the world most recognisable brands. In addition, the airport offers 33 diverse restaurants and bars.
Even the airport's parking has been designed with the customer in mind. 12,500 parking spaces are located opposite the departure hall within walking distance of the terminal and there is a range of parking options available, which have been adapted to travellers' needs. Only last year the new 'budget parking' was opened, located on the Brucargo premises, with a convenient shuttle service to the terminal building.
A draw for tourism
As the home of Victor Horta and Art Nouveau, the capital of Europe offers a wide variety of architectural masterpieces. Visitors can take a stroll over the beautiful Grand Place or visit one of Brussels' 80 museums. Not to mention the illustrious Manneken Pis or the fascinating Atomium, dating from the 1958 World Expo.
Outside of Brussels, Belgium offers a wealth of interesting cities and villages to visit, including the diamond capital Antwerp and medieval gems like Ghent and Bruges. Belgium is also famous for its military heritage, with famous sites like Waterloo, Flanders' Fields and Bastogne. And 2014 will see the opening of the Great War Centenary.
Building for the future
Brussels Airport is improving its infrastructure with 'the Connector'; an innovative project which will allow passengers to walk straight from the check-in desk to their gate in pier A or B without changing floors. In the opposite direction, the building will provide arriving passengers with smooth and efficient access to the baggage reclaim hall and the exit.
The 200×50-metre building with a total surface area of almost 33,000m2 will form the new heart of the airport, at an expected cost of €70 million. Work on the new project started in April 2013 and is expected to be finished by Q1 2015. Those interested can follow the progress of the works live at: www.brusselsairport.be/nl/corporate/ connector/connimg.
The Connector development also gives the airport an excellent opportunity to redraw its commercial strategy. New shopping and foodand- drink concepts will be introduced, as well as a redevelopment of the current commercial areas in the Topaz area at Pier A, and the Gallery of Light at Pier B.
Expansion and modernisation
Brussels Airport has been investing continuously since 2010 in further expansion and modernisation of the airport. For example, in 2010, an older part of the departure hall was fully stripped and rebuilt as a light and roomy departure area for the two main Belgian leisure airlines Jetairfly (part of the TUI group) and Thomas Cook Airlines.
In 2011 the former temporary construction that served as the interim remote departure lounge for bus gates at Pier B was demolished and the location was used to construct another two wide-body gates. Underneath Pier B a large new remote arrival and departure lounge was constructed.
In 2012 the airport opened a baggage system underneath Pier A. This system had been commissioned back in 2002 but following the collapse of Belgian airline Sebena in 2001 and the subsequent reduction in transfer passengers, it was shelved. After a 10-year hiatus the system opened to accommodate the continuously rising amount of transfer baggage with the growing number of Star Alliance operations at Brussels Airport.
Another important step in the development of Brussels Airport as a multimodal hub was the opening of a direct railway link to the port city of Antwerp in 2012. The airport was already connected with Brussels and many other Belgian cities, via the first railway station ever built at an airport, which has been operational since 1955. But the opening of a fully modernised passenger platform and the new direct link to Antwerp and further north to the Netherlands has ensured excellent accessibility all-round. The Belgian and Dutch railways have planned 16 daily trains from The Hague and Rotterdam via Antwerp to Brussels Airport from December 2014. This will significantly expand the airport's reach into the Netherlands catchment area.
In 2013 another two wide-body gates will be added at Pier A by making efficient use of available capacity and adding two extended bridges at the end of the Pier. After 2016 the option remains open to start with the extension of Pier A in the westerly direction. This would add another 20 narrow-body or 10 wide-body gates.
Network
Thanks to its unique position in the heart of Europe, Brussels Airport has a solid European and intercontinental network. Home carrier Brussels Airlines has a traffic share of more than 30 per cent of passengers and, via its Star Alliance membership, plays a key role in the development of Brussels Airport as a European Star Alliance hub.
Brussels Airlines operates with a fleet of A320, Avro RJ100 and Dash8-400Q to more than 45 cities in Europe, and with a long-haul fleet of eight A330s, it also serves a unique network of 17 destinations in sub-Sahara Africa as well as New York JFK and Washington. Brussels Airport Star Alliance partners include Air Canada, United Airlines, US Airways, Thai Airways International, Egyptair, Ethiopian Airlines, and all European members of Star Alliance.
Long-haul carriers outside of Star Alliance have also discovered the key strongholds of Brussels. Air Transat and Delta Air Lines have been present at the airport for more than seven years, and since 2006 Etihad Airways, Hainan Airlines, Jet Airways and Qatar Airways also decided to include Brussels in their route networks.
Jet Airways, meanwhile, operates four daily flights at Brussels. Flights from Delhi and Mumbai continue via Brussels to Newark and Toronto. This innovative 'scissor hub' concept has been very successful and operates like clockwork with all flights now being operated with an A330-300.
With Brussels being the heart of the European Union, most carriers from EU member states and non-EU members operate frequent services to the airport. Low cost carriers are an increasing presence at the airport too, with easyJet serving 10 destinations and Vueling 11 destinations.
Jetairfly and Thomas Cook Airlines primarily operate for the Belgian leisure and the VFR market. Jetairfly has eight short-haul aircraft (EMB195 and B737) based at Brussels, plus a B787 and a B767. The airline recently announced that in April 2014 it will start operating two new weekly flights to Miami. In October 2013, it opened its new maintenance hangar and corporate HQ building on Brussels Airport's premises. The hanger will also provide maintenance for all of TUI Europe's B787s. Additionally, Thomas Cook Airlines has five A320s based at Brussels and carriers Freebird, Tailwind, Onur Air and Corendon complete the leisure airline picture.
Brussels Airport is confident about the future. As the gateway to the capital of Europe and a main Star Alliance hub, traffic growth for the future is assured. The airport's expansion with the Connector, new gates and new innovative commercial and real estate projects will ensure future stability.
Biography
Jos Stroobants is Director of Sales and Marketing at Brussels Airport Company. He is respon – sible for aviation marketing, airport charges and regulation, cargo, retail, and real estate. Jos has been with Brussels Airport for 20 years.