Hong Kong International Airport continues to grow
Determined to maintain its position as the world's premier hub for international aviation, Hong Kong International Airport (HKIA) is committed to providing safe, secure, efficient and reliable service to all of its customers.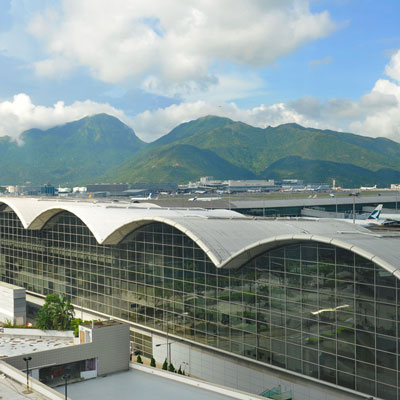 Extensive air network
HKIA plays a pivotal role in the economic integration between Hong Kong and the Chinese Mainland, serving as one of China's four aviation gateway hub airports. Located strategically at the mouth of the Pearl River Delta (PRD), and on the international time zone between Asia and the West, HKIA is within five hours' flying time to half of the world's population. Some 85 airlines link HKIA with more than 150 destinations worldwide, including 40 cities in Mainland China. With its extensive network and frequent flights, HKIA is the preferred choice of international travelers to and from the mainland, in particular the rapidly expanding PRD region which has a population of 50 million.
Multimodal transport hub
Maximising HKIA's island location, special facilities and services have been developed, and are continuously being upgraded, to enhance accessibility to our PRD catchment area. On land, 240 coach trips are made everyday to link HKIA with 70 cities and towns in the PRD and beyond. Passengers travelling between HKIA and the PRD can also make use of SkyPier's high-speed ferry service, which enables direct sea-air and air-sea transfer, bypassing Hong Kong border entry formalities. The world's first upstream cross-boundary check- in service was introduced at the Shekou of Shenzhen in 2006 to enable passengers to fully enjoy a hassle-free travel while flying via HKIA. With the success of the Shekou service, additional upstream check-in facilities will be introduced at other PRD ports in 2007.
An on-airport Marine Cargo Terminal provides round-the-clock one-stop-shop service, including customs clearance and truck delivery to and from HKIA's air cargo handling facilities – SuperTerminal 1 operated by Hong Kong Air Cargo Terminals Limited (Hactl), Asia Airfreight Terminal (AAT) and the Air Freight Forwarding Centre (AFFC). Strategically linking 17 ports in the PRD with HKIA, the Marine Cargo Terminal helps strengthen Hong Kong's role as a premier gateway of China.
Terminal 2 opened to meet future demand
HKIA's passenger throughput has increased from 28.3 million in 1998 to 45 million in 2006. In anticipation of future growth in passenger throughput and with the view to giving passengers a totally new airport experience, the Airport Authority of Hong Kong (AAHK) embarked on a development project to build a new passenger Terminal 2. This multi-purpose development, which commenced operation in February 2007, is unique in many ways. Recognising the importance of multimodal transport, Terminal 2 is where the different modes of air, land and sea transport converge seamlessly.
Terminal 2 is spacious and aesthetically designed with 56 airline check-in counters (can be expanded to 112) for departing passengers. Easy access from downtown is provided via the Airport Express train and other forms of land transport. With the two passenger terminals interconnected by covered walkways and automated people mover (APM), airport users can stroll leisurely between the two facilities within 3 minutes or by APM in 1 minute.
There is a wide range of over 130 local and international brandname retail and catering outlets in Terminal 2 together with four entertainment zones for the enjoyment of HKIA's passengers, well-wishers, meeters and greeters, visitors and airport staff. The four entertainment zones include the 4D Extreme Screen Cinema which has the largest projection screen in Asia with 3 dimensional plus 7 in-situ effects; the Aviation Discovery Centre which exhibits fascinating aviation related topics with a focus on the development of Hong Kong through fun and exciting settings; Asia Hollywood, which is an interactive themed centre equipped with sophisticated facilities to provide visitors with opportunities to put their hands on different aspects of the film industry; and i-Sports which has one of a kind simulators such as soccer, basketball, golf, boxing, skiing, car racing and shooting.
Other airport developments include AsiaWorld-Expo (an international exhibition complex which opened in 2005), the SkyCity Nine Eagles Golf Course (which will open in June 2007), the Hong Kong SkyCity Marriott Hotel (which is scheduled to open in late 2008) and the permanent SkyPier (which will open in early 2009). In addition, Terminal 2 is flanked on either side by two office buildings ? HKIA Tower and the Airport World Trade Centre (AWTC) Tower. While AAHK's headquarters is housed in the HKIA Tower, airlines may choose to take up office accommodations in the AWTC Tower for added convenience. Thus, all in all, Terminal 2 provides room for airlines to grow their business and flexibility to build their own brand and niche market.
Robust air cargo growth
The PRD, which is also known as "the world's factory", is HKIA's main source of air cargo growth. HKIA has been the world's busiest international air cargo centre for 11 consecutive years, since 1996, with 70% of air cargo handled being PRD-related. In 2006, HKIA's cargo throughput reached 3.6 million tonnes, representing over HK$1.7 trillion (US$218 billion) in value or over 34% of Hong Kong's external trade. To meet this robust growth in its cargo business, HKIA will continue to expand its cargo related facilities. Thus, sensitive to airlines' needs, 10 additional dedicated freighter parking stands are being constructed at HKIA to further enhance the efficiency of our cargo business. The total number of cargo aircraft parking stands will increase from 24 to 34 by the end of 2007.
As the operator of the world's largest and busiest air cargo terminal, Hactl handled about 80% of HKIA's cargo throughput in 2006. Substantial investments in state-of-the-art IT infrastructure and industrial automation have been made by Hactl to enhance SuperTerminal 1's capabilities in handling all types of cargo, ranging from general cargo, dangerous cargo to live animals. Staying upfront in innovation and technological development, Hactl, in early 2007, successfully implemented the second phase of its Vehicle Information System – an online, instant electronic platform which monitors in-terminal activities of trucks on a daily basis. This new initiative facilitates a more efficient and appropriate truck dock assignment for truckers and agents, thereby shortening their in-terminal dwell time.
Underlining its confidence in HKIA as the preferred air cargo hub for the region, AAT opened its new Terminal 2 in December 2006. The HK$1.75 billion (US$ 224 million) terminal triples AAT's handling capacity to 1.5 million tonnes per year and further strengthens HKIA's hub position. Featuring a 4-storey warehouse with an area of 130,000 sqm, two airside levels and landside access to every warehouse level, the brand new facilities in AAT's Terminal 2 include additional truck docks, workstation decks and storage positions, a pallet container handling system, an automated storage and retrieval system and a new truck control system with RFID technology to control and monitor traffic flow within the terminal.
In order to meet increasing demand, DHL has embarked to double the size of its new Central Asia SuperHub which opened in 2004. The existing facility was the first dedicated express cargo terminal developed with an investment of US$100 million to meet the dynamic needs of the fast growing time-critical express market and to facilitate HKIA as an express cargo hub. The expansion programme involves an additional investment of US$110 million to almost double the existing facility to 35,000 sqm and equip it with a real-time shipment monitoring system. The expanded facility is scheduled for completion by the end of 2007 and will have the ability to process 35,000 parcels and 40,000 documents per hour.
To maintain and further improve the overall competitiveness of HKIA, an open tender process is underway for a new cargo terminal facility. The timely provision of adequate air cargo capacity will sustain the long-term development of HKIA as a leading international air cargo hub. It is expected that the tender process will be completed in 2008 and the new facility will be in operation in 2011, given the time required for planning, design, construction, testing and commissioning of the terminal.
20-year vision
Recognising that HKIA must continue to contribute to the social and economic development of Hong Kong, the PRD and the Chinese Mainland as a whole, the Airport Authority of Hong Kong completed its second 20-year-plan ? HKIA 2025 ? in December 2006. With China's growing global economic influence and Hong Kong's increasing integration with the Mainland, HKIA 2025 positions HKIA as one of the most important gateway hubs of China. As such, HKIA will participate in the thriving Mainland aviation market which has been forecast to reach 1.4 billion passenger trips and 30 million tonnes of cargo annually by 2020.
HKIA 2025 forecasts that HKIA will handle 80 million passengers, 8 million tonnes of air cargo and 490,000 aircraft movements each year by 2025. HKIA will fulfil its gateway hub position by strengthening its network of international and Mainland destinations together with hassle-free surface connectivity to the PRD and beyond with a seamless convergence of air, road, rail and sea links.
HKIA 2025 also promotes Hong Kong as a leading air cargo and logistics hub. Through the e-airport initiative, HKIA will continue to apply new technologies in the most efficient, reliable and cost-effective manner possible.
HKIA 2025 acknowledges that airport infrastructure takes years to plan, design and build. Moreover, it recognises that airports are important to economic and social development. With the support of government, stakeholders, business partners and the community, HKIA will continue to facilitate the development of Hong Kong, the PRD and China.
Issue
Related airports
Related regions