'New Zealand's Airport'
Posted: 30 May 2008 | Don Huse, Chief Executive Officer, Auckland International Airport | 1 comment
Voted as the airport with the friendliest staff in the world, Auckland Airport (AKL and NZAA) is one of New Zealand's pivotal infrastructure assets and a major South Pacific hub…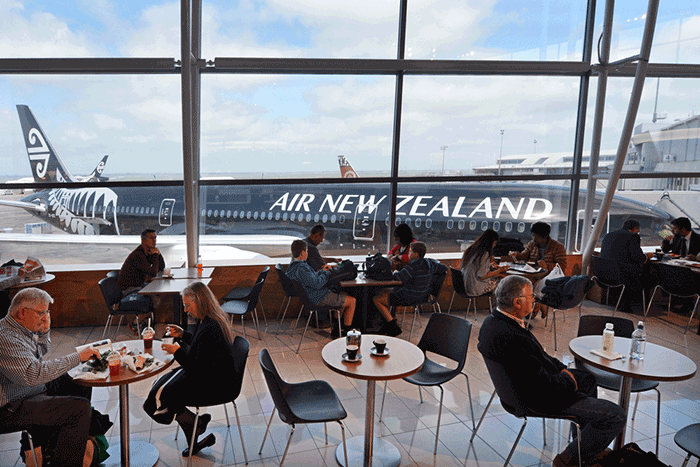 It contributes some NZ$19 billion to the national economy and is the principal gateway to 'the land of the long white cloud.' More than 70% of international visitors enter or leave New Zealand via Auckland Airport and it handles more than 12 million passengers a year. It is Australasia's second busiest international airport, after Sydney, and New Zealand's second largest freight port by value.
Thus, Auckland Airport represents the nation and can claim the title, 'New Zealand's Airport'. Its vision and strategy are based on this premise.
Passenger volumes and carriers
Thirty international airlines serve Auckland Airport. The three largest, Air New Zealand, Qantas, and Emirates, account for more than two-thirds of flights.
The international airlines are serviced by one of two ground handlers, Air New Zealand and Menzies. Auckland Airport also has the services of two flight caterers, LSG SkyChefs and Pacific Flight Catering.
Travellers from Australia and New Zealand make up 60% of those that pass through the airport. Flights from Auckland service Sydney, Melbourne, Brisbane, Cairns, Adelaide, and Perth. Trans-Tasman and/or Australian-based carriers include Air New Zealand, Qantas, and Pacific Blue.
Other international carriers servicing Auckland Airport include; Aerolineas Argentinas, Air New Zealand, Air Pacific, Air Tahiti Nui, Aircalin, Air Vanuatu, Cathay Pacific, Emirates, Eva Air, Korean, LAN Airlines, Malaysia, Pacific Blue, Polynesian Blue, Qantas, Royal Brunei, Singapore Airlines and Thai Airways.
Cargo airlines include Air Freight New Zealand, Air Post, Asian Express Airlines (DHL), Cargolux International, Lufthansa Cargo, Polar Air and Singapore Airlines.
In the six months to 31st December 2007, total passenger volumes at Auckland rose 4.9% to 6,449,543. Total aircraft movements were down 0.3%, reflecting higher load factors and the trend towards larger aircraft, particularly on domestic routes.
International passenger numbers (excluding transit and transfer passengers) were up 3.2%. New Zealand travellers remain the largest single users, although passenger numbers from India and China in particular continue to grow strongly.
Domestic passenger numbers rose 8.7% to 2,759,261, driven in particular by the introduction of Pacific Blue services into the domestic market. Further growth can be expected following the announcement by the national carrier, Air New Zealand, of reduced airfares on many of its domestic routes and enhanced services by Qantas.
Runway and operations
The runway is 05R/23L. It is 3,635m long and 45m wide. With 15m shoulders it is A380-capable. Operations are 24 hours a day, 365 days per year.
Low visibility landing equipment
The company is working with Airways New Zealand (air traffic control) and the airlines to install new equipment to allow aircraft to operate in fog and low visibility conditions. This involves implementing an Instrument Landing System to a Category III B level. The system will be introduced in stages and is expected to be fully operational in May this year.
Key projects
Auckland Airport is continuing with its investment programme to provide a unique and compelling New Zealand airport experience. We aim to deliver outstanding customer service and ensure the safe, secure and efficient operation of the airport.
Auckland's masterplan for strategic development is designed to ensure that it has the infrastructure and facilities in place to enable it to cope with an anticipated 24 million passengers a year by 2025. Among the major current, or recently completed, projects are:
Domestic terminal makeover – An 'extreme makeover' of the domestic terminal, in association with Air New Zealand, was completed at the end of 2007. Five new counters have been provided for Pacific Blue, which launched domestic services in November 2007. The Qantas check-in area was also upgraded in 2007. The upgrading of domestic facilities has also included: new forecourts and road layout, an 850-space multi-level car park with covered walkway access into the domestic terminal and a 2,200m² retail, food and beverage precinct.
International terminal expanded arrivals stage one – Stage one of the expanded arrivals project at the international terminal will be completed by mid-2008. It will feature strong Kiwi images and décor for arriving and departing passengers, as well as spectacular elevated views across the adjacent Manukau Harbour. A 1600m2 arrivals duty free store will be developed, and the border processing areas are being expanded and improved to enhance the arrival experience.
Extra airbridge capacity – A new pier at the international terminal is due for completion in September 2008. Pier B, as it is known, will connect to the new expanded arrivals area and provide two contact gates, each with two airbridges for two-door handling of large aircraft. The new gates are designed to accommodate Airbus 380 aircraft, but will also handle other models such as the Boeing 747-400, Boeing 737 and Airbus 320. The new Pier B gates are expected to be operating from October 2008.
International terminal expanded arrivals stage two – Auckland is planning the next stage of the international terminal's expanded arrivals area in time for New Zealand's hosting of the Rugby World Cup in 2011. This project will bring the baggage hall, arrivals processing and 'meet and greet' areas up to the first floor. It is designed to ensure facilitation standards compare well with other international airports and also to provide capacity for projected volume growth. A wider range of shops and services will be available, along with better car parking and forecourt and traffic management.
Northern runway – Work has begun on stage one. Some 1,200 metres long with the potential to extend further, which will be operational in 2011. The northern runway will create a vibrant hub for domestic airlines, free-up capacity for larger aircraft on the main runway and provide for projected passenger and freight growth.
Terminal hotel development – Expressions of interest have been received for a proposed four to five star, 250 room hotel next to the international terminal. The architecture and interior design are expected to showcase the rich landscape and multi-cultural nature of New Zealand.
Other projects – Projects such as; a new upper level on the international terminal, new hold stow baggage screening and rehabilitation, and the widening of the main runway, have already been successfully completed. To comply with international security requirements, arriving and departing passengers are completely separated and have access to their own retail offerings. The new baggage sorting and screening facility, enhances international passenger safety by screening all bags stowed in aircraft holds.
Information technology and telecommunications
Information technology and telecommunications (IT and T) continues to be an increasingly important aspect of airport management.
Recent key IT and T projects undertaken:
The upgrade of the airport operations contact centre included; a physical refit of the office environment, an upgrade of telephony and radio communications systems, as well as upgrading and consolidating the incident management computer system. Implementation of a new disaster recovery site for the airport operations contact centre.
Ongoing expansion of the airport's wireless network infrastructure that delivers public access to the internet and remote operational access to the airport company's network.
Implementation of the FlightTXT text short message service (SMS), that can text flight arrival and departure information to people's mobile phones directly from the airport flight information system.
Business case development, analysis and planning for the replacement of the current telecommunications technology on the wider airport campus.
Continued upgrade of the campus-wide managed network core to meet growth demands.
Award winning airport
Last year, Auckland Airport was rated the best in the world for friendliness of staff by London-based specialist air transport researchers, Skytrax Research.
The 2007 World Airport Awards survey was based on feedback from 7.8 million passengers, covering 170 airports. This achievement is testament to the total airport team, including retailers, border agencies, airport company staff, service providers and airlines. It reflects Auckland Airport's values of being outstanding and welcoming.
Also for 2007, Auckland Airport was ranked third in the world for overall passenger satisfaction, for airports that manage between 5 and 15 million travellers a year, in the annual Airport Service Quality Awards (ASQ), managed by Airports Council International (ACI).
Over 100 airports worldwide participate in the ASQ programme. A cornerstone of the programme is a customer opinion survey carried out at the airport, including both domestic and international travellers, aimed at capturing their immediate impressions of specific service factors that make up their experience from arrival through to departure.
The survey topics cover: airport access, navigation and connectivity; airport services and facilities; security and immigration; airport environment; arrival services, value for money and overall satisfaction with the airport and airline services.
The top five airports in the category were Nagoya, Tel Aviv, Auckland, Christchurch and Adelaide.
Environmental accreditation for terminal development
Auckland Airport is pursuing international accreditation for its expanded arrivals terminal development project, an area of the international terminal due for completion in April 2008. Leadership in Energy and Environmental Design (LEED) is the United States' Green Building Council's (USGBC) building rating system. The system promotes the creation of sustainable buildings. It focuses on the building life cycle, from site selection, water and energy efficiency, to building materials and construction methods.
A LEED certification provides a third-party validation of a building's sustainable features. As LEED is a voluntary rating system, it shows a company's environmental leadership and commitment to sustainable design.
Reducing aircraft noise and fuel emissions
In partnership with the Board of Airline Representatives New Zealand Inc (BARNZ), Auckland Airport was the first New Zealand airport to install ground power units (GPUs) for parked aircraft. This was completed in 2007.
This technology negates the need for aviation fuel. Aircraft would normally have to remain powered up by an auxiliary power unit (APU) to maintain internal operating conditions such as air conditioning and lighting while on the ground. APUs generate a substantial amount of noise and exhaust emissions. However, GPUs provide electricity by using the airport's terminal supply to the aircraft.
GPUs reduce fuel consumption and emissions as well as noise, aircraft maintenance costs and per-passenger costs. These units operate as demand systems, consuming only the energy required to fulfill the aircraft's power needs at any given time. They are located on the 10 aircraft gates at the international terminal building. The GPUs mean airlines can reduce emissions at Auckland by up to 189 tonnes per year.
Managing the effects of aircraft noise
Auckland Airport works with airlines, air traffic control and local authorities to keep the effects of aircraft noise on local communities within set limits. This is a responsibility the airport takes seriously.
The company boasts an acoustic treatment programme to reduce the levels of aircraft noise heard inside local schools and residential properties built or consented before December 2001 and lying within designated noise contours.
Work may include installing new windows and frames or acoustic insulation in roofs and walls. A mechanical ventilation system is fitted to enable airflow inside the property when windows and doors are closed.
Recent work on a local primary school, completed in August 2007, involved putting up six temporary classrooms and two toilet blocks so pupils could continue their schooling while the main buildings were worked on. Six classroom blocks, the auditorium, the library and the information technology areas were sound-proofed and provided with mechanical ventilation.
Outlook
New Zealand's Airport has an exciting future.
Long-term, international passenger numbers are projected to increase significantly, reflecting New Zealand's growing popularity as one of the world's leading tourism destinations. The company is ideally placed to benefit from the expected significant growth in traffic, particularly in the Asia-Pacific region, over the medium term. Locally, competitive airfares and a strong Kiwi dollar are factors expected to encourage more New Zealanders to travel domestically and internationally. This would bring a commensurate increase in retail, car parking and commercial services at the airport.
In the short-term, the impact of the global macro-economic environment, combined with a slowing in the domestic economy, is likely to reduce the expected level of passenger growth for the remainder of 2008. Although there is strong growth in domestic passenger numbers, there are signs of a leveling-off in international passenger growth, the result of a higher New Zealand currency and oil prices.
At this stage, the company remains on track to deliver revenue growth for the full year in the order of 7% and operating EBITDA growth in the order of 6% (excluding investment property revaluations and ownership costs), although there are downside risks.
The long-term outlook for the company remains positive. The board and management are committed to the sustainable development of New Zealand's Airport and the creation of value for all of its stakeholders.
About Don Huse
Don Huse became Chief Executive Officer of Auckland International Airport Limited in 2003. He was previously Chief Financial Officer of Sydney Airport Corporation, Chief Executive of Wellington International Airport and a Director of TransAlta New Zealand. He is a member of the Institute of Company Directors in both New Zealand and Australia.
Issue
Related airlines
Related regions