Brisbane Airport: meeting the challenge of growth
Posted: 30 May 2008 | Koen Roojimans , Managing Director and CEO, Brisbane Airport | No comments yet
With the population of South East Queensland on the rise and the region becoming more and more popular as a tourist destination, over 17 million people are travelling through Brisbane Airport every year. Now is the time to lock in the benefits of growth by investing in the future.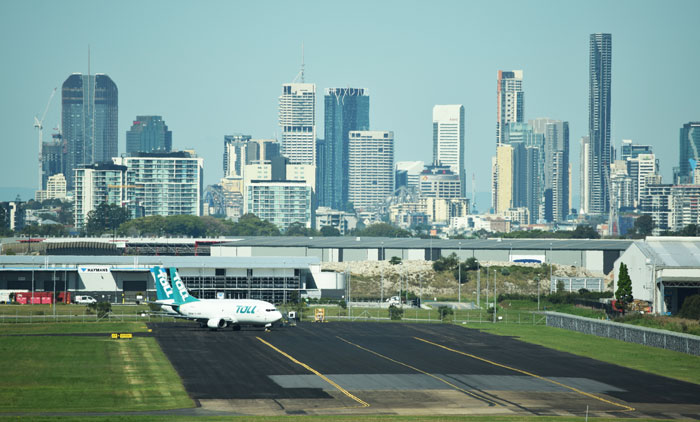 AU$2.5bn worth in infrastructure development
With 43% of visitors to Australia coming to Queensland, and over 1500 people settling in the region each week, it is essential that the State's gateway airport has the capacity to handle the rapidly increasing number of airport users.
The rate of annual passengers has almost doubled since Brisbane Airport Corporation (BAC) inherited the airport in 1997, when the annual rate of passengers sat at nine million. A recent report also shows that jobs at Brisbane Airport have tripled to 16,000 during this period.
For this reason BAC has committed more than AU$2.5bn to upgrading the airport infrastructure over the next decade.
Brisbane Airport has entered an extraordinary period of growth. We need to manage this growth through careful planning and investment, which will see Brisbane Airport evolve into a commercial hub, while also sharpening the region's focus on manufacturing, export industries, tourism, commerce, retail and education and training.
The AU$2.5bn will focus on four major projects, which are: upgrading the international terminal; upgrading the domestic terminal; upgrading the airport road network; and building a new parallel runway.
BAC's infrastructure program will be delivered over the coming decade, ensuring the delivery of solutions that make Queensland's challenge of growth sustainable.
A philosophy dedicated to sustainability
BAC will address its challenge of growth through sustainable development.
Airports play a key economic role in their region, and increasingly realise that they have a key environmental role too. From decreasing greenhouse gas emissions and minimising noise impacts, to protecting significant flora and fauna species, BAC is ensuring its development is in harmony with the environment.
With such a strong community interest in environmental issues, Brisbane Airport is no different to any other facility. We must constantly strive to be better, more efficient and more focused on the long term sustainability of everything we do.
Since implementing a water management plan in 2005, BAC has reduced potable water use by 70%. Through the construction of freshwater lakes and recycled water pipelines, the installation of water-saving devices is a complete overhaul of landscaping to introduce drought tolerant species, while also implementing a number of initiatives with airport partners to reduce the airport's dependence on potable water.
This year our focus will shift to energy use, ensuring we build smarter, more efficient buildings that not only work better in this unique climate, but also reduce the cost and impact of energy use.
BAC is implementing all of these strategies to ensure growth is sustainable, and economic benefits are balanced with environmental needs.
The international terminal expansion project
Major works on the international terminal expansion project are nearing completion, with the new expansion on schedule to open in September 2008.
The international terminal expansion plans include a virtual doubling of capacity, maximising the use of modern technology by incorporating two new A380 gates for the new generation aircraft, as well as self-service check-in and 'common user' facilities, to significantly reduce queuing times for passengers and lower costs for airlines.
As part of the expansion there is also the opportunity to improve the entire airport experience. This will involve upgrading various facilities including; car parks, retail, duty free, food and beverage outlets, entertainment, business services, airline passenger lounges and other features expected in a world-class airport.
BAC's goal is to deliver the most modern, efficient, and well-designed airport in Australia.
With the rapid increase in demand, air travel is becoming more common, making passengers more experienced, ultimately inspiring new expectations of terminal operations and entertainment.
Not only do people want the stress taken out of travel, their expectations of what airports should offer means that the modern terminal must be much more than 'just a place to catch a plane.' We are focusing on streamlining processes with the use of new technologies, and a better terminal layout to remove congestion. We are also developing an entirely new retail and amenities concept, creating an enjoyable, rather than stressful, travelling experience.
The journey is changing for the passenger, and so is Brisbane Airport.
Northern Access Road Project (NARP)
Unlike other capital city airport operators, BAC is responsible for a massive motorway-standard road network, fully funded and maintained by BAC. Improvements to the Brisbane Airport road network, which were announced recently, will also help to reduce the stress from travelling. Over AU$200m will be dedicated to road upgrades over the next three years.
A second entrance to Brisbane Airport, the NARP, will form the centrepiece of the roads package.
This privately funded access road, one of the single biggest private road investments in Australia, will significantly cut airport travel times from the north and south via a link to the new gateway motorway, and promises to reduce traffic on the existing entrance by up to 40%.
Other features of the package include; connections to the international and domestic terminals, modifications to Airport Drive to accommodate the Gateway Motorway across airport land, and new roads to connect precincts across the northern sector of the airport.
BAC must fund, build and maintain around 90km of roads, with no funding from the government, so it is vital that we get the planning right. We must think and invest for the long-term if we are to meet our obligations for the sustainability of Greater Brisbane.
The new roads reflect more than a decade of planning and will ensure Brisbane Airport is ready to take its place as a premier aviation, aerospace, commerce and export hub for Asia-Pacific.
New parallel runway
In addition to upgrading the airport road system, BAC will also be upgrading the runway and taxiway system, with the signature piece of our infrastructure program – the new parallel runway.
It has been estimated that this privately-funded investment of almost AU$1 billion will add billions of dollars to the region's economy and generate tens of thousands of jobs over the next two decades.
Plans for the runway were approved last year, following an intensive three month public consultation period. The new parallel runway is expected to be complete by 2015, bringing AU$5 billion into the South East Queensland economy each year until 2035.
The new parallel runway site has been carefully located within the airport boundaries to allow planes to arrive and depart simultaneously from the runways, a method of operation that was by far the most efficient for both airlines and passengers and would set benchmarks for aviation worldwide.
In addition, while how an airport operates is strictly dictated by weather and traffic conditions, we also aim to capitalise on this configuration to maximise the arrival and departure of planes over Moreton Bay. This will have flow-on benefits to the community in terms of reducing noise impacts.
The new parallel runway project involves the construction of a 3,600m runway located 2km west of the existing runway. This will take approximately five years to complete following the approvals process.
This project is much more than just another runway for Brisbane Airport. It is about ensuring the continued economic strength of our rapidly growing South East Queensland region, providing the essential public infrastructure needed to respond to population growth and to underpin future commercial prosperity.
Domestic terminal expansion
BAC is also planning for a major expansion of the domestic terminal.
The primary elements of the expansion programme include; a public pavilion and entry forecourt, increased airside gate space for airlines, additional passenger processing capacity, upgrades to internal precincts and the separation of arrival and departure facilities to streamline passenger movement throughout the terminal.
The plan also proposes more short term parking, with covered access to the terminal, and changes to the road alignment for improved traffic management.
The work will mean improvements to the look and overall amenity of the terminal, adopting a quintessential 'Queensland' design to provide a strong sense of destination for passengers and visitors.
The planned domestic terminal expansion is expected to be completed in 2010.
Towards the future
The continued growth of our State and its economy is an exciting and challenging task.
Just as coastal and river ports and railway towns have driven urban growth in previous centuries, the 21st century is now emerging as the aviation era.
Airports are emerging as major business activity centres with a growing complexity of issues and challenges; from land use, infrastructure, transport and environmental impacts and implications, to relationships with local communities and Federal, State and local governments.
BAC's AU$2.5bn infrastructure developments will not only ensure Brisbane has the capacity to cope with forecast growth, continuing to offer a high standard to all airport users, it will also create enormous economic opportunity, not just through the construction phase itself but in the creation of new industries and the development of new business and commercial precincts.
Brisbane Airport is the anticipated home to Australia's first genuine Airport City, blending core aviation activities, such as passenger and cargo movement, with a full range of industrial and commercial activity, such as; hospitality, entertainment, sport, retail, fresh produce, childcare, health services and recreation.
The further development of Brisbane's city airport into an Airport City, has also encouraged organisations unrelated to aviation to establish their businesses and increasingly often, national headquarters, at the airport. This is a combined result of amenity to infrastructure and the development of the Airport City, which will eventually encompass a mixture of aviation and non-aviation facilities, providing an ideal location to service businesses in all their needs. Due to the significant amount of planning that has been undertaken in creating an Airport City, it can be achieved through a symbiotic relationship with its surrounding environment, ensuring growth is sustainable and delivering direct benefits to Queensland's economy.
Over the past year Export Park continued to grow, with the expansion of Jetstream Business giving investors the chance to buy office and warehouse facilities at the airport, and the opening of FedEx's new facility, doubling their capacity for express freight in Brisbane.
Aerotech Park saw the arrival of Boeing Australia as a tenant, bringing one of the world's biggest names in aviation to Brisbane Airport. Number 1 Airport Drive, Brisbane Airport's signature precinct, is also moving ahead at a rapid pace.
Office Park was launched in November 2006 following the opening of BAC's new corporate office. Opus Capital Limited, have also taken a strategic stake in the precinct, having secured a four-level commercial office building 'Altitude' for AU$20.5m.
An airport hotel has also been flagged for the precinct. The 120 room, four-star hotel will be built under the Quality Inn banner and developed by Kenlynn Properties Australia Pty Ltd. Hotel features will include; a restaurant, conference facilities, a wine bar, gymnasium and a pool. The first guests are expected to be hosted in early 2009.
With business and industry increasingly looking to Brisbane as the investment destination in Australia best placed to deliver future growth, current vacancy rates for office space in the CBD are at a record low. Brisbane Airport's Office Park is a master-planned precinct, which provides the ability to tailor office space to suit a tenant's requirements, with excellent roads, services and amenities.
Amenities such as a child care centre, medical centre and convenience centre, were all recently announced as new developments for Number 1 Airport Drive.
A Woolworths will anchor the convenience centre, which will also feature a liquor outlet and tavern, along with approximately 2000m² of specialty stores such as; a baker, pharmacy, grocer, newsagent, butcher, baker, and deli, all under the one roof.
These developments will serve the 16,000 airport workers who have previously had to leave the airport precinct to have access to basic services and amenities.
They will play a vital role in the airport's growing business and commercial centre. With the rapid growth of the airport workforce, the development of Number 1 Airport Drive, will mean workers, passengers and visitors will have the amenities they deserve, such as; health, child care, shopping, entertainment, fitness, accommodation, dining and public transport, all without having to leave the airport.
These new developments, combined with our AU$2.5bn infrastructure program, will ensure we are meeting the challenge of growth and delivering a world class airport, serving Australia's most dynamic region.
Brisbane's Airport City is emerging.
About Koen Roojimans
Koen Roojimans took over BAC's leadership in July 1997. He had been chiefly responsible for Amsterdam Airport Schiphol's involvement in the bid process for the privatised airport, moving from his post as managing director of CSU Total Care, a facilities management company in the Netherlands.
With more than 20 years management experience in aviation, Koen was a member of the KLM Royal Dutch Airlines senior management team where his responsibilities spanned from facility Services to finance and managing directorship of the regional airline KLM Cityhopper.
He has held directorships with various Dutch companies, and has a Doctorandus degree with Cum Laude in Economics from Katholieke University Brabant in the Netherlands.