EgyptAir flight from Paris disappears from radar
19 May 2016 • Author: Katie Sadler, Digital Content Producer, International Airport Review
An EgyptAir aircraft travelling from Paris Charles de Gaulle airport to the Egyptian capital Cairo has disappeared from radar soon after entering Egyptian airspace.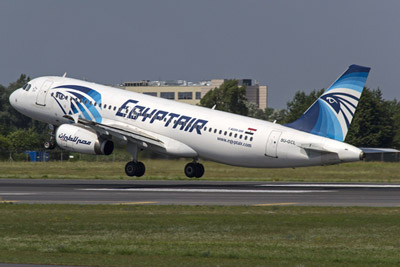 According to the airline, the EgyptAir A320 aircraft, flight number MS804, lost contact with radar 37,000ft above the Mediterranean Sea and approximately 280km from the Egyptian coast at 00:27 GMT. The aircraft left Paris Charles de Gaulle airport at 21:09 GMT (23:09 Paris time) on Wednesday 18 May and was due to reach its destination at 01:15 GMT (03:15 Cairo time).
56 passengers and 10 cabin crew on board EgyptAir MS804
EgyptAir has confirmed that there were 56 passengers on board, three of which are reported to be children, in addition to 10 cabin crew members. Nationalities of the passengers included, 15 French, 30 Egyptian, 1 British, 1 Belgium, 2 Iraqis, 1 Kuwaiti, 1 Saudi, 1 Sudanese, 1 Chadian, 1 Portuguese, 1 Algerian and 1 Canadian.
According to news agency Reuters, Greek air traffic controllers spoke to the pilot over the island of Kea, just south of Athens. Kostas Litzerakis of Greece's civil aviation said the "The pilot did not mention any problems."
He went on to say, "Greek controllers were unable to reach the pilot and the plane vanished from their radars shortly after leaving Greek airspace."
CNN has also reported that according to a Greek official, the plane "swerved 90 degrees left and then 360 degrees to the right" before plunging into the Mediterranean. The plane then dropped from 37,000ft to 15,000ft and was recorded at an altitude of 10,000ft before it was lost.
Today's incident follows the ill-fated Russian operated Metrojet A321 which came down in the Sinai on 31 October 2015 killing all 224 passengers on board. There was speculation that the plane was brought down by an explosive device smuggled in the hold of the plane.
In March this year an EgyptAir plane was hijacked and forced to land in Cyprus during an internal flight between the Egyptian cities of Alexandria and Cairo. The man, who authorities said was wearing a fake suicide belt, was arrested at Larnaca airport.
According to Reuters, under U.N. aviation rules, Egypt will automatically lead an investigation into the accident assisted by countries including France, if it is confirmed that an Airbus jet was involved.
Wreckage thought to be from the plane has been found. Greek, Egyptian, French and UK military units are continuing to scour the Mediterranean.  
Egyptian officials have not ruled out the possibility of a terrorist attack.