Gogo highlights global passengers' demand for in-flight connectivity
5 April 2016 • Author: Mandy Parrett, Editorial Assistant
More than half of global travelers state that Wi-Fi availability is a significant factor when booking a flight, according to a recent study carried out by Gogo.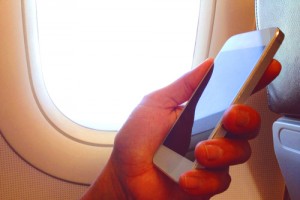 The leading global provider of broadband connectivity solutions and wireless entertainment to the aviation industry revealed that when choosing a flight, more than half of global travelers factor Wi-Fi into their choice of airline.
Gogo identifies that demand is higher outside of U.S. and Canada
The U.S. market is flooded with in-flight Wi-Fi and wireless entertainment, but the interest in these services is greatest in the rest of the world where the availability of this technology during flights is in its early stages. Outside the U.S. and Canada, 86 percent of travelers say they are interested in using in-flight connectivity vs. 75 percent within the U.S. and Canada. When it comes to wireless in-flight entertainment, 76 percent of global travelers show interest vs. only 67 percent of U.S. and Canadian travelers.
"The need for ubiquitous connectivity is no secret. There are very few places on earth today that people can't connect and the plane is really the last frontier," said Ash ElDifrawi, Gogo's chief commercial officer. "What's surprising to us is that the demand is actually higher outside of the U.S. and Canada, where we are just scratching the surface in terms of connecting planes."
Wi-Fi enabled devices essential for travelers
The percentage of passengers boarding a flight with at least one Wi-Fi enabled device also continues to climb. Currently, 90 percent of global passengers brought at least one Wi-Fi enabled device on-board their last flight, with Android being the operating system of choice over iPhones on commercial aircraft.
Gogo has created an infographic that details some of these findings, which can be found below.  This data was compiled from Gogo's global traveler research study and represents participants across 19 countries and five continents. All participants had taken a round-trip flight in the past twelve months.