Sill on board at Dublin's new Terminal
Posted: 14 November 2011 | Vantage Public Relations
The impressive new, €395 million Terminal 2 at Dublin Airport, can meet the needs of both long-haul and short-haul passengers…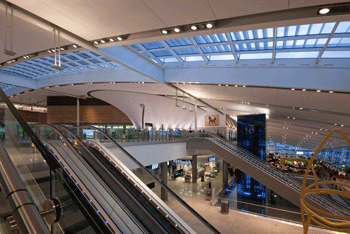 The impressive new Terminal 2 at Dublin Airport where no less than 1,800 Sill projectors have been specified. Pictured are Sill's 021 projectors, mounted in special gimbal frames, in the space between the structural roof steels and the stretched fabric soffit.
Sill have added another airport to their long list of successful transport projects. The impressive new, €395 million Terminal 2 at Dublin Airport, can meet the needs of both long-haul and short-haul passengers and can comfortably handle up to 15 million passengers per year.
Sill worked closely with lighting designers from Arup from the very start, creating a special gimbal frame for up to three Sill 021 projectors. With typical Sill flexibility, the 021s were supplied in a variety of HID wattages and beam angles to suit the geometry of their locations, as well as with compact fluorescent lamps for emergency operation.
The Sill gimbal projectors were supplied on time, in batches to suit the build programme, ready assembled for fast, accurate installation and plug-and-play operation. Integrated into the space between the structural roof steels and the stretched fabric soffit, the high performance, low glare projectors illuminate all the high roofed areas in Arrivals, Departures and Pier E.
Sill's classic 458 series asymmetric projectors uplight the main structural elements and soffits around the roof spine skylights, whilst 490 power projectors provide additional lighting to soffits and walls. In all some 1,800 Sill projectors are used on the project – the largest construction project in Ireland at the time.
Dublin Airport Terminal 2 showcases Arup's achievement of their design intention to provide a sustainable lighting scheme capitalising on the use of daylight from the facades and roof spine skylights. Lighting is used to guide passengers through the airport whilst addressing the main architectural features. The luminaires are integrated into the building fabric to minimise visual clutter. Sill, specified by the design team very early in the five year design process of the project, are delighted to have helped bring it to fruition.
Vasiliki Malakasi, lighting designer at Arup commented, "We are very pleased with the projectors and their photometric performance. The Sill luminaires were fit for purpose, robust yet elegant in design. Most importantly, we managed to work well with the Sill product design team developing special fittings and parts. We had technical back up and support throughout the project from initial design to onsite installation."
All of the Sill projector types used on the scheme have Si12 corrosion resistant die-cast aluminium housings with large heat dissipating cooling fins. The reflectors are made of 99.98% pure aluminium, chemically polished and anodised with a UV filtering toughened safety glass sealed by a silicone gasket.
Designed for high power architectural accent and floodlighting, Sill's 021 series compact projectors come in a choice of three symmetrical beam angles, ideal for lighting atria, columns, and all the features of contemporary building architecture.
Sill's enormously popular 490 series compact floodlights have an aesthetically pleasing design with integral ballasts and a one-piece diecast aluminium body with cooling fins. They are available with 52 different lamp ways and 27 reflector combinations.
The dynamic curved shape of Sill's 458 projectors is derived from the world-famous asymmetric reflector technology used within the housing. It is designed to produce optimum light distribution from an asymmetric beam.
The overall Terminal 2 project also includes an improved internal campus road network at Dublin Airport, a major utilities upgrade, a new multi-storey car park and the provision of sites for a new ground transportation centre and future metro station.
Further information is available from Sill Lighting on 01844 260006, email: [email protected], or by visiting the company's website at www.sill-uk.com