O'Hare International Airport opens new runway and air traffic control tower
Posted: 19 October 2015 | Katie Sadler, Digital Content Producer, International Airport Review
Chicago's O'Hare International Airport has opened a new East-West parallel runway and air traffic control (ATC) tower as part of the O'Hare Modernization Program (OMP). Chicago Department of Aviation (CDA) officially opened the $516 million Runway 10R-28L on 15 October 2015. The runway, located on the south airfield, will be used primarily as an arrival runway […]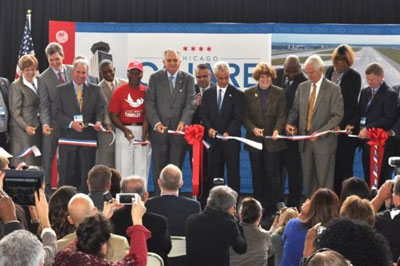 Image: Chicago Department of Aviation
Chicago's O'Hare International Airport has opened a new East-West parallel runway and air traffic control (ATC) tower as part of the O'Hare Modernization Program (OMP).
Chicago Department of Aviation (CDA) officially opened the $516 million Runway 10R-28L on 15 October 2015. The runway, located on the south airfield, will be used primarily as an arrival runway improving both capacity and efficiency at the airport.
On opening the new facilities, Mayor Rahm Emanuel said. "The new runway will reduce delays and increase airport capacity – a positive development for travellers and businesses who rely on O'Hare. And while O'Hare may be the busiest airport in the world, our goal is to make it the best airport in the world. With the help of this new runway and our other investments, we are on track to achieving that goal."
New runway at O'Hare International Airport will improve capacity and efficiency
With construction beginning in spring 2011, 10R-28L is the fifth East-West parallel runway at O'Hare International Airport. Measuring 7,500 feet in length and 150 feet in width, it includes a 7,500-foot long East-West parallel taxiway (Taxiway W) immediately north of the runway and a 2,000-foot-long connecting taxiway to the south airfield (Taxiway AA).
"The new runway at O'Hare is another milestone for the airport and the entire city of Chicago," said Alderman Michael Zalewski, Chairman of Committee on Aviation. "O'Hare elevates Chicago's standing on the world stage, and it attracts companies to Chicago as well as jobs to our neighbourhoods. This is a positive step in the right direction, but we know that there is more work ahead for the airport, our city, and its residents."
In addition, the airport announced the opening of a new $41 million FAA air traffic control tower which will be used to manage aircraft operations on Runway 10R-28L. The new tower is 218-feet-tall (13 levels) with a 10,000 square-foot base building. It was designed to achieve LEED Gold certification by the U.S. Green Building Council and includes a 10,000 square-foot vegetated green roof, a geothermal energy system, and many other sustainable features. The commissioning of Runway 10R-28L and the South Air Traffic Control Tower marks completion of all south airfield construction on the OMP.
CDA Commissioner Ginger S. Evans, added: "Modernising our airfield and improving capacity at the world's busiest airport is critical to addressing many important challenges such as reducing delays, mitigating noise and improving the customer experience."
Related topics
Related airports