$27 million FAA funding for new airport in North Dakota
Posted: 7 October 2015 | Katie Sadler, Digital Content Producer, International Airport Review
A $27 million Airport Improvement Programme grant has been issued by The U.S. Department of Transportation's Federal Aviation Administration (FAA) to build a new airport in North Dakota. The funding granted to the City of Williston, will allow the purchase of land to build a new airport replacing the existing Sloulin Field International Airport. The […]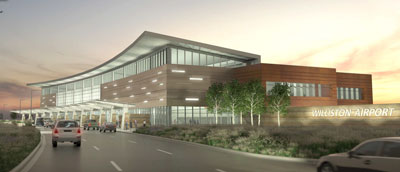 Image source: www.flywilliston.net
A $27 million Airport Improvement Programme grant has been issued by The U.S. Department of Transportation's Federal Aviation Administration (FAA) to build a new airport in North Dakota.
The funding granted to the City of Williston, will allow the purchase of land to build a new airport replacing the existing Sloulin Field International Airport. The existing airport has seen dramatic growth from 2008 to 2014 with passenger enplanements increasing from 10,894 to 114,281. The FAA has been working with the North Dakota Aeronautics Commission and the City of Williston to address the region's aviation needs.  
U.S. Transportation Secretary Anthony Foxx said:  "This grant reflects our commitment to meet the changing aviation needs of airports around the country. As economic and demographic changes occur, the U.S. Department of Transportation remains committed to helping state and local governments provide the necessary infrastructure to meet transportation demands."
North Dakota is the second largest oil-producing state in the United States.  Oil drilling operations have increased Williston's population and increased passenger traffic, corporate aviation activity, and cargo operations at Sloulin Field. 
The new airport will be called Williston Basin International and is expected to open in 2018
FAA Administrator Michael Huerta, added: "Investing in our nation's airports is important to the national air transportation system. We look forward to continuing to work with our partners in North Dakota as we embark on this important project to provide safe and efficient air transportation to the Williston region."
According to the FAA, an environmental assessment was carried out and no significant environmental concerns with the proposed project were identified. In addition to the environmental work, a FAA funded a master-planning study determined how best to address capacity at the existing airport. The study showed that Sloulin Field is constrained by surrounding development and the cost to improve the airport is not economically feasible.  The study recommended building a new airport in a different location that could safely accommodate current and future demand.
The new airport will be called Williston Basin International with XWA as the three-letter airport identifier.  It is expected to be open in 2018.
The total project cost, including land and construction of the new airport, is an estimated $254 million.  The airport will be built in phases, with future funding from the City of Williston and the State of North Dakota with the possibility of additional grants from the FAA.
Related topics
Related organisations