Frankfurt Airport begins first phase of Terminal 3 construction
Posted: 6 October 2015 | Katie Sadler, Digital Content Producer, International Airport Review
Construction work officially commenced on the new Terminal 3 facility at Frankfurt Airport with completion due in 2022. The first phase of construction was marked by operator Fraport and 400 employees simultaneously performing a symbolic first cut of the spade. Joining the ceremony were State of Hesse prime minister Volker Bouffier, Frankfurt am Main's city […]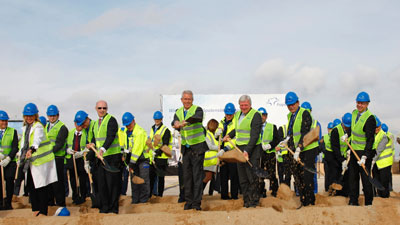 Front left to right: Anke Giesen, Fraport executive board member for operations; Dr. Matthias Zieschang, Fraport executive board member for finance; Dr. Stefan Schulte, Fraport executive board chairman; Volker Bouffier, prime minister of the State of Hesse; Karlheinz Weimar, Fraport supervisory board chairman; Michael Müller, Fraport executive board member for labor relations.
Construction work officially commenced on the new Terminal 3 facility at Frankfurt Airport with completion due in 2022.
The first phase of construction was marked by operator Fraport and 400 employees simultaneously performing a symbolic first cut of the spade. Joining the ceremony were State of Hesse prime minister Volker Bouffier, Frankfurt am Main's city treasurer Uwe Becker, Fraport AG's entire executive board and its supervisory board chairman Karlheinz Weimar.
Speaking at the milestone ceremony, Fraport AG's executive board chairman Dr. Stefan Schulte stated: "Terminal 3 will meet the highest demands for service and quality. As Germany's most important airport – particularly for intercontinental flights – Frankfurt will be able to continue offering first-class services and modern infrastructure to our passengers and Germany's export-driven economy. Terminal 3 will also serve as an attractive showcase for the entire Frankfurt/Rhine-Main region. Construction of this outstanding facility will ensure that Frankfurt remains Germany's Gateway to the World."
Frankfurt Airport's new Terminal 3 facility will serve up to 14 million passengers
State of Hesse prime minister Volker Bouffier added: "The construction of Terminal 3 is an important step in ensuring Frankfurt Airport's future viability and, thus, Hesse's position as a leading economic location in the world. Fraport AG's massive investment of €2.5 to €3 billion in the new terminal is creating significant added value for the region, which deserves our respect. Furthermore, as one of the largest infrastructure projects in Germany, Terminal 3 will allow Hesse's Gateway to the World to remain a key global aviation hub, where existing jobs will be strengthened and new ones added.  Consequently, Frankfurt Airport will continue to serve as a vital economic engine."
Once complete in 2022, Terminal 3 will be able to serve up to 14 million passengers relieving pressure from Terminals 1 and 2 which are almost at full capacity. At a later date, two more piers can be added to expand the overall capacity of Terminal 3 to some 25 million passengers per year. By installing a new SkyLine people-mover system to link Terminal 3 with the existing terminals at the north side of FRA, Fraport aims to ensure the best transfer options and optimal intermodal connections for all passengers and guests.
Fraport AG's supervisory board chairman Karl-Heinz Weimar said:  "Our future Terminal 3 will strengthen Frankfurt Airport's competitive position internationally. With my many years of experience at Fraport, which is regarded as one of the world's most successful airport operators, I am certain that this ambitious project will be realized on time and on budget. Fraport has tremendous expertise for creating passenger terminals, ranging from Pier A-Plus in Frankfurt to the recently constructed new terminals in St. Petersburg, Varna and Burgas – as well as passenger terminals previously built in Delhi and Antalya."
The large Terminal 3 facility will be 90,000 square meters and have a height of 33 metres in the terminal hall area and a clear interior height of 20 metres. The hall will offer space for up to four check-in areas with a total of 104 counters, up to 54 baggage drop-off machines and initially, some 40 ticket counters – which can be increased depending on future requirements. Terminal 3 will offer 29 security control positions for departing and transfer passengers, and 10 baggage claim belts for arriving passengers.
The two new piers at Terminal 3 will be 400 and 600 metre in length and will provide a total of 24 urgently need aircraft docking positions including 20 positions designed for wide-body jets like the Airbus A380 superjumbo and the Boeing 747.
Dr. Schulte concluded: "After more than 15 years of intensive planning, approval and verification, we are today pleased to commence construction of the new Terminal 3 at Frankfurt Airport. This terminal will secure the international competitiveness of Germany's largest aviation hub, which will result in the creation of new jobs and opportunities for our employees. Furthermore, Terminal 3 will stimulate economic prosperity in the entire Frankfurt region and beyond. Along with our jubilation for the new Terminal 3, we will not lose sight of our role as an international leader in noise abatement. In the years to come, we will not relent with our commitment to noise abatement activities."
Related topics
Related airports
Related organisations