Aéroports de Paris awarded multiple airport design contracts in Asia
Posted: 15 September 2015 | Katie Sadler, Digital Content Producer, International Airport Review
ADP Ingénierie (ADPI), a wholly-owned subsidiary of Aéroports de Paris, is further expanding its business following a series of awarded contracts for Airport design in Asia. Aéroports de Paris continues its growth of airport design in Asia following its subsidiary ADPI winning the contract to design Beijing's new International Airport in September 2014.  A series […]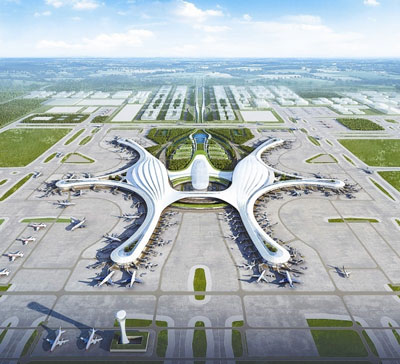 Design project for the future terminal at Chengdu Airport © CSWADI - ADPI
ADP Ingénierie (ADPI), a wholly-owned subsidiary of Aéroports de Paris, is further expanding its business following a series of awarded contracts for Airport design in Asia.
Aéroports de Paris continues its growth of airport design in Asia following its subsidiary ADPI winning the contract to design Beijing's new International Airport in September 2014.  A series of contracts have now been awarded to the company across the region which now enjoys very strong growth in air traffic.
Aéroports de Paris to design first terminal of a new airport in Chengdu, China
In conjunction with Chinese partners, ADPI has won the international competition for the master plan and architectural design for the first terminal of a new airport in Chengdu, the capital of Sichuan province in China.
The current airport, Chengdu Shuangliu International, is China's 5th busiest airport with capacity at full stretch. The Civil Aviation Administration of China has now taken steps to build a new airport with an initial capacity of around 40 million passengers, rising eventually to reach 90 million. This will make Chengdu one of the largest airports in South-West China.
The first part of the airport is scheduled for commissioning in 2019.  For now, ADPI is working in cooperation with CSWADI, a Chinese firm, on optimising the architectural concept.
Elsewhere, Aéroports de Paris / ADPI in partnership with engineering specialists Meinhardt have won two calls for tender issued by Hong Kong International Airport (HKIA) for the design of, an extension to the main terminal (Terminal 1) allowing an increase in capacity of 10 million passengers. This involves primarily expanding the terminal's landside area in order to enhance the check-in and baggage-handling facilities, as well as passenger flows. The contract will also include an extension of the aprons to provide parking space for 24 additional wide-body aircraft. 
In addition, ADPI has been selected, by the Chinese authorities and one of the main local design institutes, to audit the future development projects at Shanghai Pudong International Airport.
Lastly, ADPI has recently been selected to conduct upstream studies on two provincial airports in South Korea:
– the first study aims to verify the feasibility of the expansion of Jeju International Airport (the country's third-largest airport with 23 million passengers in 2014) in order to determine the critical parameters, particularly in terms of the capacity of existing aeronautical facilities;
– the second study, currently undertaken in consortium with the Korean Transport Institute (KOTI), examines the feasibility study for a new airport in Youngnam, a region in the south-east of the country.