Abu Dhabi Airports begin de-propping of Midfield Terminal Building roof structure
Posted: 1 September 2015 | Katie Sadler, Digital Content Producer, International Airport Review
The construction of the Midfield Terminal Building reached another milestone following de-propping of the self-standing curved roof structure. The first of nine de-props has taken place removing 30 temporary supports with 60 hydraulic jacks revealing a segment of the state-of-the-art roof which gives the impression of floating on 18 steel arches. Once complete in February […]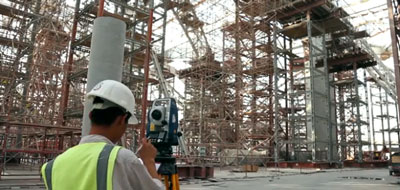 The construction of the Midfield Terminal Building reached another milestone following de-propping of the self-standing curved roof structure.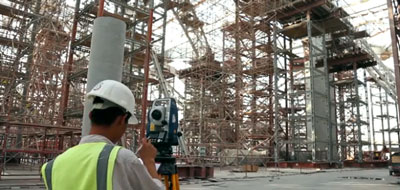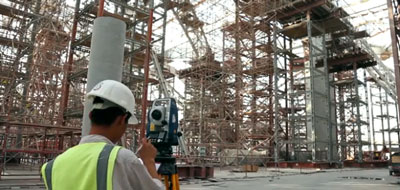 The first of nine de-props has taken place removing 30 temporary supports with 60 hydraulic jacks revealing a segment of the state-of-the-art roof which gives the impression of floating on 18 steel arches.
Once complete in February 2016, the multi-billion dollar infrastructure project will produce the world's longest indoor arch spanning 180m, at a height of 52m, with a weight of around 1000 metric tons. The new roof structure will be the centrepiece of the terminal building with the capacity to accommodate 30 million passengers a year.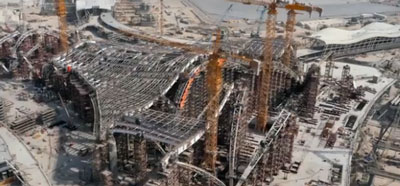 Commenting, H. E. Ali Majed Al Mansoori, Chairman of Abu Dhabi Airports, said: "It is truly amazing to witness this great progress. We are extremely proud to maintain our track record of achieving key construction milestones safely in spite of the project's architectural complexity. Currently the whole project is 55 percent complete and it is expected to be 70 percent complete by the end of 2015. We owe this tremendous success to our outstanding construction team, the contractors and the Capital Projects & Construction Division, for masterminding a cutting edge approach for this immensely complicated task. The MTB's presence on Abu Dhabi's iconic skyline is reflective of our unwavering commitment towards the redevelopment of the Emirate's aviation infrastructure."
H.E. continued: "The MTB is set to become the gateway to the capital city and plays an important role in raising the profile of Abu Dhabi as a world-class transportation hub. It is also contributing to the diversification of the Emirate's economy by fostering growth in other industries through increased connectivity."
Chief Programs Officer, Sulaiman Al Siksek added: "Although we've reached a milestone on this project by beginning the de-propping, the hard work on creating this iconic terminal building continues. We have an army of 20,000 workers on this 3.5million sqm site, supported by a fleet of the latest construction equipment, including 24 tower and mobile cranes. The steelwork for the four piers is complete and good progress is already underway for the enclosure structure, including the glass curtain walling and roofing for the four piers."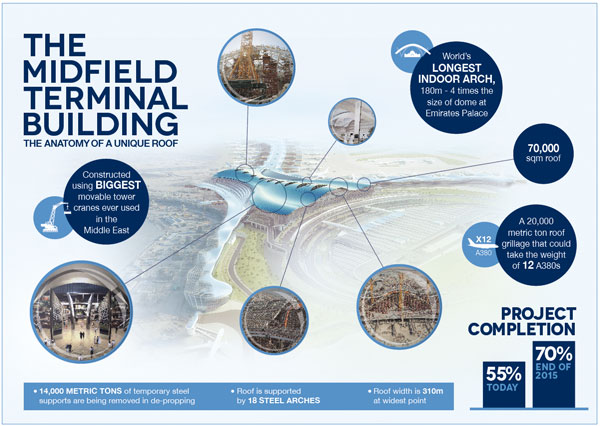 Once glazing of the roof structure is completed later this year, the focus will move towards work on the inside of the building including, fit-out, systems integration and all other required infrastructure such as the state-of-the-art baggage handling system, with a capacity to handle over 19,000 bags per hour through its ten reclaim carousels and 27km of conveyors.
A video of the de-propping process can be found here.
Related topics
Related airports
Related organisations