Quito Airport chooses CA+ to improve non-aeronautical revenues
Posted: 1 September 2015 | Concessionaire Analyzer+
Quito International Airport (Mariscal Sucre), Ecuador, has chosen the unique Concessionaire Analyzer+ (CA+) solution to better manage its concessionaires and increase its non-aeronautical revenues…

Quito International Airport (Mariscal Sucre), Ecuador, has chosen the unique Concessionaire Analyzer+ (CA+) solution to better manage its concessionaires and increase its non-aeronautical revenues. The project was won through an international tender process in conjunction with Ikusi, the CA+ distributor for Latin America.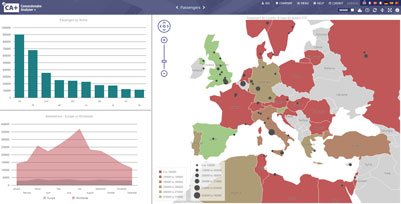 CA+ provides unique facilities to automate the capture of detailed sales data from concessionaires and correlate this with flight data and other airport operational information. Airports can then analyse this using the CA+ business intelligence and reporting platform, enabling them to obtain better insights into their sales patterns in order to boost revenues and performance.
In addition, CA+ also manages concession contracts and automates billing, leaving commercial teams to focus their efforts on increasing non-aeronautical revenues – a growing trend in airport management worldwide.  CA+ Billing module will integrate with Quiport's JD Edwards ERP system while also integrating with the Ultra Flight Information System.
Ikusi, the global airport OT specialist and the official CA+ distributor for the Latin American region, will be providing localised services and support to Quito airport as they deploy CA+.
Mariscal Sucre International Airport in Quito is regarded as a leading airport in Latin America having won South America's Leading Airport award given by World Travel Awards in 2014, and also having placed second in the ACI ASQ Award for Best Airport in Latin America. Last year, Quito welcomed 6 million passengers, and continues to show a steady increase year on year.
CA+ CEO John de Giorgio said "this win further reinforces the importance that airports worldwide are placing on the improvement of non-aeronautical revenues in order to remain profitable. CA+ is today being used by multiple airports in Europe, the Caribbean, and now also in Latin America in airports which vary across the size spectrum.  We are proud to be working with our partners Ikusi on such a remarkable airport as Quito."
Quiport, the company that manages Quito International Airport, is a leading firm managing multiple airports in Latin America.
CA+ and Ikusi will be showcasing their solutions at the ACI LAC conference and exhibition in Panama City between the 31 August and 2 September, and airports are welcome to visit to discuss improving their non-aeronautical revenues.