Icelandair increases flights from Glasgow to Reykjavik
Posted: 28 August 2015 | Victoria White
The increase will take the number of flights Icelandair offers to Glasgow customers from five to six a week, increasing the number of available seats by 14,000 per year…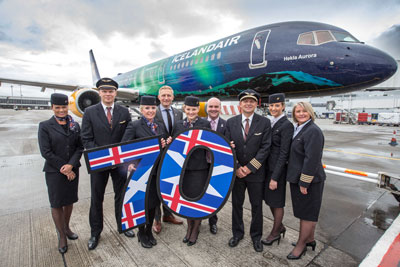 Icelandair has announced it will increase flights from Glasgow to Reykjavik from March 2016 as the airline celebrates its 70th anniversary of flying to Scotland.
This will take the number of flights the airline offers to Glasgow customers from five to six a week, increasing the number of available seats by 14,000 per year.  The additional flight will depart on Saturday mornings from 19 March 2016.
Icelandair has a long and illustrious history and this year marks their 70th anniversary of international flights which started to Scotland in 1945. The airline initiated the first scheduled passenger flights in post war Europe when a Catalina boat plane flew from Reykjavik, Iceland to Largs Bay, Scotland, carrying 4 crew members and 4 passengers. Three years later, a Skymaster aircraft made the airline's first transatlantic flight to New York on 26 August 1948.
"It is delightful, that at the same time we are celebrating 70 years of our prosperous relationship with Scotland, we can announce the increase of an extra weekly flight from Glasgow. Demand from our longest serving international gateway is strong and we look forward to offering more options of flying to Iceland and connecting into our network to US and Canada," said Andres Jonsson, General Manager Icelandair UK.
New Icelandair flight will increase connections for customers wishing to travel to North America
Francois Bourienne, commercial director at Glasgow Airport, said, "It is great news that Icelandair is increasing this service to six flights a week to mark its 70th anniversary of serving Scotland.  This will help to increase connections for our customers to the 16 destinations that the airline serves in North America, including Boston, New York, Washington, Toronto and now Chicago and Montreal.
"Icelandair has clearly demonstrated its confidence in the Scottish market by adding significant new capacity for the past three years and today's announcement builds on that once again.  We look forward to continuing to work in partnership with the airline and to seeing more growth in years to come."
Related airports
Related airlines