On the right line – new markings at Chopin Airport
Posted: 24 August 2015 | Victoria White
New markings at Chopin Airport should help clear up any confusion about how passengers get to taxi ranks, bus stops or the railway station…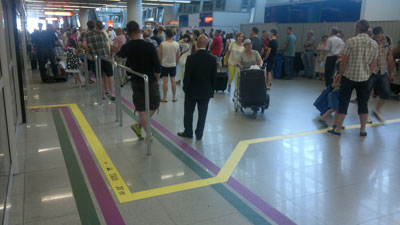 Getting to the taxi rank or the train station has never been easier at Warsaw Chopin Airport.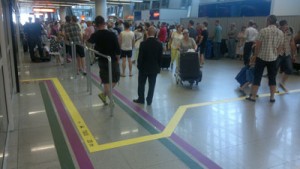 Thanks to the new labels at Chopin Airport passengers will have no trouble finding their way around the terminal.
The markings should help clear up any confusion about how to get to the taxi rank, bus stop or the airport railway station. Coloured lines, showing the way to these locations, have been placed on the ground right from the exit from the arrivals hall. The yellow line leads to the taxis, the purple one to the buses and the green one to the train.   
On each line information about remaining distance is provided: the shortest being the walk to the taxi rank (approximately 25 metres), and the longest to the railway station (up to 300 metres). The paths are marked in such a way so that the walk is the shortest possible. 
"The passengers complained about the previous markings and signage being poorly visible and confusing. So we decided to introduce a solution known from other airports and railway stations. Bright lines on the floor are clearly noticeable and will help travellers keep to the right path. The first reactions are very enthusiastic, so apparently the idea was a good one," said Radosław Paruzel, Chopin Airport deputy director.
Signs at Chopin Airport now warn passengers about "fake taxis"
Apart from 'direction lines', clear signs warning arriving passengers about the so-called fake taxis have also been placed throughout the terminal at Chopin Airport. The black warning signs and yellow boards with information on recommended taxi companies can be found in the baggage reclaim hall and on every exit at the arrivals level.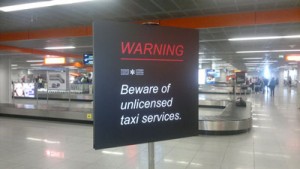 "It should be remembered that no one has the right to promote their taxi services inside the arrivals hall. If someone does that, he or she is breaking the law and can also be expected to try and cheat their customers. We hope that new clear labels will allow us to get rid of this problem once and for all," added Mr Paruzel.