Busiest June on record for Glasgow Airport
Posted: 13 July 2015 | Katie Sadler, Digital Content Producer, International Airport Review
Glasgow Airport has recorded its busiest month on record with 905,689 passengers travelling through the airport during June 2015. Passenger traffic at Glasgow Airport has increased for the 28th consecutive month, representing an annual increase of 14.2 percent. Demand has been greatest from international routes with a 15.6 percent increase during June 2015. Throughout this […]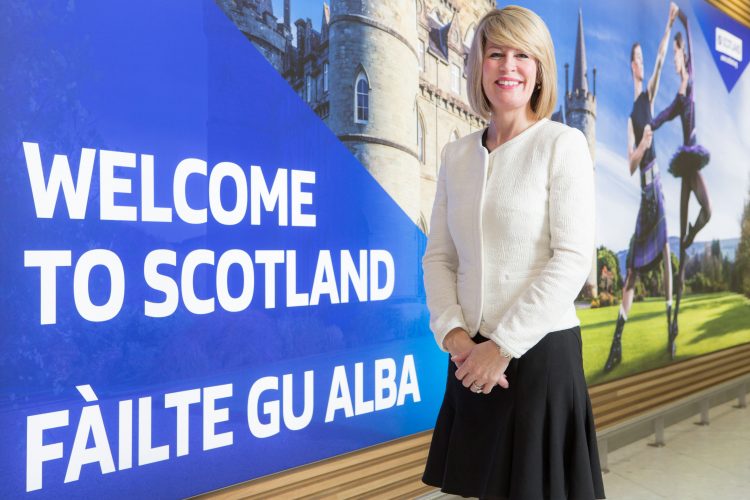 Amanda McMillan, Managing Director of Glasgow Airport
Glasgow Airport has recorded its busiest month on record with 905,689 passengers travelling through the airport during June 2015.
Passenger traffic at Glasgow Airport has increased for the 28th consecutive month, representing an annual increase of 14.2 percent. Demand has been greatest from international routes with a 15.6 percent increase during June 2015. Throughout this period, American Airlines reported consistently high loads on their trans-Atlantic services and Emirates recorded strong demand for its double daily service to Dubai. 
In addition, domestic traffic grew by 12.2 percent due to significant increases in demand for services to London. Airlines responded to demand by increasing seating by 15 percent compared to the same period last year.  An increase in demand for a number of regional services, including Belfast and Bristol, also contributed to the month's domestic growth.
Amanda McMillan, Managing Director of Glasgow Airport, commented on the Airport's latest figures: "June has always been a busy month at the airport with the arrival of the school holidays, but this year we were busier than ever as we continue to enjoy unprecedented levels of growth in our passenger numbers. From a route development perspective, we saw the launch of new flights to Budapest and Bordeaux, and easyJet announced a new direct flight to Milan starting in December this year. 
"Despite passenger numbers approaching the one million mark, June was one of our best months from an operational perspective with 99.77% of passengers passing through security in less than 10 minutes and 97.13% passing through in under 5 minutes.
"This month is set to be even busier as the city hosts the IPC Swimming World Championships, and we will also welcome visitors from across the globe for the Scottish and British Opens at Gullane and St Andrews."