Dubai Airports confirm facility upgrade for international airlines and passengers
Posted: 7 April 2015 | Katie Sadler, Digital Content Producer, International Airport Review
Dubai Airports has announced a US$ 1.2 billion facility upgrade at Dubai International's Terminals 1 and 2 for both international airlines and passengers. Dubai Airports, the managing operator of Dubai International and Al Maktoum International, plans to improve facilities for the 110 international airlines and enhance customer experience by constructing a new concourse at Dubai […]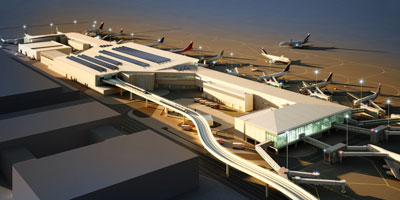 Concourse D exterior
Dubai Airports has announced a US$ 1.2 billion facility upgrade at Dubai International's Terminals 1 and 2 for both international airlines and passengers.
Dubai Airports, the managing operator of Dubai International and Al Maktoum International, plans to improve facilities for the 110 international airlines and enhance customer experience by constructing a new concourse at Dubai International.
Concourse D, when it opens later this year, will become the new US$ 517 million home to nearly 100 airlines that currently occupy Concourse C. It will feature 21 contact stands, of which four will be able to accommodate Airbus A380 or Boeing 747 aircraft, and 11 remote stands.
Designed around a central atrium, the emphasis in Concourse D is to create a more efficient and intuitive customer experience with short walks to connect passengers with their aircraft. The facility will also feature open gates, which will allow travellers to board directly from the waiting area.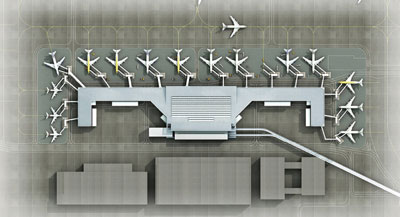 Major refurbishment is also planned for remaining areas of Terminal 1 totalling US$ 490 million. Upgrades include the improvement to drop-off and pick-up points in front of the terminal, refurbishment of landside arrivals – including new food & beverage and retail outlets – and the modernisation of the existing check-in and departure hall. A new train station is also being built to transport passengers to Concourse D. The work also includes a reconfigured immigration area and a new airside arrivals route from the new train station.
Terminal 2 has already seen a US$ 163 million upgrade to check-in, transfer and departure areas. The number of gates at the terminal has been increased to 12 and additional baggage carousels were added to accommodate expansion.
Paul Griffiths, CEO of Dubai Airports, commented on the investment: "With traffic growth continuing at a rapid pace, we are investing heavily to ensure that the 110 plus international passenger airlines that fly to and from Dubai – and their customers who use our airport facilities –  experience a significantly enhanced product, reflective of the high service standards Dubai has set."
Related airports
Related organisations