The Principality of Monaco and the Aéroports de la Côte d'Azur Group (ACA) are signing a Memorandum of Understanding aimed at the joint development of their heliport activities
Posted: 6 March 2015 | The Principality of Monaco and the Aéroports de la Côte d'Azur Group
The Principality of Monaco and the Aéroports de la Côte d'Azur Group announce they have signed a Memorandum of Understanding to enter into exclusive negotiations to develop their heliport activities…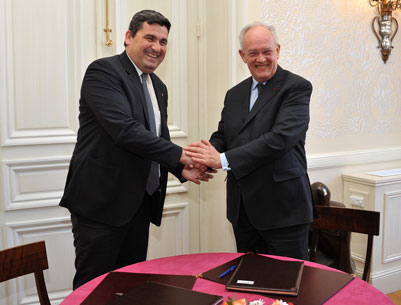 S.E. M. Michel Roger, Ministre d'Etat de Monaco, et M. Dominique THILLAUD, Président du Directoire d'ACA, signent un protocole d'accord. Copyright Visuels : Manuel Vitali / Centre de Presse
The Principality of Monaco and the Aéroports de la Côte d'Azur Group announce they have signed a Memorandum of Understanding to enter into exclusive negotiations to develop their heliport activities.
The Aéroports de la Côte d'Azur Group (ACA) is Europe's Number 2 business aviation airport with, in 2014, approximately 46,000 helicopter movements and managing nearly 53,000 helicopter movements on its 3 platforms (Nice, Cannes and Saint-Tropez).
As regards infrastructure, ACA will build a dedicated terminal for helicopter activity in Nice, scheduled to open by end April 2015.
The heliport of Monaco carried out 34,000 helicopter movements in 2014 for nearly 100,000 passengers, particularly on the helicopter route between Monaco and Nice, which is one of the world's leading scheduled commercial lines of this kind.
Always striving to improve infrastructures and passenger experience, over the next few months Monaco will renovate its heliport. At the same time, a request for proposals will be made in the next few weeks for Monaco to choose the future operator of the scheduled line between the Monaco heliport and Nice Côte d'Azur airport from 1 January 2016.
His Excellency Mr. Michel Roger, Minister of State of Monaco, "this partnership follows on the successful work undertaken between the Government of the Principality and the Aéroports de la Côte d'Azur Group to significantly cut travel time for its customers. The planned developments will make the scheduled line between Monaco and Nice all the better. Checking both passengers and luggage through to the final destination is a necessity for the development of our heliport activities."
For Marie-Pierre Gramaglia, Monaco Minister of Public Works, the Environment and Urban Development, "the heliport renovation programme is a strategic project for the Principality due to the quality of passenger experience." The restructuring project will be complex, given the constraints of the site, but will be able to handle new generation aircraft, better structure the different types of streams, improve passenger comfort and ensure the passengers are checked through to their final destination."
Dominique Thillaud, Chairman of the Board of Aéroports de la Côte d'Azur, remarks, "These discussions aim to improve service quality for passengers travelling to and from Monaco. Generally speaking, this project will strengthen relations with the Principality of Monaco in the long term to ensure coordinated development, in particular as regards general aviation, but also of the commercial long-haul strategy."
Michel Tohane, Director of the General Aviation Business Unit of Aéroports de la Côte d'Azur, added that "this policy is in line with the General Aviation BU's strategy implemented in 2013, with synergies for our business aviation customers as well as those travelling on scheduled airlines, by providing improved connections on the various ACA platforms (Nice, Cannes, St Tropez and Monaco)."