Stansted Airport soars past 20 million passenger milestone as 2015 gets off to a flyer
Posted: 11 February 2015 | Stansted Airport
January traffic increases by 28%, the highest monthly rate since 2004…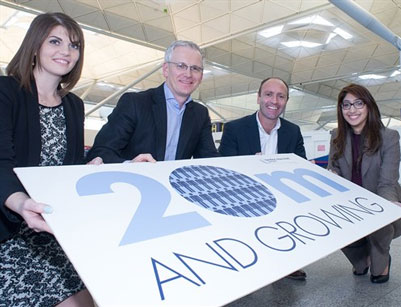 January traffic increases by 28%, the highest monthly rate since 2004
Stansted Airport has passed the 20 million passengers a year milestone for the first time since 2009 as a bumper start to 2015 saw annual traffic figures increase by 13.3% over the previous 12 months.
The total number of passengers using the fastest growing major airport in the UK increased to 20.3 million as Stansted served over 170 destinations across Europe and North Africa in the year ending January 2015. The top five most popular destinations during the year were the key cities of Dublin, Rome, Barcelona, Milan and Madrid.
January traffic numbers grew by over 28% as over 326,000 more passengers passed through the airport compared to the same month last year to make it the busiest January at Stansted since 2007 and the highest monthly rate of growth since April 2004.
Andrew Harrison, Stansted's Managing Director, said:
"To be the UK's fastest growing major airport and pass the symbolic 20 million passenger milestone just four months after breaking through the 19 million a year figure is a fantastic achievement and a clear demonstration of the popularity and importance our passengers place on the extensive route network we offer with our airline partners at Stansted.
"Stansted serves over 170 destinations and provides more scheduled routes into Europe than any other UK airport. It's this connectivity that continues to drive our rapid passenger growth along with the strength of our thriving catchment area at the heart of the growing and increasingly successful London-Stansted-Cambridge economic corridor.
"We recognise it's really important we provide quick, easy and regular access to major cities across Europe so I'm delighted we now offer at least four flights a day to key destinations including Barcelona, Milan, Rome, Madrid and Dublin. This connectivity makes the airport even more attractive, especially to business travellers who rely on convenience, choice and flexibility.
"Our focus now is to build on this success and continue to support the growth ambitions of the region by offering more choice and attracting new airlines, including full service scheduled carriers and the long-haul routes that the region demands and value so highly.
"In the coming year we will complete the £80 million project to transform the terminal and passenger facilities, deliver an £8 million upgrade to the Satellite One departures area as part of our strategy to attract new airlines, open a new Escape passenger lounge as well as launch a £500,000 education centre for local schools in what promises to be a very exciting and defining phase of Stansted's continuing evolution."
Ryanair's Chief Marketing Officer, Kenny Jacobs said:
"As London Stansted's biggest airline, Ryanair is pleased to continue to deliver millions of passengers as we carry 17 million Ryanair customers to and from Stansted this year and grow by 12%. Our 6 new London Stansted routes to Clermont, Cologne, Deauville, Edinburgh, Glasgow International and Ponta Delgada (Azores) are booking fast, while we also have extra flights on 40 other routes.
"UK visitors and customers can choose from a total of 130 exciting Stansted summer routes, including our Edinburgh and Glasgow services, which we are increasing from 3 to 4 times daily, in response to phenomenal demand from UK customers, visitors and business travellers."
Related airports
Related people