How the World's Busiest Airport Keeps People Safe
Posted: 30 January 2015 | CEM Systems
Whether you're a frequent international traveler or only use your passport occasionally, chances are, you've traveled through London's Heathrow Airport…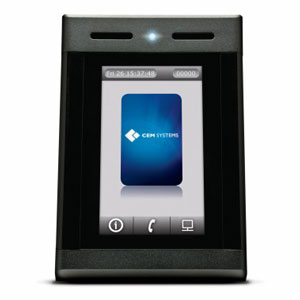 emerald, which is a touch screen reader and a controller combined, provides security staff with a clear, visual, color image indicating a card's status, i.e. access denied or access granted
Introduction
Whether you're a frequent international traveler or only use your passport occasionally, chances are, you've traveled through London's Heathrow Airport. This can be can be said with good reason: LHR has the highest number of international passengers in the world. In 2013 alone, 66.5 million international passengers traveled through Heathrow Airport.
With 190,000 daily passengers and more than 76,000 employees, the airport is considered a small city within a city. Processing over 250,000 people per day means the airport must look for new ways in which to maintain operational efficiency while still meeting stringent, and ever-changing security considerations, all while keeping its employees and passengers safe.
The Challenge
As one of the biggest airports in the world, Heathrow Airport employs more than 76,000 people, all of who need to pass through various levels of security to get to and perform their jobs. Even before employees come into contact with the airport's many visitors, they need to pass through behind-the-scenes restricted areas that are manned by security staff, in order to access cargo areas, runways, sales areas and other places within the airport. The airport must protect its employees and passengers, all while moving thousands of people through its doorways and in and out of its planes.
The airport has been working with Tyco Security Products for the last 20 years, using solutions from CEM System to secure the airport's five terminals with a combination of its AC2000 product line and software modules. AC2000 Airport, an aviation specific management system, is used to protect staff, aviation equipment such as air bridges and luggage carousels, and millions of passengers each year. Recently, Heathrow Airport wanted to increase its security specifically in its ID centre, as well as around Heathrow's Campus, where cargo, staff and crew are processed before gaining access to the airport proper — an area where the highest level of security is required.
The Solution
To enhance the security screening process of employees, Heathrow recently implemented CEM System's emerald touch multi-functional screen terminals in the airport's ID centre and on Heathrow's Campus. emerald, which is a touch screen reader and a controller combined, provides security staff with a clear, visual, color image indicating a card's status, i.e. access denied or access granted. In addition, it provides real-time information on scheduled visitors, systems alarms and even information more directly related to time and attendance functions, such as first and last swipes for a card.
With employment changes being made on a daily basis, AC2000 keeps track of details for each person, so those whose privileges have or soon will expire are easily identified. Time-savings are enhanced through the ability for users to change a PIN without having to contact the system operator.
"As an intelligent device emerald goes beyond securing premises; it empowers users, improves overall business needs and increases operational efficiency" said Andrew Fulton, Senior Director of Global Sales, CEM Systems. He continued "emerald is truly revolutionizing the security industry, providing a whole new access control experience."
At Heathrow Airport, there are more than 4,000 readers from CEM Systems installed.  In addition, the airport relies upon portable, hand-held card readers from CEM Systems for use at remote sites or for airport roaming security. 
Featuring a touch screen reader, controller and intercom system in one, the emerald multi-functional touch screen terminal allows data normally only available on the access control client PC to be accessed locally and securely at the door. Real time security information and statistics such as card status, scheduled visitors, top system alarms and most recent alarms on the terminal can be accessed using emerald. The availability of this data can be restricted using cardholder privileges.
emerald also has the ability to display rotating advertisements or information announcements. This feature can be used to display Health & Safety notices or company updates, as well as advertisements that businesses can use to assist in revenue generation.
Entry Checklist Mode enables emerald to display a sequence of images and questions relating to business requirements such as Security or Health & Safety, which users must answer positively before the door will open. If the employee answers No to any of the mandatory questions the door will not open.  This enables the business to enforce their Health & Safety Policy at the edge of their access control system.
Beyond being a security device, emerald can be used to disseminate information. For example, instead of issuing memos and having meetings, the new terminals can display company updates and even advertisements, the latter of which can help offset some of the cost.
Now with the multi-functional touch screen terminal installed throughout Heathrow Airport, the airport has greatly improved the security screening of its employees and enhanced the security capabilities and processes building-wide.
Related airports
Related organisations
Related people