NACO, a part of Royal HaskoningDHV, wins a multi-million euro tender to design the airside infrastructure for Mexico City's new airport
Posted: 19 January 2015 | NACO
NACO, Netherlands Airport Consultants, a part of Royal HaskoningDHV, is a member of the joint venture who have won the tender issued by Grupo Aeroportuario de la Cuidad de México to design the runways, taxiways, platforms and support buildings for one of the world's largest airports, the Mexico City New International Airport (NAICM)…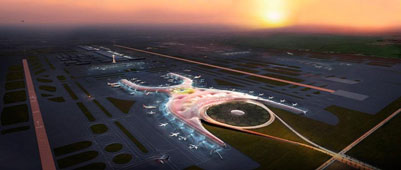 © Photo: NACO
NACO, Netherlands Airport Consultants, a part of Royal HaskoningDHV, is a member of the joint venture who have won the tender issued by Grupo Aeroportuario de la Cuidad de México to design the runways, taxiways, platforms and support buildings for one of the world's largest airports, the Mexico City New International Airport (NAICM).
This is NACO's second big assignment for this airport after winning the design for the airport's passenger terminal with Foster + Partners and FR-EE last year.
The Mexican Ministry of Communications and Transport announced the joint venture's winning tender with a value of €72 million on Wednesday 14 January 2015.
For this prestigious assignment the Dutch airport consultants NACO will team up with their colleagues from Royal HaskoningDHV and with the Mexican engineering consultancies Grupo TADCO and Grupo SACMAG.
Bringing in its extensive global track record in airport design combined with the hydrological and geotechnical expertise of Royal HaskoningDHV, NACO and its partners will be providing the integrated expertise needed to successfully develop this challenging project.
This new greenfield airport, replacing the current one which is at capacity
while traffic is increasing, is designed to be one of the world's largest. NACO will be designing three runways capable of accommodating the world's largest passenger airliner, the A380, and all the related taxiways, platforms and support buildings on the 44 square kilometre project site. The first phase will be capable of handling 50 million passengers a year – comparable to Amsterdam Schiphol, Singapore Changi or JFK.
Landmark project
Kjell Kloosterziel, Project Director at NACO said: "Mexico is one of the most populous countries in the world and is experiencing rapid economic development. We are very proud to be working with our Mexican partners on this landmark project for Mexico City and the whole country. And we are honoured that the client once again entrusts us with such an elaborate project."
Site conditions
The 'Dutch Expertise' will be instrumental in tackling the challenges of the site for the new airport, located on the bed of the former Lake Texcoco. During the rainy season large sections of this area are inundated for several months and the soft soil conditions combined with ground water extraction result in large settlements. Parts of the site are currently sinking at a rate of around twenty centimetres a year, having already sunk by over five metres since the 1960s.
Rudolf Mulder, Project Manager at Royal HaskoningDHV said: "We will extensively study the soil, its water balance and flood risks so we can safely design all runways and other civil works on this former lakebed. Our experience in coping with soft soils and flooding is the result of the fact that we live in a delta below sea level ourselves, and our work on projects in delta areas globally."