Bulgarian International Airports implement Vision-Box®'s Automated Border Control eGates to improve passenger experience
Posted: 16 January 2015 | Vision-Box
A new Automated Border Control solution has been inaugurated at the Varna and Burgas International Airports by the Bulgarian Ministry of Interior…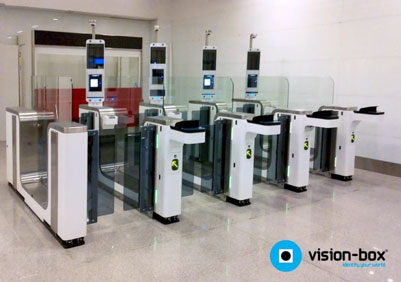 Automated Border Control eGates were deployed at Varna and Burgas International Airports
A new Automated Border Control solution has been inaugurated at the Varna and Burgas International Airports by the Bulgarian Ministry of Interior. Any passengers holding electronic machine-readable travel documents, citizens of EU, EEA and Switzerland over 18 years may now enjoy a seamless border crossing experience in both airports. The associated contract is co-financed by the Bulgarian Ministry of Interior and EU, under Action 5 – "Establishing automated border control for EU citizens", Annual Program 2012-2013 of the External Borders Fund.
Accounting respectively for an estimated traffic of more than one and two million passengers per year, Varna and Burgas International Airports, the busiest in the country after Sofia's, are now using Vision-Box®'s latest generation of Automated Border Control eGates to optimize passenger processing. The implementation of ABC technology represents a shift from the traditional border control to a new paradigm where biometric technology and self-service offer the perfect match. Passengers are in control of their own immigration process at the eGate, having their travel documents authenticated and their identity checked by way of face recognition and match against the biometrics templates embedded in the chip of the travel document (soon fingerprint will be available as well). No need to interact directly with the authorities at the border control point, which clears manual immigration lines.
Jean-François Lennon, Director of Global Business Development, Sales and Marketing at Vision-Box® believes that «In modern airports like Varna and Burgas, facing constantly increasing flows at the border, it is imperative to embrace new technologies that concede the traveler more control and better convenience during his journey, while delivering the most efficient and effective tools to the Border Control Authorities to increase their capacity». He added «Vision-Box® vb i-match® 5 offers a complete passenger experience package, combining intuitive and user-friendly interfaces with instructional animations and quick proactive adjustments to each traveler, which will make security processes less time-consuming and the Bulgarian Airports more welcoming and attractive for travelers. Everyone benefits!».
In fact, this means a clear improvement of the experience felt not only by the passengers who use the airports, but also by the Border Control authorities. Instead of following the traditional manual verification, more vulnerable to errors, Border Control officers are now taking advantage of highly dependable technology and transferring their focus to security procedures with greater added-value. Having real-time access to all processes happening at the eGates, by means of a fully integrated software platform, they overrule the system and act only in case of any issue is detected by the eGates (i.e. fraudulent Passport, unruly passenger…).
Furthermore, this single-sourced ABC solution is strengthening the Bulgarian Ministry of Interior with a self-integrated software platform, including improved levels of document authentication and biometric verification, supported by an advanced passenger monitoring application, which delivers relevant operational and analytical information to border authorities, help them reduce errors, correctly assess security risks and effectively monitor who enters and exits the country.
As for future developments, fingerprint will be activated to complement facial verification, making it the first multimodal biometric solution implemented in the Balkans! Meanwhile, Burgas Airport will expand the solution, adding more eGates to expedite passenger processing during 2015.
To better support the Bulgarian Ministry of Interior, Vision-Box® has celebrated a partnership with a national experimented, well established technology and service-driven company called Printec, which is providing local support services.