BNE's $45m terminal facelift takes shape
Posted: 18 December 2014 | Brisbane Airport
The $45 million redevelopment of Brisbane Airport's (BNE) International Terminal is rapidly taking shape, with the new JR/Duty Free Departure store now fully operational, after a partial opening on 1 September, as well as several new retailers opening their doors…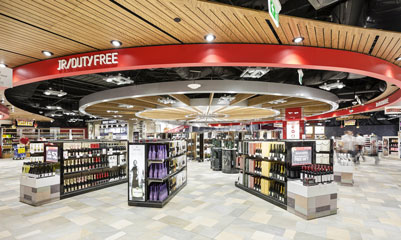 The $45 million redevelopment of Brisbane Airport's (BNE) International Terminal is rapidly taking shape, with the new JR/Duty Free Departure store now fully operational, after a partial opening on 1 September, as well as several new retailers opening their doors.
With just six months until the project is fully completed in mid-2015, the opening of these new stores and the reveal of a major new artwork by local artist Sebastian Moody is a milestone for Brisbane Airport Corporation (BAC).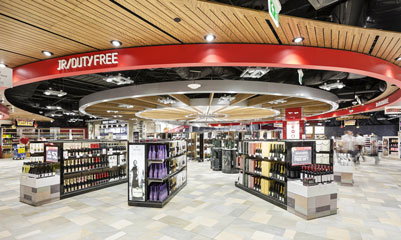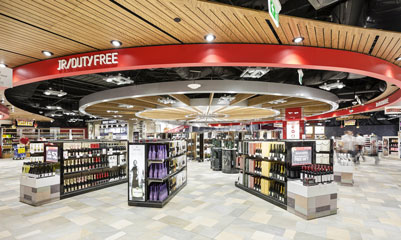 Julieanne Alroe, BAC CEO and Managing Director said it was exciting to see the conceptualised vision turn into reality.
"When we started this project we had a very clear idea of what we wanted to achieve.  It was all about creating an environment that encapsulated the personality of Brisbane and Queensland and was memorable, engaging, intriguing and a place people wanted to return to.
"While we're not finished yet, what we've achieved to date is certainly creating a distinct sense of place with the clever use of local Tuff stone, spotted gum timber, plants, green spaces and local artwork, which will differentiate Brisbane Airport from any other airport in the world," Ms Alroe said.
With the terminal operational 24/7 throughout the renovation, the project is being delivered in stages to ensure day to day operations continue as usual.
"The project team has done considerable planning to ensure there is as little disruption to passengers as possible and we're very thankful for everyone's patience and understanding while these works are underway.  We promise it will be worth the wait," Ms Alroe said.
What's new at Brisbane Airport's International Terminal?
Artwork by local artist Sebastian Moody: The large, golden text-based artwork 'KEEP THE SUNSHINE', located on a very prominent wall as people pass through Customs, will be the final parting message for every traveller departing Brisbane. 
JR/Duty Free: Two brand new walk through stores will give shoppers a world class duty free experience in stores that are designed to be quintessentially Queensland, including Bundaberg Black Barrel 10 year old rum bottled exclusively for JR/Duty Free; Brisbane-bottled Beenleigh Rum liqueur, Port Barrel Infused Rum and Finest Single Barrel Rum; specialty confectionery from the Noosa Chocolate Factory and Nutworks; and 10 million year-old Boulder Opals from Toscow and Opals Australia.
Australian Jewellers Mazzuccelli's: Recognised for their exceptional quality and service, will make a world-first duty free appearance in the JR/Duty Free stores at Brisbane Airport, with travellers also able to purchase Philosophy skincare and cosmetics.
JR/Watch Co. Luxury Watch Boutique: Offering some of the world's most prestigious brands – IWC, Omega, Chopard, Girard-Perregaux and Hublot; JR/Watch Co. will be the only store in Queensland to stock the Hublot brand.
Merino Collection – Merino Collection sources and manufactures the highest quality garments and accessories from Australia and around the world. Using only the finest blends of Merino wool, Alpaca wool and Possum fur, Merino Collection prides itself on producing luxury pieces that will stand the test of time. The Merino Collection range includes women's and men's apparel, footwear, accessories and quilts.
Billabong, R.M Williams and Burger Urge are also new traders that have recently opened brand new stores on BNE's International Terminal 'High Street' in the Departures area of Level 3.
Other new stores opening just in time for Christmas include Boost Juice (Level 3), The Botanist (Level 4), Corretto Bar & Café (Level 4) and Optus (Level 2).
In keeping with BAC's desire to create a uniquely Brisbane/Queensland ambience, retailers have worked closely with the airport to ensure, where possible, the fit out of their stores and product reflect the city and state's unique personality.
Andrew Brodie, BAC General Manager Airline and Retail Management, said, "To achieve our goal it was very important that our retailers shared our vision of leveraging the best of Brisbane and Queensland culture, products and services, as well as making the terminal engaging, vibrant and inviting.
"All have enthusiastically embraced these guiding principles and integrating Queensland sourced materials, products, art, food and beverages wherever possible into their stores.
"It's an exciting journey of discovery finding the best things that truly represent our city and state that will give travellers fond memories of their visit that make them want to come back again and again," Mr Brodie said.
Related airports
Related people