Amanda McMillan appointed CEO of AGS Airports
Posted: 18 December 2014 |
Glasgow Airport MD Amanda McMillan will become chief executive of the new AGS Airports Limited, the partnership between Ferrovial and Macquarie Infrastructure and Real Assets (MIRA) established to invest in Aberdeen, Glasgow and Southampton airports…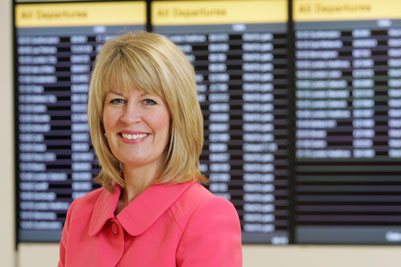 Amanda McMillan, MD, Glasgow Airport
Glasgow Airport MD Amanda McMillan will become chief executive of the new AGS Airports Limited, the partnership between Ferrovial and Macquarie Infrastructure and Real Assets (MIRA) established to invest in Aberdeen, Glasgow and Southampton airports.
AGS officially became owner of the three airports from Heathrow Airport Holdings on 18 December 2014, following the announcement of the deal in October.
Amanda will work closely with AGS' chair Sir Peter Mason to oversee operations while allowing each airport to be managed locally. Her role will include management of the Glasgow-based Support Services team, providing centralised co-ordination, as well as further strengthening the external relationship of the group and assisting shareholders in governance and planning. 
Amanda retains her full-time role as MD of Glasgow Airport, focused on maintaining momentum set by the airport's best year since 2008. Carol Benzie and David Lees remain MD of Aberdeen and Southampton respectively.
Speaking of the appointment Sir Peter said: "I look forward to working with Amanda, as well as the MDs of Aberdeen and Southampton as we look to continue the growth of the three airports, which are both vital to their communities and key destinations for national and international travellers. Amanda has been part of the group for eight years and is well respected both internally and externally. She will play a key role as we look to grow passenger numbers and routes at the airports."
Amanda McMillan joined Heathrow Airport Holdings from Diageo in October in 2005, initially working in the Business Support Centre before moving to Glasgow Airport in September 2006. She is a qualified chartered accountant, a Non Executive Director with Business Stream and was awarded an OBE in June 2013 for her services to business and tourism.
She said: "This is a great opportunity at a very exciting time in the development of our airports. In addition to continuing as managing director of Glasgow Airport, my role will be to support the new owners and local management, while allowing the airports to operate individually."
Related airports
Related people