Chopin Airport welcomes its 10 millionth passenger
Posted: 8 December 2014 | Warsaw Chopin Airport
The number of passengers handled at Chopin Airport in a year has broken the ten million barrier again…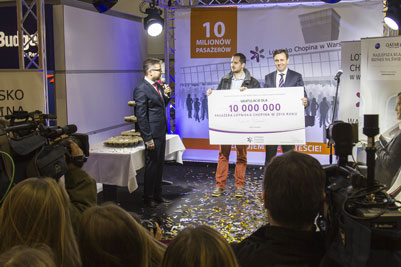 The number of passengers handled at Chopin Airport in a year has broken the ten million barrier again
The number of passengers handled at Chopin Airport in a year has broken the ten million barrier again. The lucky passenger flew into Warsaw from Qatar.
"What a nice surprise," said Mr Adam Połomski, Chopin Airport's ten-millionth passenger, when he was surprised with a number of commemorative gifts from the airport and the airline. "I am very happy to be the 10-millionth passenger. Chopin Airport is a very nice and passenger-friendly place and I really enjoy being here."
The lucky passenger travelled in seat 61 on a Qatar Airways flight from Doha to Warsaw operated by an Airbus 320. At Chopin Airport, he was greeted with music, a shower of confetti and muffins. The airport presented him with a "Good Start" card entitling the holder to free entry to the airport executive lounges for one year and the airline – with a ticket for a flight to any chosen destination in the upcoming summer season. The other passengers flying from Doha were also given small gifts, while all airport visitors were offered chocolate delicacies.
Michał Kaczmarzyk, director of the airport, said the ceremony to welcome the 10-millionth passenger was the icing on the cake in the airport's 80th anniversary year.
"In the first year of its operation, the airport handled about 10,000 passengers. Now we welcome a thousand times as many people. Over the 80 years, the planes, procedures and expectations of travellers have changed, but one thing remains the same – our commitment to the comfort and safety of passengers. This is, and has always been, our top priority," he said. "Today we are honouring Mr Adam Połomski, but by doing this we also want to thank all the other passengers who have used Chopin Airport this year, contributing to the breaking of the 10-million mark."
Mr Kaczmarzyk stressed that the achievement presented more of a challenge than last year due to the fact that the second biggest airline previously operating from Warsaw had returned to Modlin Airport.
"Our record performance last year was largely attributable to Ryanair's nine months of operations at Chopin Airport following the closure of the airport in Modlin. The airline generated over 10 per cent of our traffic. It no longer flies from Chopin Airport, but despite this, passenger figures in October and November showed a growth of 8%, which means that other airlines have improved their performance," he said.
Qatar Airways, which started flying from Chopin Airport exactly two years ago, on 5 December 2012, has carried 70,000 passenger to/from Poland so far, mainly to the Middle East, Asia, Africa and Australia, making it one of the airport's fastest growing airlines.