Concessionaire Analyzer+ scoops the Best B2B App Award at the MCA eBusiness Awards 2014
Posted: 5 December 2014 | Concessionaire Analyzer+
Shireburn Software, the developers of Concessionaire Analyzer+ (CA+) scooped up the award for the best Business-to-Business Application at the MCA eBusiness Awards, held on the 1st December in Malta…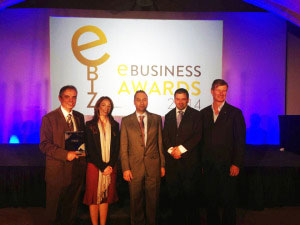 The Shireburn team receiving the award for Best B2B App with their Concessionaire Analyzer+ solution for airports
Shireburn Software, the developers of Concessionaire Analyzer+ (CA+) scooped up the award for the best Business-to-Business Application at the MCA eBusiness Awards, held on the 1st December in Malta.
The innovative world-first solution, CA+, developed and supported by Shireburn Software, is a web-based application that enables airports to better control, manage and boost their non-aeronautical revenues.
"It is undoubtedly a great achievement for the team to obtain recognition for a lot of hard work that goes into defining, developing and supporting our solution to match international airport market's needs. It has been quite a journey for Shireburn over the past 31 years, excelling in the development and support of software solutions for businesses. I am extremely proud of our team and its accomplishments," commented John de Giorgio, Managing Director, Shireburn Software.
Mr de Giorgio believes that Shireburn's success lies in the ability to seek out and identify niche market opportunities and create applications that allow businesses to automate and streamline their processes, enabling more efficient business operations, ultimately improving performance and the bottom line.
The CA+ solution is implemented currently at Copenhagen International Airport, Saint Maarten in the Caribbean, Gibraltar International Airport, Malta International Airport and is currently being deployed at Iceland's Keflavik International Airport as well as having a very strong pipeline of other projects. CA+ is currently the only commercially available solution that addresses the non-aeronautical revenue sector, which is such an important and growing aspect of airport revenues globally.
The adjudication for the MCA award was carried out by a specifically set up independent evaluation committee comprised of representatives of academia, industry and government.
About Concessionaire Analyzer+
Concessionaire Analyzer + enables airports to control, manage and boost non-aeronautical revenues. It automates the collection of sales data from concessions and enables in-depth analysis using a Business Intelligence platform. This provides airports with a better understanding of sales patterns and trends in order to boost performance and maximise potential within the non-aeronautical sector. CA+ also manages concession agreements and automates revenue calculation and billing.
Related organisations
Related people