First hub in the world with regular bio-fuel deliveries
Posted: 19 November 2014 | Avinor
Avinor's Oslo Airport will become the world's first hub to receive regular deliveries of bio-fuel…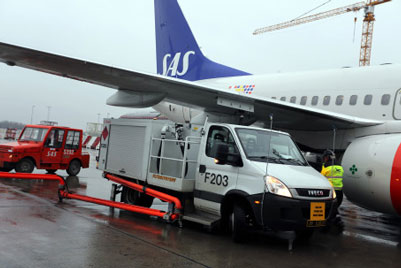 Avinor's Oslo Airport will become the world's first hub to receive regular deliveries of bio-fuel
Avinor's Oslo Airport will become the world's first hub to receive regular deliveries of bio-fuel.
It's also the first time that sustainable bio jet fuel will be used in the hydrant system of the airport.
"We are proud to take on the task of bringing greener aviation one important step forward," says Avinor CEO Dag Falk-Petersen about the agreement signed with Statoil Aviation.
The plan is to start delivering biofuel already in March 2015, and that Statoil Aviation will deliver 2,5 million liters of sustainable bio-fuel to the tank facility at Oslo Airport in the first 12 months. This corresponds to approximately 3,000 flights between Oslo and Bergen with a 50 per cent bio-fuel mix. While the initial bio-fuel deliveries will probably come from used cooking oil, major players in the Norwegian power and forestry industries are now exploring the possibility of forest-based large-scale production of bio-fuel for aviation in the course of a few short years.
"It's not out of the question that we in Norway could achieve large-scale production of sustainable aviation bio-fuel at a competitive price in 2020," says Falk-Petersen.
Bolsters its green image
"I'm proud that Oslo Airport will be the first hub in the world to offer our customers regular deliveries of bio-fuel. Along with our many other measures, this will represent an additional boost to our climate and environmental work," says Oslo Airport's Managing Director Øyvind Hasaas regarding the news, which will be launched globally at a major conference in Dubai on Wednesday, 19 November.
"Good start"
"This is a good start towards developing a market for aviation bio-fuel. The fact that Avinor is contributing to making Oslo Airport the first hub in the world where all airlines have the opportunity to use bio-fuel illustrates that a green change is possible. At the same time, it's important that the authorities step up with policy instruments that promote greater use of bio-fuel in aviation," says head of the environmental foundation ZERO, Marius Holm.
From tests to business
"Statoil Aviation has now taken biofuel from tests and promotions to real business. We are proud to offer the airlines biofuels as part of their normal operation at Oslo Airport for the first time. Signing supply contracts with airlines which include biofuels drop-in is a real breakthrough in the aviation industry, and another important step for a better environment. I want to say 'thank you' to Avinor, SkyNRG and the participating airlines which have made this possible," says Vice President at Statoil Aviation, Thorbjörn Larsson.
To date, Statoil Aviation has entered into agreements with Lufthansa Group (Lufthansa, SWISS, Austrian Airlines, Germanwings, Eurowings, Brussels Airlines), SAS and KLM for deliveries of bio-fuel at Oslo Airport.
Industrial initiatives
There are currently two concrete industrial Norwegian initiatives for production of bio-fuel: Statkraft and Södra at Tofte in Hurum, and Viken Skog / Treklyngen at Follum in Hønefoss. Both projects are now looking into the possibility of producing both bio-diesel, which is needed in the heavy transport sector, and the bio-jet fuel needed in aviation. A single bio-fuel plant can produce enough bio-jet fuel and bio-diesel to reduce greenhouse gas emissions from Norwegian aviation by 10-15 per cent, and can yield major emission cuts in road transport.
Bio-fuel production could become a win-win situation for Norway by providing reduced greenhouse gas emissions and increased value creation from forests – an important step towards a sustainable industry in Norway and a shift towards the renewable zero discharge society.
Related topics
Related organisations
Related people