New Signage at Lyon Saint-Exupéry: simple, international and aesthetically pleasing
Posted: 18 November 2014 | Lyon-Saint-Exupéry Airport
During the night of the 25th-26th October, the signage at Lyon Saint-Exupéry Airport was completely replaced…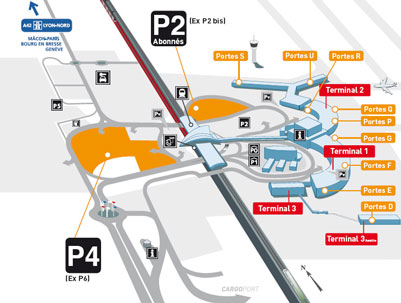 During the night of the 25th-26th October, the signage at Lyon Saint-Exupéry Airport was completely replaced. Everything has been reworked to make it easier for passengers to get their bearings, including the names of areas and entrances, and colour coding. This new signage system is closer to international standards and has been designed to integrate future developments in the infrastructure, such as the construction of Terminal 1.
During the night of the 25th-26th October, Lyon Airports' new signage was unveiled. It anticipates the airport's future developments, and in particular the construction of the new Terminal 1. According to Erik Perruche, Director of quality and development, "the whole purpose of this kind of operation is to make the travel experience more comfortable for passengers, offering a clearer and simpler journey through the heart of the terminals, as well as easier orientation in the airport."

A New Numbering System
An alphanumeric numbering system has replaced letters marking boarding gates. The system is as easy for first-time flyers as for frequent flyers who can find the same points of reference in other international airports.
New colour-coding and pictograms
A new range of pictograms on backlit signs works together with the colour coding chosen by the airport to give clear meaning to the areas. Thus the colour mandarin indicates services (information points, toilets etc.), red marks the location of ways to move between floors (escalators, lifts etc.), a "warm" black is the most common colour (used to point out the main paths through the terminals) and finally, taupe indicates shops and restaurants.
This project has been designed in an original way, in collaboration with travellers and partners
Lyon Saint-Exupéry's passengers have been involved in decisions on the key themes of this signage, and gave their opinions on the different prototypes in a focus group made up of frequent flyers, leisure travellers and low-cost passengers. For the sake of visual coherence, Lyon Airports also worked with Rhônexpress (train link between Lyon Airports and Lyon city centre) and Gare & Connexion (the branch of SNCF charged with updating stations) during the development of the project.
While this change makes the signage more efficient and improves the aesthetics of the terminals, Lyon Airports was also eager to help passengers familiarise themselves with the new system. A fun and easily understandable communications campaign has therefore been put in place in the terminals.