Airport Operators Association presents Aebi Schmidt UK with Best Manufacturer award
Posted: 18 November 2014 | Aebi Schmidt
The voice of UK airports, the Airport Operators Association (AOA), has named Aebi Schmidt UK Best Manufacturer at its recent Annual Conference & Exhibition in London…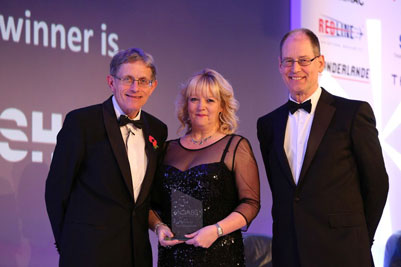 Alison Conroy, UK Sales and Marketing Manager at Aebi Schmidt, accepts the Best Manufacturer award from Simon Calder, Broadcaster and Senior Travel Editor for the Independent (left), and Ed Anderson, the AOA Chairman
The voice of UK airports, the Airport Operators Association (AOA), has named Aebi Schmidt UK Best Manufacturer at its recent Annual Conference & Exhibition in London.
The top aviation policy makers and senior players from across the sector were present as Schmidt collected the award at a high profile event which also marked the 80th anniversary of the AOA. Its members include over 50 airports and more than 150 Associate Members, made up of companies representing a wide range of suppliers in the aviation industry.
The Best Manufacturer award is a widely coveted prize which recognises excellence in product type and industry leading customer service. Schmidt was acclaimed for offering its clients tailored winter maintenance solutions supported by its Total Lifetime Care (TLC) ethos.
AOA award winners were chosen by its illustrious board, which is compiled of Chairmen, Chief Executives and Chief Executive Officers from a number of leading UK Airports, who chose Schmidt from a competitive field of entries.
It represents a fitting conclusion to another successful year at Schmidt whose airport customers approach another winter season equipped with tailored solutions to suit their specific airport requirements, whether it be the Supra 5002, capable of moving 5,000t per hour at Heathrow or the Towed Jet Sweepers working hard at Aberdeen Airport.
Alison Conroy, UK Sales and Marketing Manager, said: "It was a proud moment and I was honoured to accept the award on behalf of the whole Aebi Schmidt UK team. Its entirely down to our staff and our product offering that we won this award; everyone has played a part in this to some extent. We are the only manufacturer with such a diverse product range and the only one to really offer a consultative approach and listen to our customers' needs. That clearly stood out to the esteemed judging panel."
Aebi Schmidt's entry was underscored by the collective culture of care between airport operations personnel and Schmidt staff, united in battle against the elements to keep planes landing and taking off throughout the winter months.
"Airport equipment has an expected life of around 20 years and our commitment is to look after our customer, their stakeholders and the equipment throughout this time," Alison said. "Our philosophy is such that all staff understand TLC and work to provide this world-class level of support, whether they be trainers, engineers, admin staff or key account management. Every division of the company contributes to the strong TLC foundations that uphold everything we do."
Schmidt equipment is designed to provide user-friendliness and efficiency in the worst possible winter conditions which is an evolution and innovation process driven by its loyal customers. The manufacturer continuously reviews and develops the equipment and service it provides to ensure individual products and collective winter maintenance fleets work as efficiently as possible.
Related organisations
Related people