Passenger numbers continue to soar at Glasgow Airport
Posted: 11 November 2014 | Glasgow Airport
Glasgow Airport has reported yet another month of growth after 734,000 passengers travelled through its doors in October, representing an increase of 2.7% compared to the same period last year…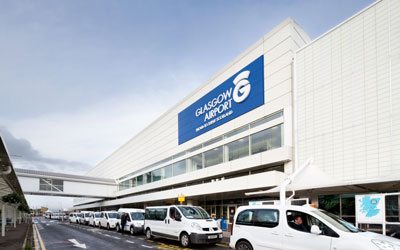 Glasgow Airport has reported yet another month of growth after 734,000 passengers travelled through its doors in October, representing an increase of 2.7% compared to the same period last year.
It was the airport's 21st consecutive month of growth and its busiest October in six years. International and domestic traffic grew by 2.8% and 2.7% respectively during a month in which the airport made a series of new route announcements and was voted the best airport in the UK in a survey conducted by Saga.
Amanda McMillan, managing director of Glasgow Airport, said: "We have secured over 20 new routes and services in 2014 and have invested more than £20 million in refurbishing large parts of the terminal building. During this time we have continued to welcome an increasing number of passengers through our doors and it was extremely pleasing to record what was our 21st consecutive month of growth.
"November is already promising to be a busy month for both the city and the airport. We helped welcome the MTV Europe Music Awards and a number of airlines, including Aer Lingus, have added capacity for Scotland's European qualifying match against the Republic of Ireland later this week. Large scale events such as these not only ensure the spotlight remains firmly on Glasgow, they undoubtedly help drive growth at the airport."
Ryanair opened its first ever base at Glasgow Airport on 26 October. The airline will operate seven routes during the winter, growing to nine in the summer season, and will bring approximately 850,000 passengers per year to the airport. Last month, Canadian airline WestJet further strengthened Glasgow Airport's long haul connectivity when it confirmed it will launch daily, direct flights to Halifax, Nova Scotia in May 2015.
Other recent route development highlights included the launch by easyJet of direct flights to Marrakech, Morocco, and the news it will introduce flights to Bordeaux in 2015. Thomas Cook announced direct flights to Cuba for Winter 2015 and Lufthansa will introduce direct flights to Munich in May 2015.