Sir Chris Hoy unveils Glasgow Airport's new look international arrivals
Posted: 16 July 2014 | Glasgow Airport
Britain's most successful ever Olympian, Sir Chris Hoy MBE, visited Glasgow Airport to officially open its new international arrival area…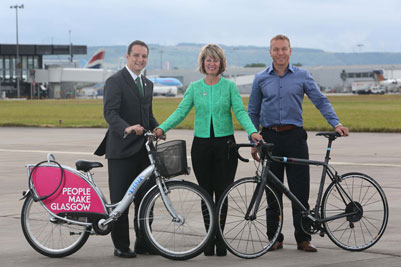 Sir Chris Hoy was joined by Glasgow Airport's managing director, Amanda McMillan and David Grevemberg, Chief Executive Glasgow
Britain's most successful ever Olympian, Sir Chris Hoy MBE, visited Glasgow Airport today (Wednesday 16 July) to officially open its new international arrival area and declare the airport ready for the 2014 Commonwealth Games.
As part of its extensive preparations for the Games, Glasgow Airport has invested in excess of £17 million over the course of the past year enhancing large parts of the main terminal building. This included international arrivals which for many will be the gateway to the Games.
The airport is one of three official non-competing venues and the investment will ensure it is looking its best when it provides a warm welcome and fond farewell to the thousands of athletes, games officials and visitors who will pass through its doors during the coming days and weeks.
Other aspects of the refurbishment included modernisations to the main check-in hall, the landscaping of a new public space at the front of the terminal, and general improvements to the airport's road network. Over £1.5 million was also spent on upgrading the toilet facilities.
Eleven-time world champion, six-time Olympic champion and former Commonwealth Games champion Sir Chris, was joined by Glasgow Airport's managing director, Amanda McMillan, David Grevemberg, Chief Executive Glasgow 2014, and Clyde, the official Glasgow 2014 mascot.
Amanda McMillan, managing director of Glasgow Airport, said: "Our £17 million investment represented one of the most significant and comprehensive upgrades to the airport since it was first opened in 1966. We're absolutely thrilled with the end result which has truly transformed the entire look and feel of the airport.
"As the gateway to the Games, it was extremely important to us that we were able to provide a positive and welcoming first impression of the city and Scotland. I believe we've achieved that and we've delivered a facility that everyone associated with the airport can be proud of.
"These large scale improvements will be our legacy from the Games and it is entirely fitting that our greatest ever Olympian, Sir Chris Hoy, was able to perform the honours by officially opening our new international arrivals. We are now looking forward to welcoming all those who will be flying in to participate in what will be the largest sporting and cultural event Scotland will ever have hosted."
Sir Chris Hoy added: "It's been a real pleasure to visit Glasgow Airport today to officially open the new international arrival area. The airport is looking in great condition, and it is clear that a huge amount of time, energy and resources have been put into developing the terminal building.
"The eyes of the world will be on Glasgow over the next few weeks in the run up to the 2014 Commonwealth Games. The new international arrivals area will be the first taste of the city that athletes and visitors experience, and I'm confident that Glasgow Airport will ensure that it will be a welcome gateway for them all."
David Grevemberg, Chief Executive of Glasgow 2014, said: "The airport will be the first place many of our athletes, officials and spectators see when they arrive in Glasgow for the Games and what a great impression they will get of the city and of Scotland. The £17million investment has transformed the main terminal, the international arrivals areas and created a great new landscaped public space in front of the terminal. The new-look airport, together with our team of friendly clyde-siders who are on hand to meet and greet people as they arrive for the Games, really will ensure everyone receives a warm welcome from the minute they touch down."
Councillor Gordon Matheson, Leader of Glasgow City Council, said: "This investment further reinforces Glasgow's position as Scotland's premier airport and will bring lasting benefits to the city long after the Commonwealth Games have finished. Our airport plays a crucial role in the economy of west central Scotland with over 7.5million passengers coming through the terminals each year, and this fantastic refurbishment will ensure it continues to meet the demands of an ever growing airport for years to come."
Related airports
Related people