Emirates to commemorate 10 years at Glasgow Airport with a one-off A380 service
Posted: 12 February 2014 | Glasgow Airport
In yet another first, Emirates, a global connector of people and places, will operate a one-off A380 service from Glasgow Airport on 10th April 2014 to celebrate a decade of carrying Scotland's passengers to Dubai and beyond.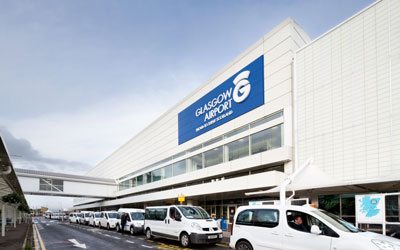 The occasion is set to be an equally huge milestone for Glasgow Airport as it becomes the first airport in Scotland to welcome an A380 – the world's largest commercial aircraft – standing over 24 metres high and with a wing span of nearly 80 metres.
Since Emirates began operations at Glasgow Airport on 10th April 2004, it has carried 2.3 million passengers across its global network which now covers 141 destinations. Emirates currently offers over 43,000 passenger seats per month to and from Glasgow, following the upgrade of its second daily service to a Boeing 777 in 2012.
Whether stopping in Dubai or connecting to another destination, passengers embarking on this unique A380 flight from Glasgow can expect a spacious aircraft, with a cabin that is two-and-a-half feet wider than a Boeing 777; a peaceful journey in the world's quietest long-range jet; on-board Wi-Fi; world-class in-flight menus and the award-winning ice entertainment system.
Laurie Berryman, Emirates Vice President UK, said: "As the largest A380 operator in the world, it is a historic moment to see one of our A380s take flight from Glasgow Airport for the first time. Celebrating 10 years in Glasgow is a landmark occasion for us and it demonstrates our continued commitment to Glasgow and Scotland, which is an extremely important passenger and cargo market for Emirates."
Amanda McMillan, Managing Director of Glasgow Airport, also commented: "Since its arrival in 2004, Emirates has been one of Glasgow Airport's biggest success stories and its decision to introduce a second daily service to Dubai in 2012 confirmed its status as Scotland's leading long-haul airline. To bring the A380 to Scotland for the first time will be a hugely significant milestone in our country's aviation history and an exciting day for the passengers who will have the opportunity to fly on the aircraft and the staff who have worked hard to make it possible."
The one-off A380 flight will operate as EK028 and will depart Glasgow at 15:35hrs arriving in Dubai the following day at 0200hrs.
Passengers travelling Business Class or First Class will have access to the A380's on-board Lounge, a dedicated bartender and plenty of space to mingle whilst enjoying world-class delicacies. First Class passengers can also look forward to experiencing the aircraft's on-board signature Shower Spa, with a state-of-the-art shower system and Timeless Shower Spa kits, as well as the aircraft's First Class Private Suites.
Emirates is an Official Partner of the Glasgow 2014 Commonwealth Games and the Official Airline of the Queen's Baton Relay. These partnerships strengthen the airline's commitment to Glasgow and Scotland and will play a key role in profiling the Glasgow 2014 Commonwealth Games on a global stage.