Glasgow Airport enjoys busiest year since 2008
Posted: 13 January 2014 | Glasgow Airport
Glasgow Airport enjoyed its busiest year since 2008 after 7.4 million passengers travelled through its doors in 2013, representing an annual increase of 2.9%…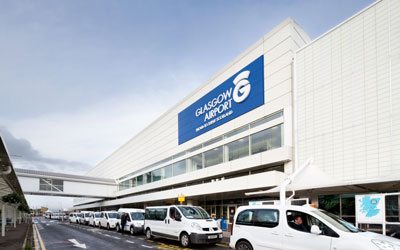 Passenger numbers up 2.9% in 2013
December traffic up 3.9%
Glasgow Airport enjoyed its busiest year since 2008 after 7.4 million passengers travelled through its doors in 2013, representing an annual increase of 2.9%.It is the airport's third consecutive year of growth and much of its success can be attributed to a marked increase in long haul and European traffic which grew by 11% and 15% respectively.
The arrival of airlines such as Wizz Air and Lufthansa Regional contributed to the increase in international traffic, as did the strong performance of long haul carriers Emirates, United and Virgin Atlantic, all of which reported growth in 2013.
There was strong demand for Glasgow's London and UK regional routes, and the decision by British Airways and Flybe to add extra capacity contributed to a 2.5% increase in domestic traffic.
The growth in the annual figure was mirrored in December's performance which saw over 455,000 passengers travel through the airport, an increase of 3.9%. International traffic was a particular area of growth, up 11.8%.
Amanda McMillan, managing director of Glasgow Airport, said: "To have recorded our busiest year in five years and our third consecutive year of growth is very pleasing. We enjoyed considerable success throughout 2013 in further strengthening our route network and we committed significant investment to enhancing our facilities.
"Whilst the growth in numbers would appear to suggest a renewed confidence amongst airlines and passengers, we are still operating in what remains a difficult economic environment and achieving further growth will be a challenge. There is, however, much to look forward to. 2014 is set to be a momentous year for Glasgow and our focus will be on ensuring we play our part in the successful delivery of what will be the biggest sporting event in Scotland's history, the 2014 Commonwealth Games."
Related airports
Related people