Passenger numbers at Glasgow Airport up 4.6 per cent in October 2012
Posted: 12 November 2012 | Glasgow Airport
Passenger growth at Glasgow Airport has continued with almost 700,000 passengers travelling through the airport in October…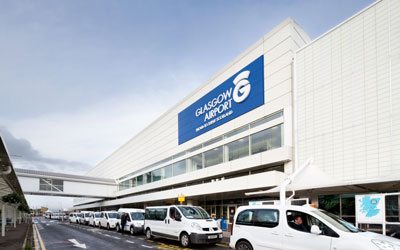 Passenger growth at Glasgow Airport has continued with almost 700,000 passengers travelling through the airport in October, representing an increase of 4.6% compared to the same period last year.
Demand for domestic travel grew by 5.8% with international traffic up 3.5%. The October school holiday week coupled with the strong performance of British Airways' and easyJet's London routes, as well as Flybe's East Midlands service, ensured it was another busy month for Glasgow Airport.
The airport was also boosted by Celtic's Champions League away fixture against Barcelona which resulted in additional outbound traffic.
Amanda McMillan, managing director of Glasgow Airport, said: "Our recent growth has largely been driven by demand for international travel, so it is particularly pleasing to see our domestic routes perform so well.
"We enjoyed one of our busiest October school holiday weeks with the majority of passengers heading to sunspots such as Dubai, Canary Islands, Turkey and Florida, and we also received the welcome news from Jet2.com that it is to expand its base at Glasgow Airport.
"The airline will introduce a fourth aircraft next year which will result in the creation of 50 new jobs and the addition of Murcia, Menorca and Pula in Croatia to its already long list of destinations.
"Maintaining growth will be challenging, especially as we enter the winter months, but we are committed to working with our airline and city partners to further strengthen our route network and to continue to provide passengers with greater choice."
Together with Aberdeen and Edinburgh airports, Glasgow Airport repeated its calls for an immediate review of air passenger duty (APD) following the publication in October of a report warning it could cost Scotland more than two million passengers per year by 2016.
The managing directors of Aberdeen, Edinburgh and Glasgow airports came together to once again urge Chancellor George Osborne to conduct a full and thorough review of APD and recognise the damaging impact it is having on Scotland's economy and connectivity.
Related airports
Related people