Luton Airport: Why has growth happened so fast?
Posted: 11 October 2016 | Roy Manuell, Digital Content Producer | 4 comments
In the second part of an exclusive interview with the CAPEX Director at Luton, we explore the development progress at the London airport and how passenger growth is driving Luton to become a potential major player in the UK network…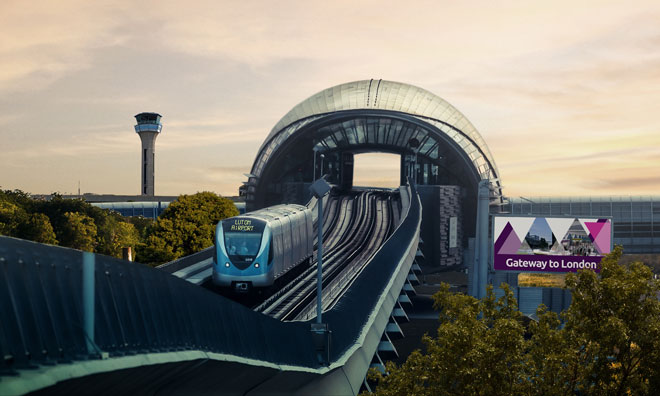 In the second of a two part analysis of the development process featuring exclusive interviews with Capex Director Alejo Pérez Monsalvo, Head of Marketing and Strategic Affairs Oliver Jaycock and Marketing Executive Jackie Bowry, International Airport Review will explore the reasons for which London Luton Airport has managed to consistently attract passenger and airline alike.
To read the first part of our Luton Airport focus, click here.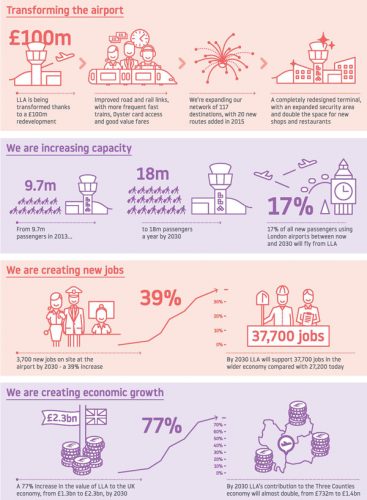 London Luton Airport has witnessed unforeseen growth over the past few years. In terms of passenger increase it has progressed from 9.7 million in 2013 to carrying 12.3 million in 2015 and is expected to welcome 18 million by 2020 and an estimated 17% of all new passengers using London airports between now and 2030.
So just why has Luton managed to grow so quickly?
Well, undeniably this increase can be attributed, at least in part, to the ease Luton enjoys at attracting airlines to the London airport. With the addition of new destinations and routes to its network such as New York and Copenhagen, Luton Airport primarily offers two things:
The passenger process is very quick and efficient as discussed in the first part of our study and this is of fundamental value to airlines.
To maximise profit, what an airline desires is the quick movement and transfer of passengers from aircraft to airport and vice versa. In particular, low-cost so-called 'budget' airlines run their business model on the rapidity of passenger flow from destination A to destination B. With Luton Airport offering an extremely efficient passenger process time that is comfortably dwarfed by that of say Gatwick and Stansted, the Bedfordshire airport offers a lot to such airlines in terms of convenience. 
That said, business class airline La Compagnie has recently pulled the plug on Luton Airport's only transatlantic flight to New York following the uncertainty Brexit has brought. However, crucially, the airline defends its choice of Luton and says withdrawing the Luton-Newark flight in favour of a Paris-Newark route was a purely economical decision.
"Luton is also the UK's largest private-jet base – so that's a point of view,"  La Compagnie chief executive Frantz Yvelin told FlightGlobal maintaining that, "we were satisfied with Luton. So were our passengers."
While stereotypically seen as a hub for EasyJet and other low-cost airlines, the Aspire Airport Lounge, previously developed for La Compagnie  made a statement about the airport's business and long-haul intentions and was further praised by the Mr. Yvelin before he confirmed the superior efficiency of Luton compared to Heathrow and Gatwick with respect to customs and security as well as the all-important rail-transport time to London.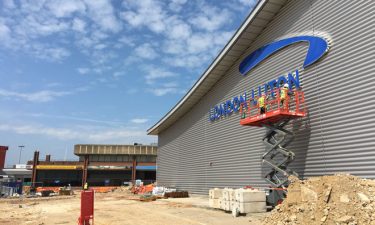 It now remains to be seen once the development enters its final period, whether or not long-haul flight routes can be attracted to Luton Airport, something that would certainly help to alleviate the burden on London's two major airports, currently scrapping for the permission to build an additional runway.
However, Capex Director Alejo Pérez Monsalvo remains optimistic:
"It's not just new destinations we're attracting here but also a new demographic as different types of passengers are choosing to fly with the same airlines such as EasyJet," perhaps a result of an overarching industry trend as low-cost travel becomes less and less stigmatised by the older generations.
"Luton Airport has one of the lowest  noise violation limits in the UK…"
"We have increased the frequency of travel to the same destinations with the same airlines and much of this has been forced due to passenger demand."
And this brings us to a more in-depth look at the Davies Report…
What is the Davies Report?
The Davies Report, established in 2012, was a fundamentally independent report commissioned by the UK government to ascertain the best means of expanding the London airports which concluded in 2015 that an additional runway would be necessary by 2030, to which both Gatwick and Heathrow responded with respective proposals.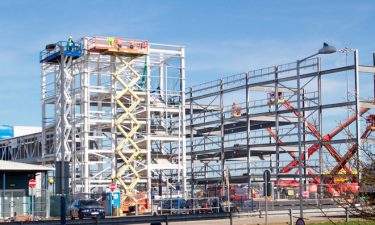 While speaking to Capex Director Alejo Pérez Monsalvo, Head of Marketing and Strategic Affairs Oliver Jaycock and Marketing Executive Jackie Bowry it became clear that Luton fully supports the report's findings and maintained that the capacity issue currently facing the London airports is a joint problem; Heathrow currently runs at 99% of its capacity; a constraining situation that is thought to have been costing the UK economy billions a year since 2012, according to figures published by the Telegraph.
"The sooner a decision on the runway is made, the better. We just want a clear policy plan," Oliver Jaycock asserted and with an announcement thought to be on the horizon, it looks like the new government is set to confront the issue.
That said, the report and indeed Luton Airport agree, that London's satellite airports have an undeniably large role to play in aiding the alleviation of this burden and the team at Luton argue that while perhaps passenger experience and the general flow of the airport has been inadvertently affected by the lengthy construction process, Luton Airport is leading the way in taking the initiative by monumentally expanding for the good of the London and indeed the UK capacity constraint issue.
"It's not just new destinations we're attracting here but also a new demographic…"
"There is a real imperative on London to consider all its airports' growth to solve the issue," Jackie Bowry concluded.
In addition to this, with a healthy catchment area in terms of both population numbers as well as its wealth, Luton Airport is perfectly placed to serve several counties that are otherwise, reasonably-poorly linked to a large airport in Luton's absence, such as Buckinghamshire, Cambridgeshire and Essex.
Further to this, in an excellent study conducted by Oxford Economics, it is thought that Luton Airport will allegedly be supporting 37,700 jobs by 2030, an increase of 10,000 from today as well as a 77% increase in its value to the UK economy as a result of expansion thus reaching an overall figure of £2.3bn by 2030.
Its aim: to distribute prosperity to the north and east of London as Gatwick and Heathrow have to the south and west. 
All this economic and material expansion is great, but how will it affect the surrounding environment?
"We don't operate in a bubble" replies Alejo Pérez Monsalvo.
"We are consistently working with the Luton Borough Council and wider community to ensure that we keep noise pollution, soil quality and water drainage to an acceptable level of quality.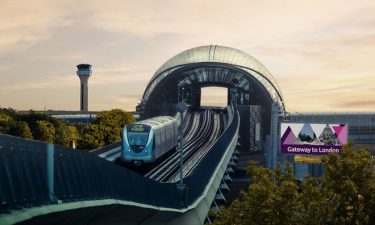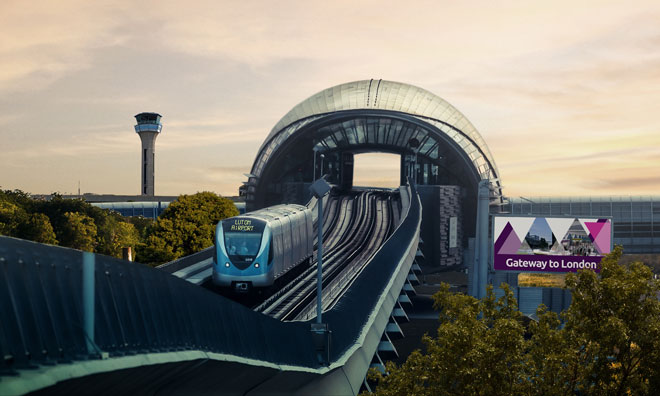 "If this means working with a wide range of consultants, so be it."
"Consequently, Luton Airport has one of the lowest noise violation limits in the UK…" reports Oliver Jaycock.
What becomes clear as the team describe what is being done is that there is a clear environmental strategy and policy in place to minimise and mitigate any possible environmental impact the extensive expansion and development of London Luton Airport might have.
Having spoken at length to the development team at the airport as well as enjoying a guided tour around the site by Jackie, what is clear that the site is bustling with ambition and energy.
While current disruption may be a small side effect for passenger experience, for the good of London with respect to its capacity polemic and the exponential influx of passengers to the airport as well as having an economic benefit for the local area, the development of Luton Airport seems necessary and what can't be denied is that it is well on its way to completion ahead of schedule… Good news all round.
Related topics
Related airports
Related people