Airports Reimagined Whitepaper
Read this exclusive whitepaper which will showcase the key themes which will be explored during day 2 of the International Airport Summit on November 14-15.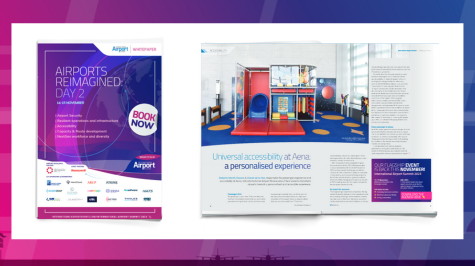 Read this FREE exclusive whitepaper focusing on the reimagining of airports. The whitepaper contains articles on the crucial themes occupying airport leaders today.
The International Airport Summit 2023: Airports Reimagined Day 2 will be focusing on key themes such as:
Accessibility
Resilient airport infrastructure for a changing climate
Airport security
Route development
Diversity, equity and inclusion
The next generation
Emerging technologies
With this in mind we have created a whitepaper which will showcase the above themes and what you can expect at the summit from our esteemed panel of airport speakers. Read it for FREE by registering.
If you found this whitepaper engaging, then we have a special invitation for you. Join us at our upcoming event the International Airport Summit, where we dive deeper into the topics discussed here, providing a platform for stimulating conversations and networking opportunities. Experience first-hand the excitement of being part of a dynamic aviation community passionate about solving the largest challenges facing the airport industry.
Mark your calendar and be prepared to be inspired. We look forward to welcoming you to an unforgettable event that will leave you with valuable insights and a renewed enthusiasm for the subjects that matter most to you.
International Airport Summit
14-15 November 2023
Topics covered include: Passenger experience, Airport business, Sustainability, Terminal operations, Airside operations, Construction, and Design