Ensuring a streamlined security process at Aeroporti di Roma
For International Airport Review, Robert Schuur, Co-Founder of GRASP Innovations, spoke to Marco Stramaccioni, Chief Executive Officer of Aeroporti di Roma (ADR) Security, about how innovation was helping to enhance security operations.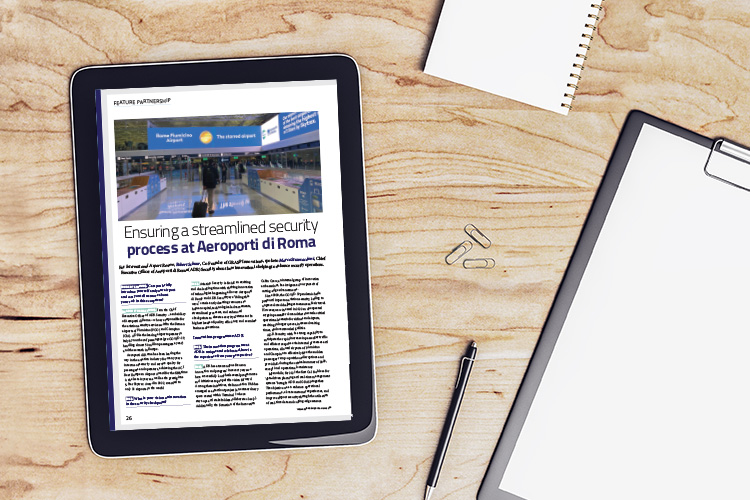 [Robert Schuur]: Can you briefly introduce yourself and your airport and can you tell us more about your role in this ecosystem?
[Marco Stramaccioni]: I am the Chief Executive Officer of ADR Security – a subsidiary of Aeroporti di Roma – who are responsible for the aviation security services within the Roman airports of Fiumicino (FCO) and Ciampino (CIA). ADR is the leading airport operator in Italy by number of passengers (pre-COVID-19, handling almost 50 million passengers a year) and the seventh in Europe.
Aeroporti di Roma has been leading the way in the aviation industry for many years in terms of security and service quality for passengers and operators, achieving the ACI Best European Airport Award for the fifth time in the last six years as well as the prestigious 5-Star Skytrax Award in 2022, awarded to only 11 airports in the world.
[Robert Schuur]: What is your vision on innovation in the security checkpoint?
[Marco Stramaccioni]: Aviation Security is facing an exciting and challenging time with thriving innovation of technologies happening all over: Aeroporti di Roma and ADR Security are "riding this wave" consistently devoting resources to human capital, technological advancements, streamlined processes, and enhanced checkpoints to elevate security systems to the highest levels of quality, efficiency, and seamless business operations.
Sign in to read the rest of this feature!