Issue 3 2023 International Airport Review
In this special edition of International Airport Review we feature articles from industry experts on a range of topics including: passenger experience, sustainability, personalisation, digital transformation, airport retail and more. Plus, the airports of the Americas come under the spotlight in our regional focus.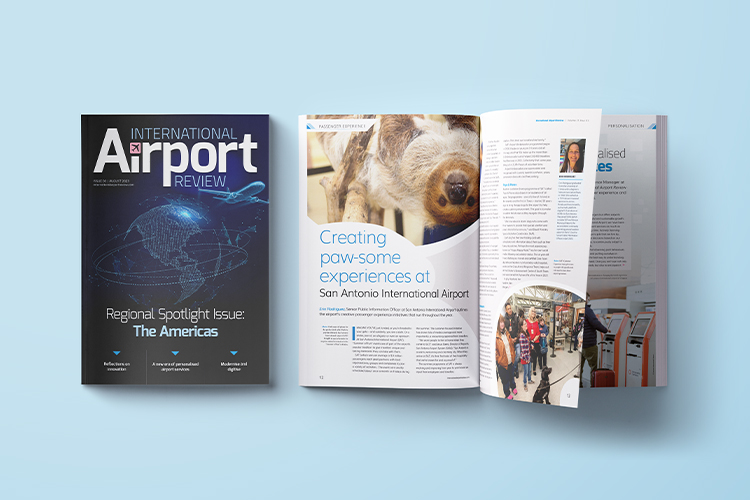 In this issue:
LEADERS SERIES 2023
Khalil Lamrabet, Chief Commercial Officer at Greater Toronto Airports Authority
VOICE OF THE INDUSTRY
Flying forward in Latin America and the Caribbean Airports
Rafael Echevarne, Director General of ACI Latin America Caribbean
VOICE OF THE INDUSTRY
North America's airports face a backlog of infrastructure needs
Kevin M. Burke,

 President and Chief Executive Officer 

, ACI North America
AIRPORT INNOVATION
Plato was right! Reflections on innovation in civil aviation
Marcelo Mota, Commercial Director & CCO, Aeroportos Brasil Viracopos S.A
 PASSENGER EXPERIENCE
Creating paw-some experiences at San Antonio International Airport
Erin Rodriguez, Senior Public Information Officer, San Antonio International Airport
PERSONALISATION
A new era of personalised airport services
Federico Cabrera, Operations and Passenger Experience Manager, Aeropuertos Uruguay
DIGITAL TRANSFORMATION
Modernise and digitise
Chris Summers, IT Project Manager, Austin-Bergstrom International Airport
AIRPORT TECHNOLOGY
Integrating emerging technologies into airport operations
Sarah Marquez, Senior Vice President of Airport Operations at Denver International Airport
SUSTAINABLE AIRPORTS
Sustainability as a core value for Aeropuertos Argentina 2000
Sebastian Villar Guarino, General Manager, Ezeiza International Airport
EVENT PREVIEW
International Airport Summit 2023
AIRPORT RETAIL
Talking passenger's retail behaviour at London Heathrow
Fraser Brown, Retail Director, London Heathrow Airport
GUIDE TO…OPERATIONAL EFFICIENCY
Climb every mountain
Ronald Leitch, Operations Director, Glasgow Airport
Balancing operational efficiency and passenger experience: The Zurich Airport Brasil approach
Fernando Augusto de Castro, Head of Airports and Kleyton Mendes Peixoto, Airports Executive Manager, Zurich Airport Brasil
IN-DEPTH FOCUS…WINTER OPERATIONS
Keeping the gateway to the North East open and operational
Mark Beveridge, Operations Director, Aberdeen International Airport
Staying open in extreme winter weather
Dean Ervin, Director of Aerodrome Operations, Safety and Compliance, Edmonton International Airport
Download it for free now!