Issue 4's Regional Spotlight: The Middle East
International Airport Review's Middle Eastern spotlight focus is now available to download!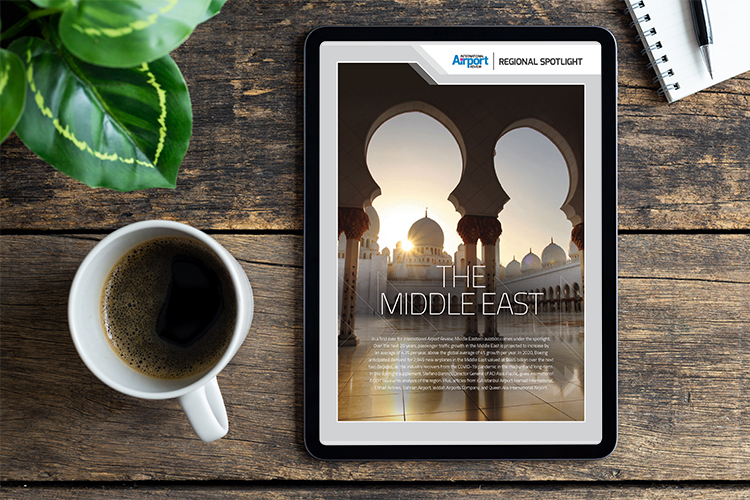 In a first ever for International Airport Review, Middle Eastern aviation comes under the spotlight.
Over the next 20 years, passenger traffic growth in the Middle East is projected to increase by an average of 4.3% per year, above the global average of 4% growth per year.
In 2020, Boeing anticipated demand for 2,945 new airplanes in the Middle East valued at $685 billion over the next two decades, as the industry recovers from the COVID-19 pandemic in the medium and long term.
In this spotlight supplement, Stefano Baronci, Director General of ACI Asia-Pacific, gives International Airport Review his analysis of the region. Plus, articles from iGA Istanbul Airport, Hamad International, Etihad Airlines, Bahrain Airport, Jeddah Airports Company, and Queen Alia International Airport.
Featuring articles from:
Ayman Abo Abah, CEO, Jeddah Airports Company
Stefano Baronci, Director General, Airports Council International (ACI) Asia-Pacific
Terry Daly, Executive Director of Guest Experience, Etihad Airways
Sujata Kumar Suri, Vice President of Strategy and Customer Experience at Hamad International Airport
İGA Istanbul Airport
Nicolas Claude, CEO, Queen Alia International Airport
Mohamed Albinfalah, CEO, Bahrain Airport Company
Download the Middle Eastern spotlight for free now!