ARFF: Establishing a world-class firefighting facility
Posted: 14 October 2014 | Pierre Borrodier, Head of SSLIA Service at Lyon Airport
With the inauguration of Lyon Airports' new Aircraft Rescue and Firefighting Service training ground, the airport has become the first in France to offer training facilities to cope with real-life situations.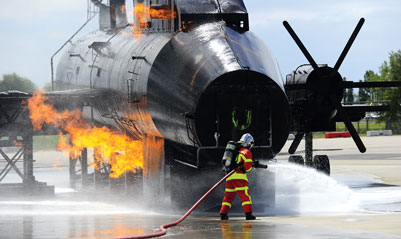 In June 2014, Lyon Airports inaugurated its new Aircraft Rescue and Firefighting Service (SSLIA – service de sauvetage et lutte contre l'incendie des aéronefs) training ground at Lyon-Saint Exupéry Airport. The platform, which was undertaken internally by Lyon Airports' teams, is entirely dedicated to training firefighters using real fire.
Designed to improve operating techniques under real conditions, the 12,000m2 facility is the only one of its kind in France and is available to hire to all SSLIA groups. It is made up of different training areas including a lifesize model A320 aircraft, a wall of fire, a double-flux turbofan engine, a tri-diablo, and a reconstruction of an aircraft interior.
As well as offering training infrastructures, Lyon-Saint Exupéry Airport provides all the necessary human support to guarantee maximum security. Lyon Airports also offers different, themed scenarios in order to improve operating techniques in realistic conditions.
"The platform has been created for the training of the airport's own firefighters," says Pierre Berrodier, Head of the SSLIA Service at Lyon Airports. "We are using a model of an A320 aircraft as well as the landing gear. Not only do we regularly use this great facility ourselves but we decided to offer it to other airport teams which are either less equipped or not equipped at all. Pristina Airport in Kosovo, for example, rented the platform."
The A320 model is set on fire using specific liquids and gasses which are both environmentally-friendly and comply with environmental regulations. It has been constructed with 11 separate fire points; allowing firefighters to carry out manoeuvres under 16 different sets of circumstances, some with localised fire and others with generalised fire on an aircraft. Pierre explains that two workshops are also available for specific training including a 'firewall' and a landing gear.
Covering a surface area of 12,000m2 and using 40m3 of closed-circuit water, Lyon Airports' firefighters use the training ground four times a week to train in various different situations.
"Lyon Airports made the decision to invest in this platform so that firefighters could benefit from a training ground, which helps to guarantee the operational quality of emergency interventions. This is especially key in terms of a quick reaction and knowledge of operational procedures. This also helps us ensure that we comply with the existing regulations," reveals Pierre.
Pierre explains how the establishment of the facility has helped to define Lyon Airports as a leading training facility: "It meets the requirements, both in terms of the type of scenarios offered and in terms of its structural design. The platform allows all operational procedures to be put into practice; reflecting reality as far as it is possible in terms of heat, water canon reach, etc.
"European regulations are changing; the airports will, for instance, be responsible for the operational teams' competence. With this platform we are already anticipating this new requirement."
Lyon Airports: 100 years of heritage
Lyon-Bron, the first airport in Lyon, which is managed by Lyon Airports, dates back to 1910 when aviation debuted in the Lyon region with the first air meeting held in a field in Villeurbanne. Air transport in the region prospered before becoming dedicated to light and business aviation.
In the 1960s it became apparent that a new international airport would have to be built in Lyon to keep up with increasing air traffic. Located in an urban area, Lyon-Bron could not be extended and its short runway meant that long-haul flights were unable to take off with a full load. A decision was made to ensure that the Rhône-Alpes region could be fully realised – a new airport was needed.
Lyon-Satolas Airport was inaugurated on 12 April 1975 by President of the French Republic, Valéry Giscard d'Estaing. Eight days later, on 20 April 1975 the airport succeeded Lyon-Bron and welcomed its first 150 passengers, who were arriving from Paris. Three years later the airport hit figures of two million passengers a year and was rewarded with an investment programme to double the airport's capabilities. Sure enough, by providing the welcoming site for the 16th Winter Olympic Games in 1992, the airport passed the four million passenger mark, and a second runway was put into operation. In 1994, the TGV high-speed train station opened close to the airport, offering easy connections.
On 29 June 2000, Lyon-Satolas Airport became Lyon-Saint Exupéry Airport; named after Lyon-born aviator-come-writer Antoine de Saint Exupéry. By this point the airport was welcoming six million passengers a year.
Today, Lyon-Saint Exupéry Airport welcomes 8.5 million passengers a year, made up of 63 per cent international traffic, and services 115 direct destinations by 58 airlines. It is the third airport in France in terms of traffic.
Biography
Pierre Berrodier has been Head of the SSLIA Service at Lyon Airports since 2008. He has 33 years of experience in the sector including 30 years working at the airport. Prior to his appointment at Lyon Airports, Pierre was Head Guard at Aéroports de Lyon for 12 years, and Head Intervention Leader at Aéroports de Lyon from 1994-1996. There are 67 firefighters who operate at Lyon-Saint Exupéry, protection level 9; and Lyon-Bron protection level 5.