International Airport Review Issue 3 2022
In this special-edition guest edited by none other than Luis Felipe de Oliveira, Director General of ACI World, we feature articles from industry experts on a range of topics including: workforce, passenger experience, sustainability, accessibility, route development and urban air mobility as well as two supplements on seamless travel and operational efficiency.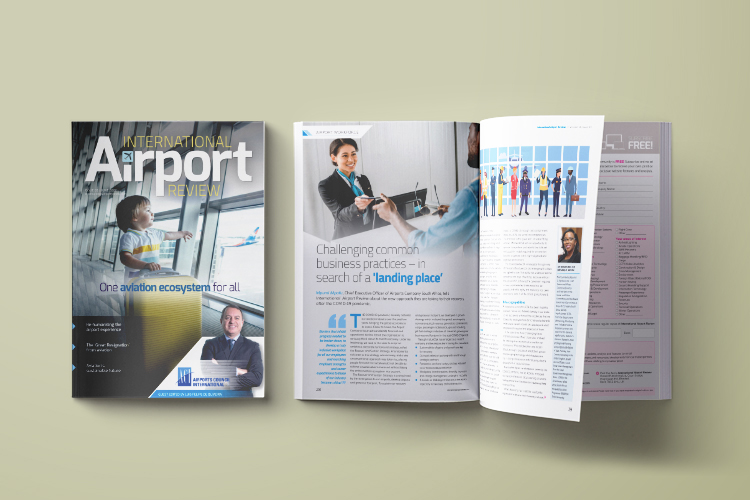 In this issue:
GUEST EDITOR'S WELCOME
Luis Felipe de Oliveira, Director General, ACI World
LEADERS' SERIES
Emerging from the pandemic, our priorities remain
Chad Makovsky, City of Phoenix Director of Aviation Services
WORKFORCE
The 'Great Resignation' and how it affects the aviation ecosystem
Thomas Romig, Vice President, Safety, Security, and Operations, ACI World
THE AIRPORT EXPERIENCE
Re-humanising the airport experience
Dimitri Coll, Vice President Airport Customer Experience, ACI World
SUSTAINABLE AVIATION FUEL
Sustainable aviation fuels: experiences from Norway in an early stage of development
Arvid Løken, Senior Advisor, Sustainability Department, Avinor
INCLUSIVE AIR TRAVEL
Designing for all
Darron Freegard, Terminal Planning & Strategy Manager and Emily O'Connell, Customer Experience Manager, Perth Airport
PASSENGER EXPERIENCE
Aeroporti Di Roma: A success story focused on people and innovation
Emanuele Calà, Innovation & Quality Vice President, Aeroporti di Roma
ACCESSIBILITY
Removing barriers to airport accessibility: Achieving greater inclusion for persons with disabilities
Nathalie Herbelles, Senior Director, Security and Facilitation, ACI World
WORKFORCE
Challenging common business practices – 'in search of a landing place'
Mpumi Mpofu, Chief Executive Officer, Airports Company South Africa
SUSTAINABLE AIRPORTS
Aviation's sustainable future: Transforming commitment into action
Juliana Scavuzzi, Senior Director, Sustainability, Environmental Protection and Legal Affairs, ACI World
URBAN AIR MOBILITY
Taking off into the future of air travel
Carlo Tursi, Chief Executive Officer, UrbanV
ROUTE DEVELOPMENT
Hartsfield-Jackson Atlanta: The jewel of Georgia
Elliott Paige, Director of Air Service Development, Hartsfield-Jackson Atlanta Airport
IN-DEPTH FOCUS: SEAMLESS TRAVEL
Promoting seamless travel through the launch of digital twin technology
Lynette DuJohn, Vice President, Innovation and Chief Information Officer, Vancouver International Airport
A seamless experience for all travellers at MIA
Maurice Jenkins, Head of Digital Strategy and Chief Innovation Officer, Miami International Airport
IN-DEPTH FOCUS: OPERATIONAL EFFICIENCY
Efficiency and agility for supporting operational decision-making at the airports operated by Zurich Airport Brasil
Ricardo Bresolin, Operational Planning Coordinator, and co-authors, Zurich Airport Brasil
Operational effectiveness, efficiency or excellence?
Damian Ellacott, Chief Operating Officer, Dammam Airports Company (DACO)
Read for free today!