National transport infrastructure in crisis
Posted: 2 September 2014 | Dr Michael Synnott, Senior Teaching Fellow, Warwick Business School
We must move away from the 'predict and provide' response to airport congestion, says Dr Michael Synnott in response to the Airport Commission's announcement ruling out Boris island…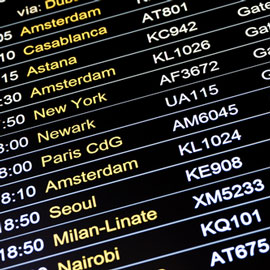 When taken with the withering dismissal of Birmingham Airport's plans to benefit from HS2, the unambiguous ruling out of 'Boris Island' questions how far the decision on a third runway is still under review. But what's at stake is not merely the hegemony of Heathrow but our way of making strategy and policy for airports. Heathrow is all about 'predict and provide'. Instead we need to disrupt old ways of thinking and deploy our national transport assets in a way more fitting for a 21st century national economy. This means thinking innovatively across the national networks.
It is not necessary to have a very sophisticated understanding of the growing constraints at Heathrow to appreciate that all is not well at the country's most prominent aviation hub. Many have experienced the misery of flight delays or cancellations as relatively small perturbations in weather or events overwhelm the near full capacity of that airport.
As the perplexed overseas traveller is forced to endure a long wait at Heathrow, they might be forgiven for wondering whether anybody has any strategic oversight of where our national transport infrastructure is heading. As a small island nation and economy, some coherence in the planning of our national transport infrastructure is long overdue. After all, we have Crossrail nearing completion and HS2 in the wings. Both promise to revolutionise national connectivity but neither will actually take you to the Heathrow complex.
 
Anybody who has used Schiphol airport in Amsterdam, where the arrivals area seamlessly blends with the railway station, will appreciate the convenience this brings. But HS2 will take you to Birmingham where the station and airport will be co-located. Further the runway there has been lengthened to enable flights to China and the west coast of the U.S. with a large passenger handling capacity to boot. 
 
A little further north to Manchester HS2 will interface with the recently announced HS3, a new rail system that will provide a rapid connection between Liverpool and Newcastle as well as a fast link to Manchester Airport. To see the full potential that our national airport assets offer, we need to finally move away from the traditional predict and provide response to airport congestion.
About the author
Dr Michael Synnott is a Senior Teaching Fellow at Warwick Business School. An MBA graduate from WBS and a PhD graduate from the London School of Economics, he has over 30 years' experience working in the public sector, consultancy, writing, research, and lecturing on urban strategy and development. He has worked in Australia as well as the UK and has advised clients from China, Hungary, Korea, Mexico, Japan and Russia.
Related topics
Related airports
Related organisations