New Year's Resolutions from an Airport CEO
Atanasios Titonis, Chief Executive Officer at Ras Al Khaimah International Airport, reflects on the past year and looks ahead to the future, examining the changes in the industry, and revealing his aims for the airport as it focuses on recovery.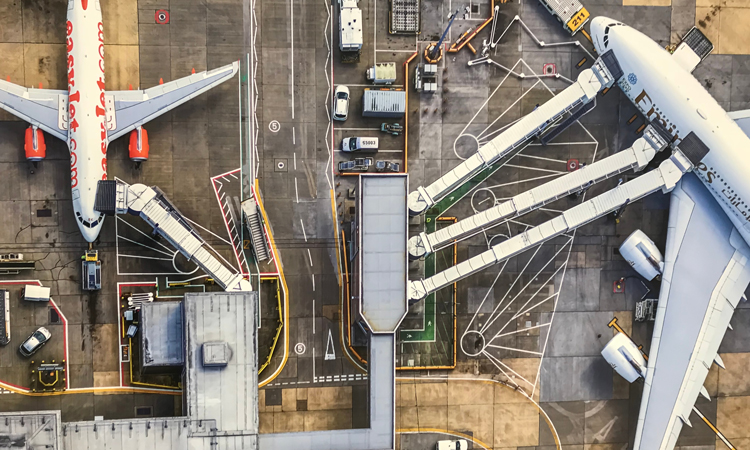 2021 has been a year of change for the aviation industry and me. Looking back, not only in 2021, but since the beginning of the pandemic, it is fair to say its impact has been far-reaching and radical. Having worked in this industry for over 25 years, this was the first time I had witnessed a crisis of this magnitude. As people were told by their respective governments to stay home and avoid travelling, we saw international departures worldwide fall by 71.8 per cent from 2019 to 2020.
This could feel like a daunting time to become a CEO of an international airport, as I did in September this year (2021) at Ras Al Khaimah International Airport. However, I see this as an opportunity for change. Ras Al Khaimah is the northernmost Emirate in the UAE, home to a busy port, which is the number one bulk-handling port in the Middle East, and a destination for adventure tourism, beach holidays, and mountain hikes, all of which take place a mere 40-minute drive from Dubai. One of the most interesting factors that make this airport wonderful is the ease with which passengers can travel; quite literally they can be in their swimwear one hour from touch down.
Indeed, with this pandemic we have faced a year of challenges, however, I remain optimistic and safe in the knowledge that people will always want to travel in the globalised world we live in today. As a result of the challenges we have faced, the aviation industry, and Ras Al Khaimah International Airport, have a sharpened focus on the five changes we need to make to thrive:
1. Infrastructure
To keep up with passenger traffic demand, and welcome more and more airline partners, our immediate focus is on working to enhance our existing terminal as soon as possible, while simultaneously working on designing a brand-new terminal that meets international standards and delivers innovative facilities to passengers. Our team is working hard to improve the look and feel of our passenger terminals and to increase the passenger handling capacity.
2. Ground connectivity
We are continuously adding value to the services we provide in our catchment area, and we want to make sure that they are easily accessible and affordable for people to commute to, and from, the airport. A new bus service will provide convenience, affordability, comfort, and ease as passengers travel onwards to their destination. This service undoubtedly contributes towards improving accessibility for our passengers, which is one of our key aims. In addition, it is a base that will help us bring more airlines and flights to the airport, increasing connectivity.
3. Digitalisation will unlock the potential
Digitisation is vital. We as an industry, and Ras Al Khaimah International Airport specifically, will only be able to unlock our post-pandemic potential by becoming a 'smart' airport that revolutionises the passenger experience by sharing information between aviation stakeholders.
With many passengers still nervous about travelling following the pandemic, we want to ensure a COVID-19-safe experience for all passengers as they navigate this new world of travelling. I have been inspired by many airports and airlines increasingly implementing AI and other technology initiatives to make themselves more contactless. For example, AirAsia has introduced several contactless procedures for essential travel, including contactless kiosks, contactless payments at the airport, as well as enhancing features on their mobile app to ensure a smooth, quick, and safe travel experience. At Ras Al Khaimah Airport, we are following this trend, working with one of the biggest airport operators to have our airport used as a lab facility for introducing new technologies that would prove beneficial for everyone, including being in the early stages of becoming completely contactless.
4. Sustainability will drive demand
Research from the travel company Virtuoso found that four in five people have said that the pandemic has made them want to travel more responsibly in the future. Many airports have recognised this growing trend and are aligning with consumer demands by implementing green initiatives to help provide their passengers with the sustainable experience they deserve.
In Ras Al Khaimah, we've identified a clear plan forward that's started already – we've changed our runway lighting to LEDs, saving approximately 8.5 per cent, with an aim for 15 per cent energy savings. Waste management is an often-neglected part of sustainability; however, it cannot be ignored by airports as it has the potential to make an immediate impact. We're also looking to leverage our sunny climate and install solar panels to reduce our carbon footprint. Our goal, which is aligned with our passengers, is to aim for a carbon free airport by 2026. There is a programme launched by Airports Council International (ACI) on this topic and we are aligning our strategic goals in accordance with the programme's phased initiatives. The first of four phases will begin in 2022/2023, at which point we will start implementing these initiatives.
5. It's a people's business
Ras Al Khaimah Airport's success is as much about its employees as it is its passengers. No matter what industry you are in if you have a happy and motivated team you will have a strong business. In my view, the right team to create the dynamic environment needed for success is a mix of experienced professionals and some fresh-faced people with wild new ideas, and this is what we have at Ras Al Khaimah Airport. We encourage our team to have that entrepreneurial spirit with them and play their part in the airport's successful future.
2022 and beyond
There is no denying the pandemic has changed the aviation industry forever; it has given us a unique perspective on how we as an industry can move forward into the next chapter. My resolutions to prioritise people, become a 'smart' airport and make sustainable changes to help our planet are not only long-term goals to ensure we do our bit for the environment, but also short-term to help build passengers' confidence to fly again.
To achieve this, as an industry we must all work together to help bring back the globalised, interconnected world that we've all been missing.

With over 25 years' experience working across several aviation sectors covering airlines, tour operators, ground handlers and airports in both Europe and the Middle East, Titonis has an in-depth and well-rounded understanding of the industry and extensive knowledge of building up and developing an airport business. Prior to moving to Ras Al Khaimah, Titonis served in several other senior executive roles. Most recently, he was the Chief Operating Officer with Dammam Airports Company of Saudi Arabia where he helped to develop its low-cost business, plus ensured the airport compliance and improved the overall operation efficiency. Responsible for overseeing Ras Al Khaimah International Airport's ambitious expansion strategy and driving a new era of connectivity for the Emirate, as CEO Titonis will lead the business and strategy development, financial management and day-to-day operations for the UAE's fastest growing aviation hub.