Beyond Omicron: Creating a new future for Canada's airports
Monette Pasher, Interim President of the Canadian Airports Council, explains the importance of Canada's airports' growth, as the world and aviation industry looks to a post-COVID-19 future.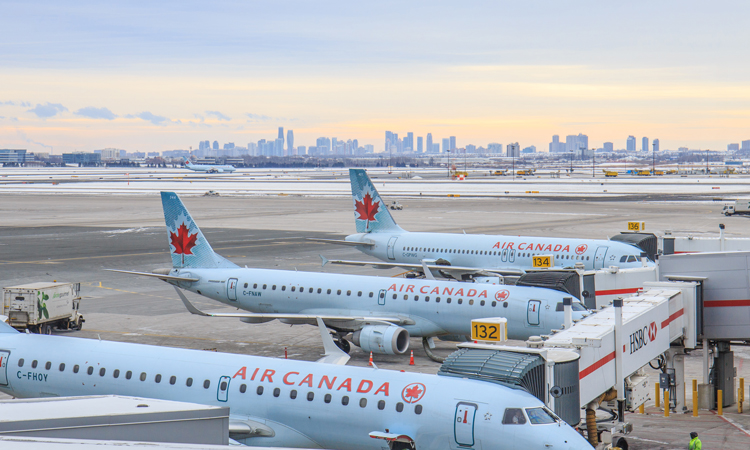 At the time of writing, Canada is stuck in the grip of Omicron. While case numbers are rising, there is still cause for cautious optimism, thanks to high rates of vaccinations and a seemingly less severe variant. Plus, after almost two years of managing the expectations and safety of travellers and workers, airports can rise to just about any challenge.
There is no doubt we will get through this wave. The bigger question is what Canadian airports – and aviation – will look like in the aftermath.
One thing is certain: it will not be the same as it was at the end of 2019. COVID-19 exposed the strengths and weaknesses in Canada's airport system and financing model. Our aim is to bolster the first, while addressing the latter.
Thankfully, the past two years has taught us a great deal. We know what the ideal future looks like: a network of resilient and competitive small, regional, and international gateway airports that encourage travel and trade, enable economic growth, and pursue a greener, net zero carbon future.
Here are the key elements needed to achieve that goal.
Review the current airport model
While the government still owns 27 national airport system airports, among the busiest in the country, local private authorities manage operations and capital projects, paid for by user fees, landing fees and other revenue generated mostly by passenger traffic. Twenty-one of these airport operators also pay rent to the federal government: CA$412 million in 2019. These airports rely on debt financing to support the infrastructure investments required to fulfil their role safely, and support growth.
For the better part of three decades, this model worked reasonably well for most airports, thanks to steadily growing demand. But COVID-19 has destroyed that paradigm.
The catastrophic loss of over 90 per cent of revenues starting in 2020 forced many airports to fund operations by first plundering cash reserves and then turning to loans and new debt, paving the way for higher costs and a less competitive sector once traffic resumes. In 2020 and 2021, Canada's airports lost CA$4.6 billion in revenues compared with 2019. By the end of 2021, Canada's airports added about CA$3 billion in debt, almost entirely to maintain operations rather than to invest for the future.
In the spring and summer of 2021, the government finally implemented new airport support programmes to complement earlier measures. While a far cry from U.S. airport relief contributions and grants, these programmes allowed airports to resume infrastructure improvements, attract and retain air service, fund operations, and pay for COVID-related activities.
To date, federal support, including the Canada Emergency Wage Subsidy and rent deferral/waivers has totalled to CA$1.6 billion. Airports have been able to access specific funding that supported close to 30 projects, used to help finance sustainable capital projects, public transit linkages, and to support operations.
Canada now has five federal funding programmes that airports can access. Some are geared to airport operations, essential for tourism, trade, regional connectivity, and emergency services. Others contribute to capital investments, allowing airports to adapt to changing demand and renew their built assets with more modern and sustainable infrastructure.
The programmes are highly effective, in part because airports can draw from multiple funds simultaneously. For example, the Québec City Jean Lesage International Airport is using government funding from two programmes, the National Trade Corridors Fund (NTCF) and the Airport Relief Fund (ARF) to support two critical priorities. The NTCF is being used to develop a new air cargo centre to strengthen supply chains and support the tremendous growth in cargo demand. The ARF is being employed to maintain essential air services to remote regions.
Some airports are using these funds to prepare for the recovery – and growth – of travel and cargo demand. The Calgary International Airport has deployed government funds to rehabilitate its west runway, including installing Runway End Safety Areas and other infrastructure improvements. Not only will this major project employ between 200 to 300 people, but it will also create new, sustainable, and modern infrastructure that will allow Calgary to handle increased numbers of aircraft safely and securely, once demand returns.
At the other end of the spectrum, the North Bay Jack Garland Airport in Ontario may be comparatively small, but it is a critical regional hub. It is using the Regional Air Transportation Fund (RATI) to support operations and jobs, ensuring that ongoing connectivity between northern Ontario centres and Toronto can continue to maintain travel, tourism, trade, and economic growth across a vast region of Ontario.
However, all these programmes, which were announced in 2020, have fast approaching end dates and limited funds, even though the impacts on travel demand from COVID-19 are far from over.
Not only does Canada need to extend these programmes, but it also needs to pioneer other financing options. Trying to return to a system that sees airports fund 100 per cent of operations and long-term projects with user-generated revenues and debt financing leaves airports too vulnerable to external threats. Airports must be free to access alternative sources of financing, including equity. These measures could range from access to new sources of private capital, to ongoing government support for route development and infrastructure investments for small airports.
Use rents to support climate action
Since shifting to private sector management in the 1990s, 21 airports have remitted over CA$6.5 billion in ground lease rent to the federal government. Except for some temporary relief measures related to COVID-19, larger airports are expected to pay rent forever.
We can do better by investing airport rents into airport initiatives that support climate action. This funding can be targeted to serve the greatest need. For example, while airports are committed to achieving Canada's zero-carbon goals, the way forward can be costly and out of the reach of smaller airport operators. Reinvestment of airport rent to a steady pool of green project funding would allow airports to meaningfully reduce their carbon footprints.
With more resources at their disposal, Canada's larger airports are already showing the way. To name just two, Edmonton International Airport is the first airport in the world to join The Climate Pledge and the Vancouver Airport Authority has moved up its net-zero goal by 20 years to 2030.
Many other airports are following their lead: for example, 18 Canadian airports have received international Airport Carbon Accreditation. The commitment is clear, but an injection of new targeted programmes funded by airport rents that could supplement ongoing government climate change programmes, would go a long way in realising these goals even faster.
We are proud of the progress that airports made, despite all the obstacles. But as we head into 2022, our final lesson is that the future of our industry relies on the combined efforts of the many organisations that facilitate air travel, from airports and airlines to air navigation, government agencies and more. We can each take action to make our own piece of the puzzle better, but we can make things exponentially better for everyone if we work towards a shared future together.

Monette Pasher has 20 years of executive leadership and tourism marketing experience and possesses extensive knowledge of Canada's airports and policy landscape. She brings a wealth of experience in government and media relations, strategic planning, aviation, and tourism marketing to this interim position. As Executive Director of the Atlantic Canada Airports Association, Pasher successfully supported her members both prior to and throughout the pandemic, raising the profile of Atlantic Canada's airport community, and building strong relationships with federal and provincial government officials and Canadian air carriers.