Video update: Lyon Airports Terminal 1 extension
29 March 2016 • Author: Katie Sadler, Digital Content Producer, International Airport Review
As construction activity reaches its peak, Lyon Airports issues a video displaying the travel experiences which the new Terminal 1 will offer and a timelapse video of the build.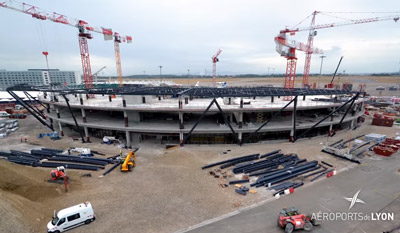 The new Terminal will cover a surface area of 70,000m²; double the surface area of the current terminals. This will enable the Airport to welcome 15 million passengers by 2020. Once complete, Terminal 1 will be connected via an underground gallery to the current Terminal 3 boarding satellite
Lyon Airports Terminal 1 extension will allow 15 million passengers by 2020
The extension will assist Lyon Airports in becoming the second most popular airport in France, as well as the main arrival point for the whole of the south-east of the county. Furthermore, the airport aims to contribute to the economy and tourism of the Rhône Alpes region.