Ricardo Fernandes
Facilitation and Security Bureau, Portuguese Civil Aviation Authority & ICAO AVSEC Panel Member & Chair, Subgroup on Security Culture of the ICAO AVSEC Working Group on Training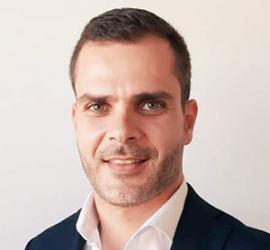 Aviation Security Senior Technician and National Civil Aviation Security Inspector in the Civil Aviation Security Facilitation Bureau at the Portuguese Civil Aviation Authority (ANAC), since July 2013.
Degree in Civil Engineering, Postgraduate in Project Management, Msc in Advanced Studies in Public Management and attended the curricular component of the MSc in Public Administration at ISCTE in Lisbon.
Currently Member of the ICAO AVSEC Panel, Member of the ICAO AVSEC Panel Working Group on Training, Chair of the Sub-Group on Security Culture and Member of the European Coordination (EC/ECAC) Group on Aviation Security.
Prior to joining ANAC, as Senior Technician, was Project Manager in the field of transport infrastructures in the private sector in Portugal.